His kennel and his lungs were filling with gray smoke. Oliver didn't know what was going on at the Montclair Township Animal Shelter, but he knew he didn't like it.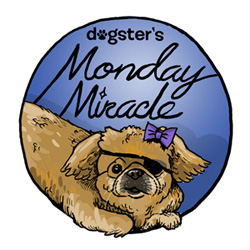 The tiny terrier mix had arrived at the New Jersey shelter just a few days earlier, one of several dogs transported up from an overwhelmed rescue system in Tennessee. Although he is 6 years old, Oliver was placed in the puppy room because all the barking in the regular kennels seemed to make him very anxious. Alone but for another (true) puppy, he was enjoying the peace and quiet of the smaller room — until the smoke came.
Suddenly, Oliver could hear people yelling, cats crying, and frightened dogs barking, howling, and even fighting one another in the corridor. The cacophony threatened to send his anxiety into overdrive, but just as Oliver started to panic, a familiar arm reached through the smoke and pulled him into the tightest hug he'd ever known.
"I just remember squeezing him," says shelter volunteer Heather Michel, who also grabbed Oliver's roommate in that same moment. "By the time I was able to get the two, I was just like squeezing them so tight because I just did not want them to wiggle out."
Michel had been volunteering at the shelter for about four months when an electrical fire tore through the facility on April 3. She remembers staff and volunteers had finished a meeting and were spreading out around the shelter when an animal control officer began shouting, "Fire!"
According to Michel, about 20 volunteers were then ordered out, but they didn't stay out of the building for long. When the flames engulfed the back of the facility, the volunteers knew the animal control officers wouldn't be able to evacuate all the animals without help.
"We ran back into the building," Michel recalls. "We just kept pulling animal after animal after animal."
She says the volunteers — along with five staff members — pulled 71 cats and dogs from the burning building in about 30 minutes. Passersby were stopping their cars and offering to hold animals while the volunteers ran back in. Soon, people were showing up with carriers, offering to take foster pets straight home from the fire.
Amid all the chaos, Michel knew she had to get to Oliver. She'd spent part of the previous day bathing and getting to know him. From what she knew of his temperament, she could imagine he'd be pretty upset in his kennel.
"He had a tremendous amount of anxiety when I met him the day before," she explains. "After bathing him, I realized the sounds of the shelter were very overwhelming for him. He's a very shy dog, but he also seeks companionship."
When Oliver and all the other animals were safely out of the shelter, the volunteers and staff began self-assigning fosters. Michel and her boyfriend, Dan Goldsmith, immediately decided to offer Oliver a place to stay. Michel didn't know much about the terrier's past — only that he'd been in a Tennessee shelter previously — but she felt she had a good understanding of his temperament and that his personality might mesh with her own dog's. Once she got Oliver home, Michel bathed Oliver for the second time in two days. She got the smoke out of his fur, but his hacking cough proved it was still in his lungs.
"I wasn't sure if what I was seeing was smoke inhalation or kennel cough," she explains. "The vet determined it was smoke inhalation and put him on a course of antibiotics."
Today, Oliver is still on antibiotics and continues to see the vet on weekly basis. Despite all the trauma, things are looking up for the pup. Michel's own dog, Sadie, took to her foster brother immediately — a bond that led to his ultimate adoption.
"She's a rescue as well, a scruffy puppy from Texas. She likes him — they fit. That's why adopting Oliver felt like the right thing," says Michel.
For Oliver, the fire resulted in a happy ending, but many of the other fire survivors remain in foster care, and the shelter itself remains closed to the public. A group called Friends of the Montclair Township Animal Shelter is raising funds to remodel the facility and support the animals currently in care, but the group has only raised a fraction of its goal. For the sake of dogs like Oliver, Michel hopes that will change. She longs to hear the sound of barking mutts fill the kennels once again.
Oliver, however, doesn't miss the noise at all.