It's been 10 years since televisions lit up with coverage of the hurricane that forced New Orleans residents from their homes, and in many cases, away from their pets. Some thought they would be able to come back for their animals, and others felt they had no choice but to leave their pets behind as Hurricane Katrina's deadly waters rose. Hundreds of thousands of animals were left to fend for themselves, including a little puppy who would grow up to share a name with the city her family adopted long before they adopted her.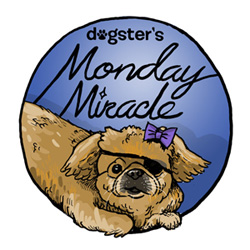 "I think we're gonna name her Nola — New Orleans, Louisiana," Michele Mohr of Phoenix told television cameras at the Arizona Humane Society (AHS) on October 30, 2005.
The media was there to cover the adoption of Nola and several other dogs who'd made it through Hurricane Katrina. The hopeful story was so different from the horrible Katrina headlines that had dominated the news cycle for months.
"We had been watching the displaced people, the displaced pets," Mohr recalls a decade later. She and her husband, Chris, had spent their fifth and 10th wedding anniversaries in New Orleans, and had been planning to return yet again when the hurricane changed their plans.
"We had plane tickets, a hotel booked, everything."
Instead of spending their 15th anniversary enjoying New Orleans, the couple found themselves watching its destruction from more than 1,500 miles away.
"We'd had a love affair with New Orleans before Katrina hit, and of course it was devastating. It was like watching your hometown," says Mohr.
Meanwhile, the Arizona Humane Society sent team after team into the ravaged city to help displaced or abandoned dogs and cats. The animals got medical treatment and foster care while AHS searched for their humans.
"The EAMTs [emergency animal medical technicians], what they did on the ground there was just incredible," says Mohr. "The conditions that they lived under were incredible, and it was all for the animals."
Eventually, AHS brought more than 200 animals — including Nola — to Phoenix to give them a second chance at the life that that was washed away in New Orleans. When the Mohrs heard the dogs were coming, they knew what they had to do.
"We said, well, we already have one dog and we've been talking about getting another dog. Since we can't go to New Orleans this year, why don't we see if we can adopt one and bring a little piece of New Orleans into our home?"
The Mohrs attended a special adoption event at AHS, lining up a half hour before the shelter doors opened. The line was long, and Nola (then known as Alma) already had fans in the crowd as the young pup had appeared on a local television show. The woman ahead of the Mohrs in the lineup had specifically come for Nola, and brought her own dog to meet the furry little TV star. The Mohrs hadn't seen Nola's TV appearance, but fell in love with the smiling, tail-wagging pup as soon as they saw her.
"The woman in front of us said, 'Oh there she is, there she is!' and my husband and I both looked at each other like, 'Oh my God, she is perfect, beautiful, and adorable,' but she was going to be taken by this other woman."
Unfortunately for the woman ahead of the Mohrs, her dog did not share her love for Nola, and the Mohrs got their chance to adopt the precious puppy.
"We saw her, and she wasn't a barker. She was just all smiles and tail wags and kisses and jumping on us. That was it. You wanna talk about love at first sight — that was it."
Ten years later, they're still in love.
"Nola is a sweet, wonderful dog," she says, adding that the 10-year-old mixed breed seems to nervously predict the monsoon storms that bring wind and rain to her adopted desert home.
According to Mohr, Nola will begin pacing before the wind arrives, but she's become braver over time.
"Because we're in the desert, she didn't see rain for a really long time, and the first time it rained here, she was very skittish. Didn't want to go out into the yard. She kind of hid behind my legs. She's pretty used to it now, but the first time we had a really good rain she was really apprehensive to even go outside."
No one knows exactly what Nola went through before AHS rescuers found her in New Orleans, but it is clear that the puppy was lucky to have survived her circumstances. In the months after the hurricane, it was estimated that 600,000 pets were either killed or made homeless during the disaster.
"She was only four months old when Katrina hit, so it was a very developmental time in the adolescence of a dog. Things that she went through did definitely have a lasting effect on her."
Like many rescued dogs, Nola did have some behavioral issues after adoption, but her high level of food motivation helped her breeze through training to become the relaxed older gal she is today.
Ten years after her news-making adoption, Nola isn't drawing the attention of TV news cameras, but she's found herself a new spotlight under the Arizona sun.
"I always say that's the Louisiana dog right there. She loves the heat," says Mohr, who often finds Nola sunning herself poolside.
The little puppy who was almost left behind is certainly living the pampered life 10 years after the storm.
Read about more Monday Miracles:
About the Author: Heather Marcoux is a freelance writer in Alberta, Canada. Her beloved Ghost Cat was once her only animal, but the addition of a second cat, Specter, and the dog duo of GhostBuster and Marshmallow make her fur family complete. Sixteen paws is definitely enough. Heather is also a wife, a bad cook, and a former TV journalist. Some of her friends have hidden her feed because of an excess of cat pictures. If you don't mind cat pictures, you can follow her on Twitter; she also posts pet GIFs on Google+.