The way dogs persevere is nothing short of miraculous. When faced with devastating health conditions, horrific abuse and neglect, shelter overcrowding, bad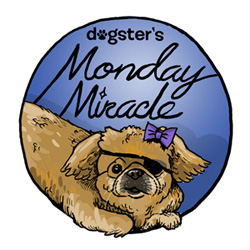 breeding, and all kinds of other tough stuff, somehow dogs just get up and get on with it. That's why I love working on Dogster's Monday Miracle column — it helps me put things in perspective. When Monday morning seems too tough to face, these dogs show me the way.
It was extremely difficult to choose my favorite Monday Miracle stories of 2015 because frankly, I love them all. But I've managed to narrow down my list to 10 amazing and adorable dogs and to get some updates on their stories.
This is a sad one. One of the first Monday Miracles of this year, Oogy was in the Dogster spotlight on January 5, 2015, but he was no stranger to attention by then. Years ago, the 12-year-old Dogo Argentino became the subject of a bestselling book, Oogy: The Dog Only a Family Could Love, written by his human Larry Levin. In his later years, Oogy suffered a number of issues, and in March 2015 he passed away surrounded by his loving family. His story and work as an advocate for abused animals will not be forgotten.
Moving on to a happier tale. Little Chuda became a Monday Miracle when she was just five months old, thanks to the folks at MUSH Misunderstood Siberian Husky Rescue (MUSH) of Indiana. Named after the Russian word for "miracle," Chuda was the sole survivor of a litter plagued with birth defects, and initially she wasn't expected to survive for long, let alone walk on her own. When Dogster profiled the resilient little Siberian Husky/Golden Retriever mix back in March, her rescuers had no idea how long Chuda would be around for, but she recently celebrated her first birthday with the foster family who has now become her forever family.
This Texas pup looked like a senior when Julia Long of The Love, Molly Fund found him in a parking lot back in September, but it turned out he was just a year old. He'd been shot, hit by a car, and was covered in sarcoptic mange. Soon though, Long had Mango fixed up and began seeking a home for him. According to Mango's Facebook page, he is currently enjoying some sleepovers with a prospective adopter. Hopefully his trial situation turns into a forever home.
Unlike Mango, Chloe is a real senior. She's 11 years old, but she's not letting that slow her down — or keep her off the Internet. This social media all-star has a ton of fans on Instagram and Facebook, and she uses her fame to advocate for senior rescue animals like herself. Recently, Chloe's social media fame has been translating to other forms of media, as her name has been connected to projects like "The Dog Wedding" (a flick about bulldogs in love) and Alan Cumming's short film "Ultimate Encore."
Old Man Red crossed the country and found his forever home thanks to Facebook. The Miniature Pinscher–Chihuahua had been waiting to be adopted out of the San Diego-based Synergy Animal Rescue when the rescue brought in a fatally emaciated Pit Bull mix named Ladybug. As the rescue updated Ladybug's story on Facebook, Cheryl Adler of New York noticed the little dog seemed to be comforting Ladybug in her final days — he was in nearly every picture of her. Eventually, Adler adopted Red, who passed away on November 1, 2015, at the age of 17. Adler tells Dogster that Old Man Red had a wonderful two and a half years with a family who feels lucky to have shared that time with him.
Thanks to the folks at Eldad Hagar's Hope for Paws rescue, Iggy the one-eyed Cocker Spaniel is no longer a Mexican street dog and instead has found the home she deserved with Montrealer Agi Szabo, her daughter, and their Cocker, Lola. Unfortunately, after Iggy became a Monday Miracle, Szabo learned the duplex she'd been renting had been sold. In the spring of 2015, she began the difficult process of finding a new rental that would accept Lolo and Iggy. After several weeks and a lot of stress, she was able to find a new place (thanks in part to Iggy's Facebook friends). The family is now in in their new home and enjoying their new backyard.
With a name like Marshall the Miracle Dog, how could this three-legged Lab not make this list? His amazing story was made into a children's book and released as a movie this year because it truly is a miraculous tale. Marshall's rescue journey began in 2010 when he was saved from a hoarding situation. In the five years since, the dog who was once covered in bite marks has overcome many challenges. These days, he's busy touring schools and spreading his anti-bullying message. Recently, the van Marshall's human uses for school tours was stolen. Thankfully, the vehicle was quickly recovered — another miracle, which means this amazing dog can keep telling his story.
Ruby became a Monday Miracle back in July, just a few months after she had saved her homeless human from a machete attack. She lost her eye in the violence, and lost her human a few weeks afterward when the shelter she was in could not locate him. Headed for euthanasia, Ruby ended up in foster care through the Silicon Valley Pet Project. Two months after our story on Ruby ran, Ruby found her forever family and is now living the happy ending she deserves.
Now a therapy dog, little Chloe the adorable Jack Russell mix was once a victim of puppyhood parvo, and she nearly lost her life because of it. Now three years old and weighing in at a slight 7 pounds, Chloe is a big hit with the nursing home set. Since Dogster profiled Chloe back in June, the tiny terrier has made a new friend — a stray cat who arrived on Chloe's porch recently and decided to stay. The cat is now called Maisee and is making plenty of appearances on Chloe's Facebook page.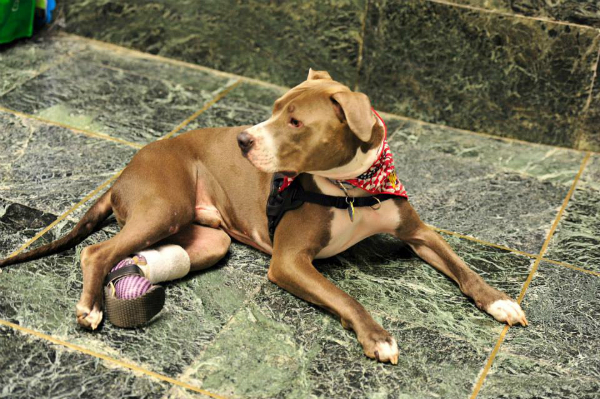 Nailed to the railroad tracks as a pup, Hudson lost his paw and nearly lost his life in a horrific act of animal cruelty. In the three years since, this well-known survivor has been busy working as a therapy dog and advocating against animal cruelty. This fall Hudson was honored with an American Humane Association Hero Dog award in the therapy category. Even more recently, he made headlines in his hometown of Albany, New York, when he and Santa Claus visited a group of children born with heart defects.
These are my favorites! Please share yours in the comments.
About the Author: Heather Marcoux is a freelance writer in Alberta, Canada. Her beloved Ghost Cat was once her only animal, but the addition of a second cat, Specter, and the dog duo of GhostBuster and Marshmallow make her fur family complete. Sixteen paws is definitely enough. Heather is also a wife, a bad cook, and a former TV journalist. Some of her friends have hidden her feed because of an excess of cat pictures. If you don't mind cat pictures, you can follow her on Twitter; she also posts pet GIFs on Google+.