At first glance, the 15-year-old Pekingese mix named Buddy looks like a cuddly plush toy enjoying a quick snooze, what with his fluffed-up smoosh face and seemingly resting eyes. But it turns out that Buddy actually had his peepers surgically removed before finding his happy home.
Buddy was adopted from the Tompkins County SPCA five years ago by Emily Carroll. Before then, Emily had been nagging away at her landlord to lift a canine ban and let her have a dog.
"When I saw Buddy's profile on the SPCA website, I knew there was no way my landlord could refuse my request," recalls Emily.
Her hunch was right, and Buddy soon found himself in a new abode with all manner of soft surfaces on which to enjoy his all-important naps.
Addressing Buddy's unique look, Emily explains, "He had both his eyes removed for medical reasons before I adopted him, in addition to multiple tooth extractions."
She adds that little is known about Buddy's prior life — and the circumstances surrounding his eye surgery — but that these days he's "resilient, calm, and a strong-willed little guy."
When not hamming it up for the camera, Buddy enjoys partaking in very leisurely walks, feasting on blueberries and sweet potatoes (not necessarily at the same time), and, as Emily puts it, "swooning in my arms."
Emily adds that Buddy is also a fine ambassador for the joys that can come with having an elderly dog. She underscores the importance of finding homes for older canines as she says, "May they all be as lucky and cherished as my lil' Buddy."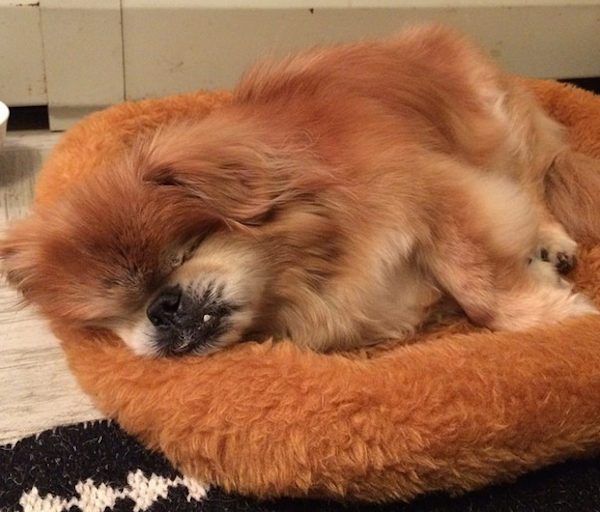 You can keep up to speed with Buddy's latest adventures over at his Instagram account. (Spoiler: Napping pictures abound.)
Learn more about dogs with Dogster: