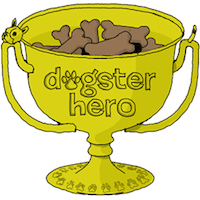 Last month, the police department in Poughkeepsie, New York, welcomed a new K-9 to the force. Most people expect K-9s to be a German Shepherd, Belgian Malinois, or the like, but the Poughkeepsie Police Department branched out and added a rescued Pit Bull named Kiah to its team. She is one of several rescued Pit Bull-type dogs across the country who have been trained as narcotics-detection dogs at no cost to the participating law enforcement agency, thanks to Animal Farm Foundation, along with Universal K-9 and Austin Pets Alive.
Before joining the K-9 program, Kiah was saved from severe abuse by Kirby Animal Care Services in San Antonio, Texas. While helping Kiah recover, the animal care staff noticed her drive and potential to be a working dog. She went through several weeks of training with Brad Croft, a trainer and the founder of Universal K-9. Kiah's lessons didn't stop there; she finished her training with the officer who would be her K-9 handler, Justin Bruzgul.
For Officer Bruzgul, this has been a new experience. "Kiah is the first Pit Bull-type dog I have worked with in a professional atmosphere," he says. "I have trained several dogs throughout my life. I have found that through constant, repetitive training, and most importantly a lot of positive reinforcement, all of the dogs respond well and become excellent obedient pets or working dogs." Kiah isn't the first Pit Bull that Officer Bruzgul has been around, though. His sister has one named Bella, and through his experiences with Bella, he has seen "a very affectionate, loving, and gentle dog who loves to play."
Officer Bruzgul is excited to have Kiah as a member of his family and as a member of the police department. Although they are still in training, they have had several chances to socialize with the public, including visiting four schools and walking through local malls and businesses. "The response from the public has been positive," says Bruzgul. "I have no doubt that once Kiah and I are finished with training, we will be a valuable asset to our department and the community."
Captain Thomas Pape oversees Officer Bruzgul and Kiah in the Poughkeepsie Police Department. Like Officer Bruzgul, he has never owned a Pit Bull-type dog but has a close family member who does. Through his interactions with the dog, Captain Pape noticed some of the same traits he sees in Kiah. "Having a Pit Bull detection dog helps to demonstrate that each dog is an individual with unique character, despite stereotypes that suggest otherwise," says Captain Pape.
Some areas in the country still have breed-specific legislation that prevents people from owning dogs who could be labeled "Pit Bulls," including Peekskill, New York, which isn't very far from Poughkeepsie. This sort of legislation calls for dogs like Kiah to be euthanized, which means missing out on everything these wonderful dogs contribute to society.
The Poughkeepsie Police Department is quick to defend its decision to use a Pit Bull K-9. "It is important for people to understand that some dogs act in a dangerous manner not because it is in their nature, but due to irresponsible pet owners who encourage the dogs to act aggressive," says Captain Pape. "I believe that once Kiah gets out on the street with Officer Bruzgul and the community we serve can see for themselves what a great dog she is, there will definitely be some changes in public perception."
The City of Poughskeepsie Police Department is one of many police departments across the country choosing to use more rescue dogs in their K-9 units. By disregarding unfair stereotypes and treating each dog as an individual, these departments are reaping the benefits of these driven, talented dogs, as well as saving the lives of shelter dogs. Kiah, for example, has proven to have greater talents than sniffing out narcotics; she will also be helping locate missing children, criminals on the run, and people with conditions like Alzheimer's who have wandered away from hospitals or nursing homes.
Read about more Dogster Heroes:
About Meghan Lodge: Fits the Aquarius definition to a fault, loves animals, and is always pushing for change. Loves ink, whether it's in tattoos, books, or writing on that pretty sheet of blank paper. Proud parent of Toby (cat) and Axle (dog). I'm a former quiet nerd who's turned bubbly animal-obsessed advocate.