She's a tiny dog, but Mango is having a big impact on veterans and paralyzed pups like herself.
According to Judy Walter, her human, Mango's personality makes her the perfect therapy dog to roll through the hallways of hospitals. The adorable attitude has also helped Walter put her pup's Facebook fame to good use — raising funds to help other paralyzed dogs get custom carts.
"I had no idea that this dog was going to change so many lives," says Walter, who adopted the three-year-old Cairn Terrier/Yorkie mix one year ago.
These days Mango is busy helping people and pets, but not long ago she was the one who needed help.
"It was a rainy morning in Fort Worth, Texas, and someone who was in their car going to work saw this little dog sitting in the ditch," explains Walter.
That concerned citizen called animal control, and soon an officer was in the ditch, calling and whistling to Mango, who wouldn't come. When the officer finally approached Mango, he could see that it wasn't that she didn't want to come when called — the little dog simply couldn't. She had a gash above her eye, and fur was missing on her hip. Animal control got her to an emergency animal hospital, where it was determined Mango had been hit by a car.
"Then she was put in a kill shelter," says Walter. "She only had less than 24 hours, and she was going to be put down, and that's when Emma's Cleft Palate Chihuahua Rescue went and pulled her."
The rescue did further medical testing, including X-rays and an MRI, which determined Mango's back was broken.
"There was no fixing it, and her pelvis was broken in three places, so there was no surgery that could help her," says Walter.
Mango was going to be cart-bound for the rest of her life, but that didn't stop her from being her lovable, adorable self. Emma's Rescue could see the potential in Mango right away, and before she was even adopted Mango was enrolled in training to become a therapy dog for veterans.
"When I saw that I thought, 'Wow, we have a lot in common because I'm a veteran, I served six years in the United States Army Reserve, and I'm also disabled'," says Walter, who had fostered through Emma's Rescue previously and continued to follow the organization online. "Mango is disabled, and she was going to be working with veterans, so it just kind of clicked."
Walter applied to adopt Mango, who was flown to her new home in Ohio in March 2014. Once at home with Walter, Mango met her new pack.
"I already had four little Yorkies," explains Walter. "They take off running, and she just scoots along. They accept her just like she runs on all four feet."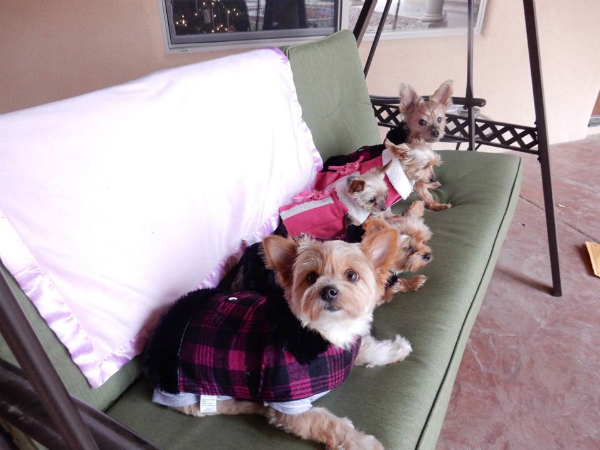 Mango fit in just perfectly with her new family, and in September the household moved from Ohio to New Mexico, where Mango continues to thrive.
"We're loving every minute of it. There's more opportunity for her to work with veterans in hospitals down here."
These days, Mango can often be found rolling through the hallways of rehab centers and veteran's hospitals with a helium balloon tied to her cart.
"When she goes to the veteran's hospitals, she usually goes to the physical therapy department because that's where a lot of the returning soldiers are," says Walters. "She goes in there, and it's just like somebody turned a lightbulb on, because they all stop what they are doing and they're just fascinated with this little dog. Mango just changes people's whole disposition about their own difficulties."
While Mango was busy working with veterans, her online presence was growing quickly. Water created a Facebook page for Mango so folks from the rescue in Texas could keep up with her, but soon Mango was making new friends online.
"She went from 30 Facebook friends to almost 10,000 now, and she's had that page probably about nine months. It just took off like wildfire."
Mango's cart also attracted a lot of attention online. Water had purchased it from Ruff Rollin' Wheelchairs for Dogs to replace Mango's first, lower-quality cart.
"I thought, if she's gonna be in a wheel cart the rest of her life, I'm gonna find her the best cart I can."
Eventually, Walter was contacted by a Facebook fan who was looking for a cart like Mango's for her dog, who had recently been paralyzed.
"I told her the cart would be like $370, and where it came from, and she said, 'Oh my God, I can't afford that.' So I got the idea — what about Mango's Facebook fans? Maybe they would be willing to help her with a cart."
After mentioning her idea on Mango's Facebook page, Walter was inundated with replies from people asking how they could help. Walter directed Mango's Facebook friends to call the folks at Ruff Rollin' Wheelchairs for Dogs, as the company had agreed to take donations and apply them to the cost of the cart.
The next morning, Walter got a call from Ruff Rollin'.
"She said, 'Could you pull that post about the cart down? We had enough money by five o'clock last night, and the phone won't quit ringing.' That's when we decided, let's start something, and we called it Mango's Freedom Wheels."
Walter created a website for Mango's Freedom Wheels, where people can contact her and apply for a cart.
Initially, Walter and the folks at Ruff Rollin' assumed that Mango's Freedom Wheels would be able to fundraise for 12 carts a year — but three months into the project they had already helped 28 dogs get rolling.
"It's like a full-time job for me now," says Walter.
As busy as she is, Walter has no regrets about Mango's missions. She hopes the little dog who was once alone in a ditch can continue helping others for a long time to come.
Read more on Dogster:
About the Author: Heather Marcoux is a freelance writer in Alberta, Canada. Her beloved Ghost Cat was once her only animal, but the addition of a second cat, Specter, and the dog duo of GhostBuster and Marshmallow make her fur family complete. Sixteen paws is definitely enough. Heather is also a wife, a bad cook, and a former TV journalist. Some of her friends have hidden her feed because of an excess of cat pictures. If you don't mind cat pictures, you can follow her on Twitter; she also posts pet GIFs on Google+.