Editor's note: Mari Santos is a fashion writer for xoVain, Dogster's sister SAY Media site. We're rerunning this cute article she wrote so Dogster readers can enjoy her tips.
I know what you're thinking: What in the world is a puppy eye, am I right? Let me tell you! (Unless you already know, then you can skip this part).
The puppy eye, opposite of the beloved cat eye, is designed to make your eyes look sweeter, rounder and bigger. I'm guessing they didn't call it a "dog eye" because that's just not as adorable-sounding.
Instead of a flick upwards, the eyeliner extends downwards following the eye's natural slope. So rather than that lifted, come-hither effect of a cat eye, the puppy eye is all about cute, cute, cute. To me, this look is very Japanese-pop-star, and I find it a billion times easier to do than the cat eye.
Let me show you what I mean.
First, apply Bobbi Brown Long-Wear Cream Eyeshadow in Stone all over your lid, stopping just at the crease.
Then using a black pencil eyeliner, begin to create the "puppy" shape. Start by lining your upper lash line from about mid-eye. Once you get to the end of the eye, begin to extend the line downwards. Line your outer lower lash line, extending the liner to meet the upper lash liner, forming a sort of triangle.
Fill the little triangle in, then layer with black liquid liner. To make it last even longer, you can pack some black shadow over it. I used Urban Decay's Creep (a bluish black) so there's a bit of sparkle. Tight line your upper waterline with black pencil liner.
Finish with a heavy coat of mascara on the bottom and lower lashes.
I also added aegyo sal because this look is all about emphasizing the roundness of the eye. I used Urban Decay's Buck as the brown matte shade, and highlighted using Urban Decay's Virgin, a pearly off-white. I also used Virgin in the inner corners of my eye.
I went quite graphic with my version, but you can definitely soften it up by blending eyeshadow over the liner with a brush and feathering out the ends a bit. I'd imagine this would also work quite well with soft browns and coppers, perhaps only done with eyeshadow.
For the face, I used my treasured friend Buck to contour below the cheeks, and Benefit'sDandelion, a pale pink, for blush. For lips, I used Shu Uemura x Takano lip duo in Harmony Pink, but Urban Decay's Super Saturated High Gloss in Lovechild is very close.
Here are the puppy eyes in action.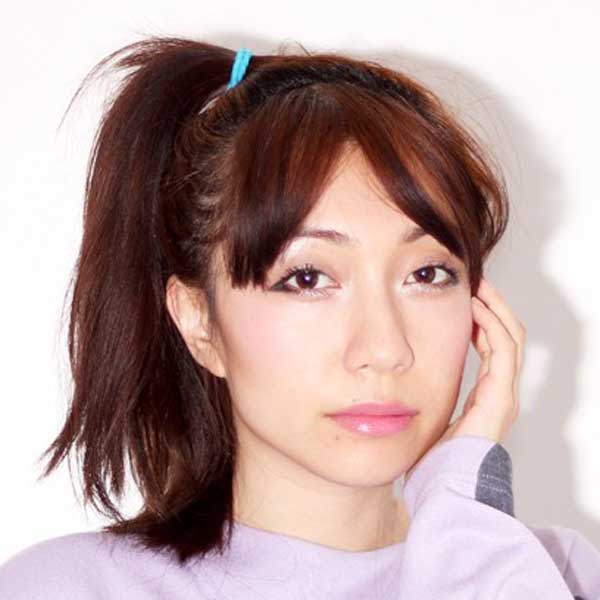 Excuse the popped "activity" below my mouth. NO REGRETS.
The "no bangs" version.
Honestly, you can also just do this with black eyeliner and call it a day, but I thought I'd go the extra mile since this is a beauty site after all.
I really do think this look is way more flattering (on me) than the typical cat eye, so if you're not that into cat eyes or if you want to try something new, give it a shot.
What do you think of puppy eyes? Have you tried it before? What animal should we do next? I'm thinking cow eye. Also, why did I just Google image search that?