Editor's note: Have you seen the new Dogster print magazine in stores? Or in the waiting room of your vet's office? This article appeared in our December/January issue. Subscribe to Dogster and get the bimonthly magazine delivered to your home.
What pushes a canine Christmas sweater from cute to ugly? The answer is So. Much. Stuff. Ugly Christmas sweaters are the embellisher's dream, so don't be afraid to pile on as much tinsel, felt, pompoms, and googly eyes as your festive heart desires. (Just don't let your dog chew on it!)
What you'll need
Plain doggie sweater in Christmas or winter colors
Hot glue gun and glue
Felt sheets
Fabric marker
Scissors
Paste-on eyes
Pom-poms
Instructions
Choose a main image you want on the doggie sweater. I found examples of fun reindeer online.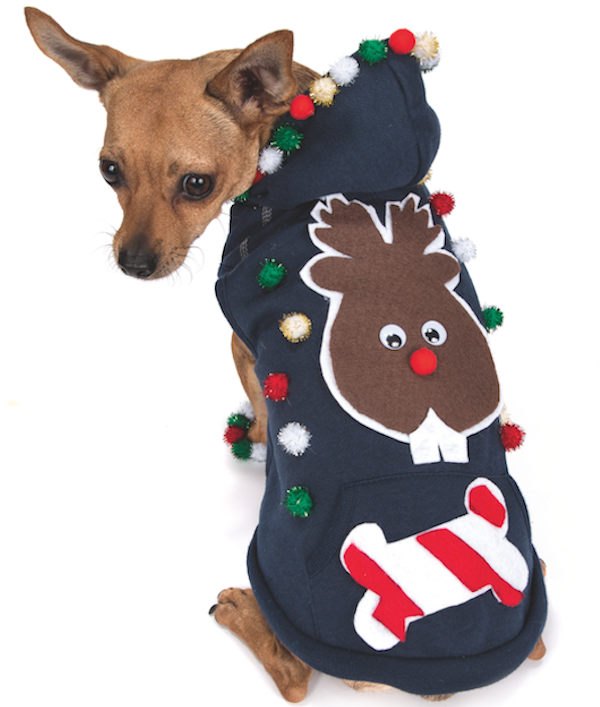 Use the fabric marker to draw the shape on the felt, and cut it out using the scissors.
Use the hot glue gun to glue the felt shape to the back (not the chest) of the doggie sweater.
Paste eyes onto the reindeer (or whatever animal you've chosen). A pom-pom makes a great nose.
Embellish! If you have room, cut out and paste more Christmas/winter-themed shapes onto the sweater.
After that, pile on even more! I used Christmas-colored sparkly pom-poms. If your sweater has a hood, work that into the design, too.
Read about more of our holiday obsessions:

About the author: April Balotro is an editor residing in Orange County, California. She shares her home with a gentlemanly Chihuahua mix named Peanut.