Ed Davis of Ester, Alaska, never thought he'd see his dog again. Madera, an 11-year-old black Lab, disappeared from home on February 6. Davis was away that day, working at a pump station on the Alaska pipeline.
Davis' wife let Madera out to go to the bathroom, but for some reason, the dog didn't return when she was done. She just ran out into the wintry countryside and didn't come back.
The Alaskan wilderness is not a good place to be lost in, even in the best of circumstances. It can be a harsh and lonely place: The state as a whole has the lowest population density in the U.S. (on average, about 1.2 people per square mile), and although this year has been particularly balmy, that means that highs have reached a sweltering — 40 degrees F.
The day that Madera disappeared was not one of those "balmy" days; it was 40 below zero. Even worse, she's blind because of an autoimmune disease. When Davis came home three days later, he had virtually no hope of seeing her alive again.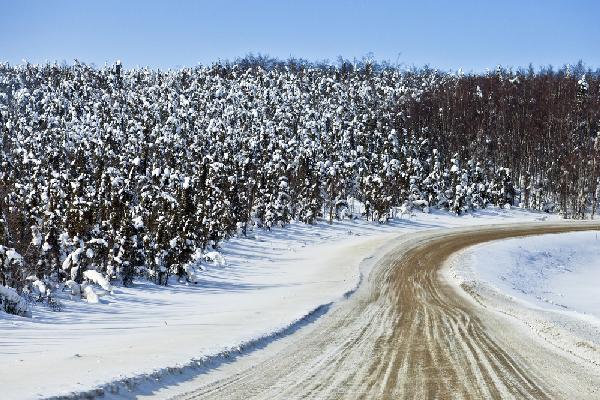 "My best hope was to walk those trails and look for a track that might be hers," he told the Fairbanks Daily News Miner. "My best hope was to find a frozen dog."
Fortunately, it turns out that he had a little more to hope for than that. What ultimately brought Madera home was a man named Constantine Khrulev who was out on the trails with his own dog. Khrulev's dog was wearing a bell, and that's what brought Madera home. She heard the bell and whined as the two went by. Khrulev followed the sound to a tree about 100 yards from the trail.
When she was found, Madera was only about a half a mile from her home, but far enough off the path that people could have passed back and forth without ever seeing her. "She was not going to be found accidentally," Davis told the paper.
Madera came back 14 pounds lighter, but otherwise in good health.
Although Davis had little hope of ever seeing Madera again, he had offered a reward for anyone who found her: $100. Khrulev declined the money, asking that it go to the Fairbanks Animal Shelter Fund. Touched by that act of generosity, Davis went the extra mile and donated $250 to the Fund.
Via Fairbanks Daily News Miner and Fairbanks Animal Shelter Fund
Read more news about dogs on Dogster: