What if your independence in the world, the ability to go where you want and find your way back home, was completely dependent upon a seeing eye dog — and then your canine partner grew old and had to be retired?
What if when you went back to the guide dog school that placed your first dog with you and were told it no longer could partner you with a service animal — not because of anything you did wrong, but because you also use a wheelchair to get around?
This isn't a hypothetical situation. Right now in the United States, the leading seeing eye dog programs are unable to place those specially trained dual-working dogs, who can both guide and provide mobility assistance with handlers.
A Facebook friend of mine, Jae Spalding of Boston, Massachusetts, knows this situation all too well. They can't be placed with another dual-trained dog because those programs simply aren't doing the necessary training at this time. As I watched Spalding post about their experience of retiring their past service dog Drummer and being rejected from programs based on the nature of their disability, I wanted to share this story with Dogster readers; I was thrilled that Spalding was open to being interviewed.
Dogster: I know you recently had to retire your previous service dog due to age. Can you talk a little bit about how working with him influenced your life?
Jae Spalding: Once my left hand wrapped around the leather handle of Drummer's harness, I felt a sense of freedom I had never known. Step by step, year by year, we grew into one another. We learned the movement of our muscles in the heat, what it meant to feel exhaustion and freeze in the cold. He saved me from a rogue vehicle at a traffic light. I tripped when he ignored a curb because of a cute dog across the street. He corrected my mistakes, and I corrected his.
We traveled the country together. He gave me confidence to explore places alone — no longer fearing I would walk into a pothole or trip over an unknown sign, tap-tap-tapping with my white cane to figure it out. And finally, he walked with me and my wife back up the aisle, after guiding wedding rings down the aisle and into my hands. My life was that of a concerned parent, loving friend, playmate, food giver, and rule maker. He was my confidant, wingman, doggie-child, annoying beastie, best dog friend.
For readers who don't know much about it, what is it like working with a dual-trained guide dog?
I got my guide dog when I was able to walk distances over a mile unaided. About three-fourths of the way into our relationship, I began using a white balance cane in my other hand for stability and, well, balance! Eight months before Drummer and I made the choice to retire, I was told by physical, occupational, and physiatrist therapists that I would need to begin using a wheelchair for distance travel if I wanted to maintain the level of mobility independence I was accustomed to. I got my first power chair (because trying to maneuver most anything else while using a dog or cane was impossible for me) in March 2015. By June 2015, Drummer had had enough. He was more than 9 years old.
I spent some time training him between March and May 2015, and he did pick up guiding while I used the power chair quite well! He adjusted the clearance I would need on a sidewalk or road and found the curb cuts in sidewalks and such for me to maneuver onto.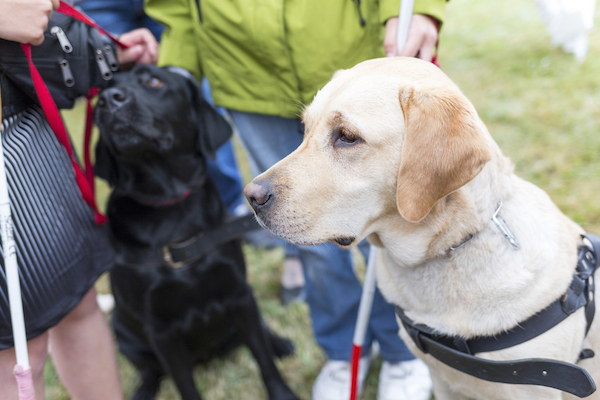 What has it been like trying to get matched with a new dog?
The school I received my amazing (and first) guide from, Guide Dogs for the Blind in San Rafael, California, worked with me as I made the difficult choice to move forward with retirement and rehoming my pup. They were kind, considerate, and patient with my tears. The woman who came to pick him up and fly him back West waited patiently as I showed her his entire life (streamed via photo and video on my TV) and sat on the floor crying with him in my lap as I told him to be good and always goofy in his old-man age.
I was informed immediately that my school was not continuing to dual-train guide dogs for students, alumni or not. So even though I was in good standing with the school, I could not come back and participate in the training they had pioneered nationwide. So I turned to Guide Dog Foundation (Smithtown, New Jersey). It was the only school (after many sad phone calls and various explanations given) that had a current dual-train program and were accepting applicants. I held my breath and began the process!
Since then, I received word that Guide Dog Foundation had suspended their training program indefinitely, and I was encouraged to seek a dual-trained guide elsewhere. They suggested Guide Dogs for the Blind. Remember them? So I looked online for dual-train programs, and Guide Dogs for the Blind pops up with a whole application page for alumni seeking dual-trained dogs. I cried the whole time I filled it out. I called my former field representative and left an excited voicemail. I called my wife and even sent out a silent message to my retired guide. I told him I would be OK. He was and is doing great, living with a nice retired man in sunny California.
I got a call from my field rep and from admissions. They wanted to know where I found the information about dual-trained dogs and were shocked that I was able to apply for one. They explained that it was misinformation, and that they would not be able to help me. They were only accepting applications from alumni of the dual-train program.
[Because Jae's needs changed while Drummer was working but they hadn't initially gone through the wheelchair guide program, Jae wasn't eligible to be placed with a new dog.]
It was suggested that I should perhaps try self-training a dog to guide me both while I use my wheelchair and when I walk. The task still feels impossible.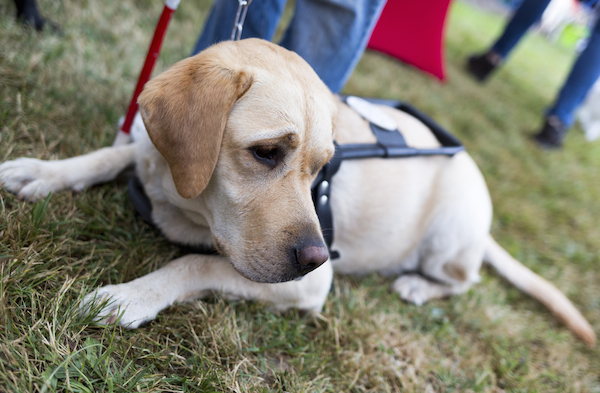 The more that I heard about Jae's story, the more I was curious about what would make guide dog programs stop or decrease access to this kind of immensely important work. It seemed so counterintuitive that these programs would leave guide dog handlers isolated.
I spoke with representatives from Guide Dogs for the Blind (GDB) and Guide Dog Foundation (GDF), the two leading training schools for placing seeing eye dogs in the United States.
Karen Woon, vice president of marketing from GDB, provided me with the following statement about its training program and its inability to take new applicants to the dual training program:
"Guide Dogs for the Blind remains committed to providing replacement dogs to current GDB wheelchair program graduates if the individuals meet our qualifications. Due to the highly specialized skills and length of time involved in training wheelchair guide dogs, we are not currently accepting any new applicants for these services. "
I had a more hopeful and in-depth conversation with Guide Dog Foundation. GDF isn't currently able to place these specially dual-trained dogs, but it intends to in the future.
Andrew Rubenstein, director of marketing for GDF, explained, "At this time we are not fully staffed in that area [wheelchair guides] and are restructuring the program to better meet the needs of our constituents. Once we feel we are able to meet those needs — we anticipate by the second quarter of 2016 — we will welcome new applicants to the program."
Unfortunately, this leaves people like Jae without a clear idea of when they could get partnered with a new guide and regain access to the world that is closed off without a dog.
Read about more Dogster Heroes:
About the author: Sassafras Lowrey is a dog-obsessed author based in Brooklyn. She is the winner of the 2013 Berzon Emerging Writer Award from the Lambda Literary Foundation, and her latest novel Lost Boi was released in April. Sassafras is a certified trick dog instructor, and she assists with dog agility classes. Sassafras lives with her partner, two dogs of dramatically different sizes, two bossy cats, and a semi-feral kitten. She is always on the lookout for adventures with her canine pack. Learn more on her website www.SassafrasLowrey.com.