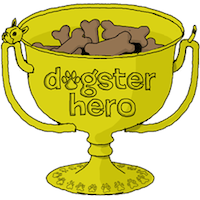 Cross-legged on the floor, the children sit captivated in front of Officer Marcus "Monty" Montgomery as he reads the story of Sad, the Dog.
In the book written by Sandy Fussell, a black-and-white puppy is abandoned outside by mean people, and he names himself Sad. The next morning, a loving boy finds him, names him Lucky, and they live happily ever after.
The children clap.
Another member of the audience, a squirming black-and-white Pit Bull mix named Kylo, yips and wags his pudgy tail in joy — as if he knows the story is akin to his own.
Instead of a tale with illustrations in a book, though, Kylo's real-life experience and picture with Officer Montgomery was a viral Internet sensation.
And the Florida policeman, a huge Star Wars fan, is using the fame of his dog — named after a character from the Dark Side — to do good.
Not only does he donate his time, such as reading to children at a Pit Bull promotion for the Panhandle Animal Welfare Society (PAWS), but Montgomery also set up a GoFundMe account for the financially strapped shelter, asking fans to donate $1 to PAWS instead of trying to send him dog food and toys for Kylo.
It's raised $980 so far, with a chunk already used for an emergency: The shelter's heaters stopped working.
"I knew it helped PAWS out, and that's all I cared about," Montgomery said.
Kylo was found alone and crying in a box outside of PAWS in Fort Walton Beach, Florida, the morning after a night of freezing January temperatures.
That same day, Montgomery came to the shelter to take an unrelated routine crime report. As he was finishing up the paperwork, Mary Rudder, PAWS supervisor of animal control, showed up with the puppy in her arms.
"I told her, 'Don't bring him in here, because I'm going to take him home,'" Montgomery said. He already has another dog from PAWS, a 4-year-old Pit Bull terrier named Vader.
He ended up holding the puppy, anyway, of course — all the while ticking off reasons why he couldn't adopt him. "While he was going down this whole list, the puppy leaned back and looked him straight in the eye," said PAWS Executive Director Dee Thompson. "He was GONE. You could just tell."
"His face was just adorable," Montgomery said.
But the squished-up face of love Montgomery made for a Facebook snapshot is what caught the Web-world's fancy, racking up more than 360,000 views on BuzzFeed alone and getting picked up by Time.
"A cop holding a puppy is great, but a cop with that FACE holding a puppy was, you know — we all hate to say it, but it's at a time when the police need all the help they can get, and that was definitely a feel-good kind of picture," Thompson said.
Montgomery explains the popularity of the picture, and subsequent others of Kylo playing with Vader, the same way.
"[People] don't think that we're human. They view us as robots," the 31-year-old said. "I just wanted folks to know that these are my two dogs. I love them. They're like my kids."
Kylo now is about 9 weeks old and follows his big brother, Vader, everywhere around the house. In turn, Vader is teaching the puppy about the Force.
"If Kylo picks up something he's not supposed to, Vader will take it from him," Montgomery said. "Like he had a cardboard box, a small one, and Vader went over to him, grabbed it out of his mouth, brought it right over to me, and dropped it on the ground."
To make a donation to PAWS in Kylo's honor, visit the GoFundMe account.