Allow us to present to you quite simply the best holiday gift that any pop-culture-obsessed dog lover could possibly receive this year — the Kanye West Pug Calendar. Here is a picture to give you an idea of what great heights we're talking about.
The calendar is as brilliantly ridiculous as it sounds, pairing photos of the rapper with Pugs and then annotates them with "the 12 most inspiring Kanye West quotes." Hello, Christmas, hello, Hanukkah. We're in must-fund Kickstarter territory, right?
The Kanye's Pug Calendar concept is the brainchild of a bunch of wags calling themselves Meet the Pugs. Billing themselves as "a group of creatives crazy about pugs," their other endeavors include an animated sitcom, t-shirts, and a line of spoof videos (such as a Pug-centric take on Eminem's recent song "Rap God"). There's a smorgasbord of Pug-related shenanigans over at the group's Tumblr outlet.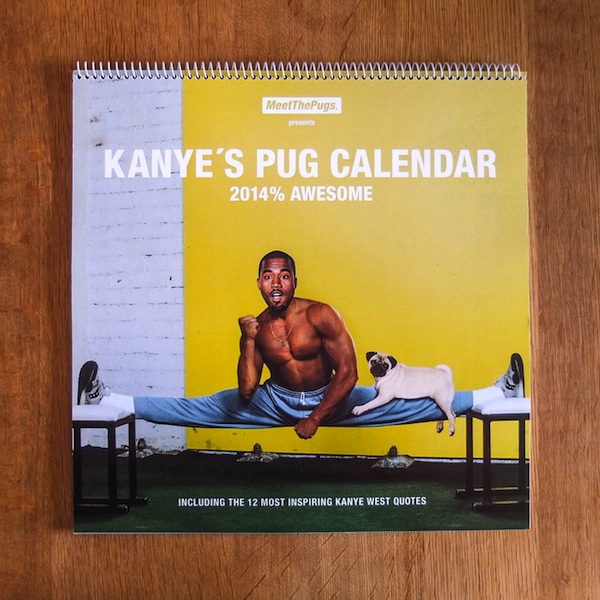 You'll have to act quick to satiate your month-by-month Pug kicks, though, as you have only until Dec. 15 to snap up what we'd like to think is most probably the foremost example of the creative synergy between Pugs and Kanye West available in all of the world today. We imagine it pairs very well with a Pug sporting a luxury Balmain shearling peacoat — a foppish combination 'Ye would no doubt approve of.
Read more Dogster Gift Guides: