With the holiday season upon us and the year winding down, we're casting a look back at the most notable, newsworthy, and lovable dogs we wrote about on Dogster in 2014. It's a little tribute we like to call the 12 Dogs of Christmas — and today we go back to Brazil for a story that emerged during the World Cup.
5. Jefferson the World Cup Dog
The official mascot of this summer's World Cup soccer tournament in Brazil was Fuleco the armadillo. But he was roundly upstaged in the run-up to the tournament by a black Labrador sporting an England soccer jersey.
Picked up by four English football fans who were walking across South America to raise money for drought charities, Jefferson ended up tagging along for most of the journey. They assumed he was a stray — and when we spoke to two of the intrepid quartet they told us that Jefferson frequently exuded the sort of smell to suggest he was a real-deal homeless animal. (We were also told he loves jumping into puddles, possibly to help temper his odor.)
With news of Jefferson's near-2,000 kilometer journey across South America spreading through both social media and traditional news channels, a heart-touching turn of events arose: It turned out Jefferson wasn't a stray street dog but had become estranged from his original owner, named Nacho.
A reunion was duly planned, with Nacho himself hiking 800 kilometers from his home in Uruguay to meet Jefferson at the finish line in Brazil. (In vintage Jefferson fashion, he also managed to knock over a camera that was filming the tender reunion.)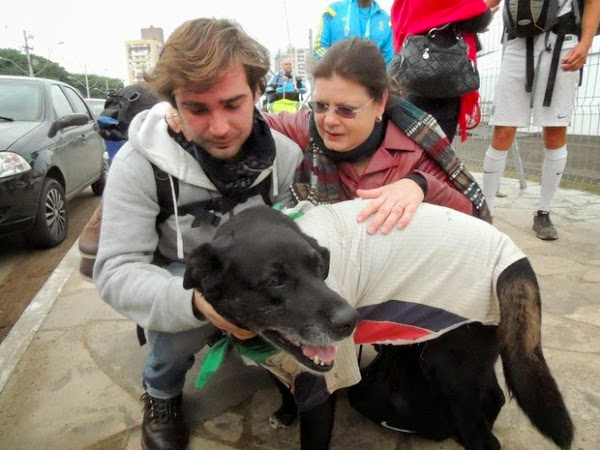 During his journey, Jefferson helped raise nearly $35,000 for the drought-blighted Bahia area in Brazil. Since being reunited with his original family, bonus footage from his hike has been uploaded to the Walk to the World Cup Facebook page. It seems that a documentary about the walk is also in the works. No need to ask who the real star's going to be.
Enjoy the rest of the 12 Dogs of Christmas here:
About Phillip Mlynar: The self-appointed world's foremost expert on rappers' cats. When not penning posts on rap music, he can be found building DIY cat towers for his adopted domestic shorthair, Mimosa, and collecting Le Creuset cookware (in red). He has also invented cat sushi, but it's not quite what you think it is.