You'd think after almost 20 years of marriage, you'd know someone, right? That they wouldn't surprise you by replacing their passion for environmental conservation with a penchant for conservatism, or decide to start wearing a Justin Bieber T-shirt to the grocery store. But those almost 20 years of marital toil brought me more than a quirky change — it brought the end of my marriage. It also brought out a devotion to my Pit Bulls that would make a tiger mom proud and, with a newly found frantic energy, a focus to make certain I got custody of my dogs.
My husband didn't suddenly start singing Justin Bieber songs. Instead, he decided to go back to art school. With a BFA in painting, he had done an about-face after college by going to law school. Apparently, and understandably, his artistic soul was shrinking with each business deal until, in a last-ditch effort to save it, he re-enrolled to become an artist. Because I'm creative myself, I supported him. But alas, it was not in his new lifestyle plans to be burdened with a wife while he got a studio and created art in various media.
Few divorces are a surprise, I have deduced, and mine certainly wasn't, even after several years of working on it. We even did the dreaded couples' counseling, which must never help, because if your relationship is so bad that you're seeking advice on your love life from a stranger, then it's really just too far gone. But it still hurts a lot when your spouse asks for his freedom. For a while, my strategy was to distract, distract, distract, which meant far too much time spent at the mall and the accumulation of far too many useless accessories and black cardigans.
When my partner said those fatal words, we had three Pit Bulls. I knew he would be unlikely to fight for custody of the two boys, Hudson and Falstaff, but I also knew he might fight for our female, Amber. I desperately wanted all three dogs because I loved each of them, but I'm ashamed to say that I also wanted to punish my spouse. Why should he get to have and enjoy Amber when this eruption of sacred vows was his fault?
I researched my rights and planned clever maneuvers to get what I wanted. These mainly resulted from long conversations with my mom, who was young in the 1950s, supplemented by viewings of I Love Lucy. I stayed amicable and continued to stroke my spouse's ego, thanking him for "letting" me have the dogs, gently pointing out that he didn't want the responsibility of the dogs in his new life, and slowly strengthening the argument that women are better caretakers and what would he do if Amber was up all night with stomach problems?
I swallowed a lot of my pride, but this roundabout way of getting custody of the dogs seemed to be working. Unfortunately, dear Amber died about a month into the process of breaking up. The pain of losing a husband had mostly been caused by my wounded pride, but the pain of suddenly losing a dog was close to unbearable.
Perhaps selfishly, I started clinging to Hudson's strength, Falstaff's kisses, and Amber's memory (when I placed my hand in the clay pawprint that was taken after she had left this earth). I've been accused of dramatizing my feelings for my Pit Bulls, and I'm going to do it again: Without them here with me, every day and every morning when I wake, I don't know if I could have managed. The constant weariness of my soul and the refusal of my brain to quit telling me that I could have avoided this divorce if I'd lost another ten pounds made it crucial for me to have nonjudgmental, furry creatures to pet, even if they look confused when I hug them and bawl and curse my romantic nature.
For the last few months since Amber's death — except for the unusually large amount of time I spend sitting on the toilet, staring into space — I've been trying to get ahead of the divorce game and learn more about divorce law than my lawyer does. This has gotten me nowhere, as even the simplest task, such as filing for divorce, has many parts to it, and words I've never seen pop up again and again. Some divorce-and-dog chatrooms and message boards offered useful information, such as what the prejudiced use of "property" as defined in divorce means. Apparently, my dogs are legally considered to be property in almost every state. I cringed when I realized that our 60-inch TV and my beloved Pit Bulls are equal contenders in the whole divorce divvying-up.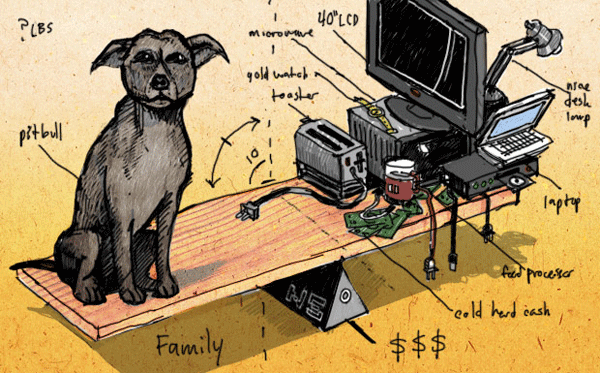 I'm lucky because my spouse is involved in a new lifestyle and doesn't want the responsibility of two dogs; after all, I could be waiting for a judge to decide who gets them. I thank my British ancestors for instilling in me their avoidance of conflict and hey, Lucy for reminding me to use my womanly wiles, because by being patient and casually underlining the time needed to take care of the boys, especially 12-year-old Hudson, I think I helped ensure ownership of my dogs.
I'm also lucky because spousal guilt (he asked for the divorce — and hell, my pride is like a shriveled apple) also helped me to secure custody. But nothing is certain until the divorce goes through.
And, while we wait, I've noticed that I'm not the only one affected by all of this. The boys get mighty confused when their ex-dad shows up to take them on walks. They're usually a bit down for a few hours after he leaves. They're clearly picking up on my depression and anxiety, especially Hudson, who is being more protective and has developed acid reflux because of the new stress.
But as I consider the many divorces where the dog was just forgotten or, maybe even worse, blamed for it (no kidding!), I think the boys and I would rather have the bonds that have grown between us, even if we do all take Pepcid now.
I've experienced sadness, fear, anxiety, anger, and confusion; I exist in a state of topsy-turvy senses. And each time a different emotion clicks into gear, I seek out my dogs to help stabilize me. I also watch them for signs of stress, and give extra dog massages on those days. I can't make a wayward spouse "Stay!" on command — but I can share my peanut butter and jelly sandwich with the true loves of my life.
In addition to my dogs, I have found that getting support during a divorce is crucial. If you have to worry about whether you'll get to keep your dog(s), then information is vital, too. Seeing a divorce lawyer is essential. You can find some good stuff, although it's a bit heavy on legal jargon, on sites such as this one. Search for "pet custody" plus your state for specific information. You can also get support from others who are trying to get custody of their pet on message boards. Or right here on Dogster.
I was tenacious when I realized I might have to fight for custody of my dogs. But is it worth it to wade through the legalities and perhaps have to swallow your pride to keep your pets? That answer seems pretty obvious to me.
Dogster readers, how do you view the term "property" in relation to your pets? Have you ever had to fight for custody of your dog(s)?
Art: All illustrations by the talented Nigel Sussman
Got a Doghouse Confessional of your own you'd like to share? E-mail [email protected].
Read More of Our Doghouse Confessionals: