Meet Hugo, your new favorite French Bulldog. He's a plucky little chap who has become a hit on the social media scene thanks to an Instagram account filled with pics of this expressive pooch going about his daily adventures — usually with an adorably perturbed looked on his wrinkled face.
Here's what you need to know to get acquainted with Hugo.
Who's Hugo?
Talking about Hugo's backstory, his human says, "We felt that the time was right to get a puppy, but we didn't know exactly what kind of breed we wanted so we searched different dog accounts on Instagram. That lead to us falling totally in love with French Bulldogs!"
"We started to collect more information about the breed and felt that it was the sort of dog we were looking for," continues Hugo's human. "Luckily, after a little search we found Hugo, who was a newly born puppy. We instantly fell in love with Hugo when we saw him for the very first time, when he was just four weeks old."
"The rest is history!"
Super Hugo
When it comes to Hugo's personality, his human says he's "very playful and super friendly." A total social animal, it's said that Hugo always wants to be around his humans "all the time."
The making of a star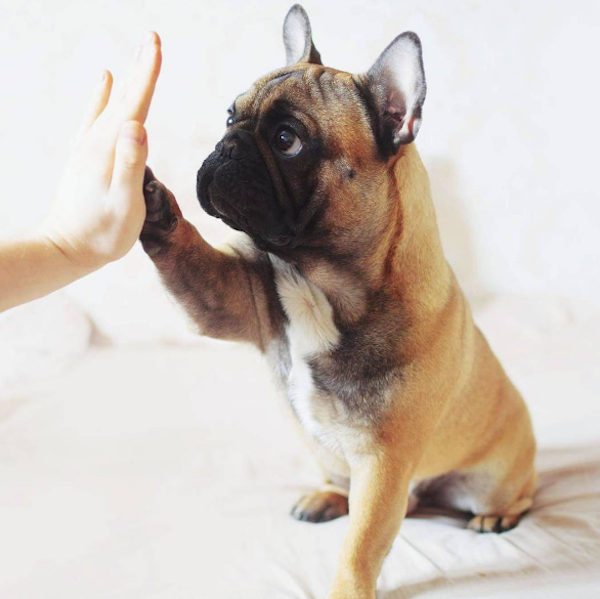 At the moment, Hugo's Instagram account has clocked up more than 20,000 followers. It turns out that the idea to begin sharing Hugo's photos came about after his humans began checking out other canine Instagram feeds and became smitten with watching "puppies growing up through photos."
"Seeing that was really inspiring, and we wanted to create an Instagram account where people can see how one little French Bulldog puppy is growing," his human explains. "Also, we wanted to make a lot of beautiful pictures of our dog." Job done.
Up close and personal
When it comes to Hugo's most successful online photos, his human says fans seem to flock to "close-up pictures of him." That's no surprise, considering this French Bulldog's super expressive face.
The great stare off
If you've been following Hugo's online adventures, you'll know that back at the beginning of March, he faced off in a grand staring contest with his stuffed penguin playmate. Tensions were high during the showdown, but Hugo's human is happy to report that "Hugo most definitely won this one!"
When pressed about what sort of tactics Hugo used to become king of the stare off, his human says he simply won't reveal his secrets. Smart pup.
Netflix and chill
When not spending his waking hours posing for Instagram pics, you can find Hugo enjoying marathon Netflix watching sessions. Apparently he's tapped into an exclusive canine-themed version of the online streaming service, with his human revealing his favorite shows being The Walking Hugos, The Game of Bullthrones, Breaking Bulldog, House of Hugos, and the cult-comedy classic Barks and Recreation.
"Basically, he likes all of the good shows about Hugos and Bulldogs," says his human.
Scoot on over to Hugo's Instagram page to check out more of his pics.