He's all grown up now, but folks in Albany, New York, still call him Hudson the Railroad Puppy. Now three years old, he was once a tiny three-week-old Pit Bull-mix pup who suffered something no dog should. Hudson became a household name after he was seemingly nailed to the train tracks along with two of his littermates — but he doesn't let the past that cost him his paw determine his future.
"He wouldn't hurt a fly," explains Hudson's human, Richard Nash. "He loves everybody. You would think that because of what happened to him he would not like men, or certain things, but he does. He loves everybody. He still loves to give puppy kisses."
Nash first saw Hudson back in the fall of 2012 during a television newscast. The headlines about Hudson started when railroad workers found the little pup and his two sisters near the tracks. All three had severe damage to their left rear paws — injuries that suggested someone had nailed the poor puppies to the tracks. One of Hudson's sisters had a hole in her paw, while the other was missing a couple of her toes. Hudson was missing his entire paw. The horrific nature of the case attracted intense media attention.
"It was national news," says Nash. "There were stories written up in London, even in Australia. It was written up worldwide."
Reports noted how Hudson and his littermates were hungry, dehydrated, and malnourished when they arrived at the Mohawk Hudson Humane Society in Menands, New York. Unfortunately, the smallest puppy didn't make it, but Hudson and his sister, Pearl, got the medical help they needed and continued to make the news in the months that followed.
"One day I was reading the newspaper, and it said they were going to be up for adoption," Nash recalls.
Nash and his spouse Rosemarie already shared their hearts with one Pit Bull, Sami, and knew there was room in their home for one more. They were definitely interested in adopting Hudson, but so were many other families who had watched Hudson and Pearl grow up on their television screens.
"Because there were so many requests from people who wanted to adopt them, they wanted an essay as to why you would be the best home for either Hudson or Pearl," Nash explains.
After submitting an essay, the Nash family was invited to the shelter for a meet and greet with Hudson, who took to Sami right away.
"It was like they knew each other. They would play a little bit, and then they would go do their own thing."
Hudson's potential human parents were happy to see that he and Sami got along so well, and they waited to hear if they would get to adopt the puppy with three paws.
"They emailed back saying we were the lucky ones," Nash remembers. "Hudson had adopted us."
When the Nash family brought Hudson home he had already been using a prosthetic paw for about a month and a half, but he was a growing pup, and he needed new prosthetics to keep up with his growth.
"We were working with the original prosthetic maker who was actually out of Nova Scotia, and we were still talking to his surgeon. It just started taking too long to get the prosthetics in, depending on how fast he was growing," Nash remembers.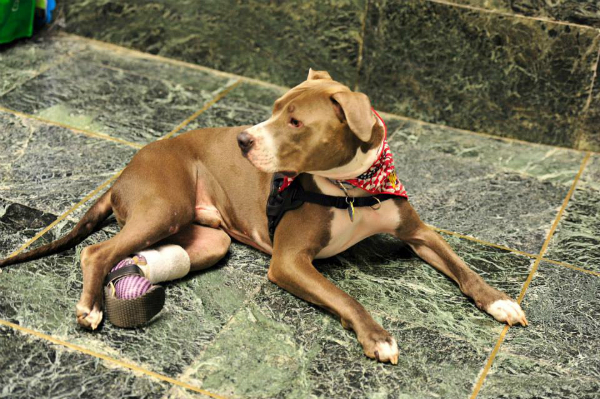 Eventually, Hudson's surgeon found a U.S.-based prosthetic manufacturer, Animal Ortho Care, and the company has worked with Hudson ever since, using him as a test case for devices that may help other animals.
"They even came up here from Virginia to fit it personally and make sure everything was right," says Nash. "They actually donate all of Hudson's prosthetics."
When Hudson is not running around on the prosthetic limb his family calls his "Blade Runner paw," he's usually catching a nap or hanging out with his dog siblings — older sister Sami and new arrival Simba the Pomeranian. According to Nash, Hudson is loving life despite his special challenges.
"He's a normal dog, but he's really not a normal dog, because he still can't do things like jump up into my pickup truck; he can't jump up into bed."
Luckily for Hudson, he's got a good support system to lift him up when he needs it, physically and emotionally. In addition to being part of the Nash family, Hudson still gets to see his biological sister Pearl. She was adopted by another family, but the two dogs obviously share a special bond.
"They can see each other from across a parking lot, and they instantly recognize each other," explains Nash.
Hudson loves his play dates with Pearl, and he also loves giving back to his community as a therapy dog. He visits schools and volunteers with hospice patients, often helping them reminisce about the dogs in their own lives. Hudson also lends his fame to various animal advocacy events in the community. According to Nash, Hudson's philanthropic efforts reflect his family's desire to pay forward the help he received when he was just a pup.
"When their story came out, so much was donated for the puppies, and we wanted to figure out a way that we could give back."
One way Hudson and his family are doing exactly that is by advocating for tougher animal cruelty laws, to hopefully deter people like the man who hurt Hudson and Pearl (and other dogs in a separate case).
Nash says Hudson's advocacy work and volunteer efforts as a therapy dog are also useful in helping dispel damaging myths about Pit Bulls.
"Overall we just wanted to give back to the community and show how great he is, how great the breed is."
Hudson's bravery, resilience, and efforts to improve the lives of other animals and people are why he is currently in the running for an American Hero Dog Award — and even if he doesn't win, he'll always be a hero to the family who says he adopted him, as well as a miracle to us.
Read more Monday Miracles on Dogster:
About the Author: Heather Marcoux is a freelance writer in Alberta, Canada. Her beloved Ghost Cat was once her only animal, but the addition of a second cat, Specter, and the dog duo of GhostBuster and Marshmallow make her fur family complete. Sixteen paws is definitely enough. Heather is also a wife, a bad cook, and a former TV journalist. Some of her friends have hidden her feed because of an excess of cat pictures. If you don't mind cat pictures, you can follow her on Twitter; she also posts pet GIFs on Google+.