Natural disasters seem to be happening more frequently and wreaking more damage than ever. Since the 80s, climate-based disasters have tripled, and we live in a world where the news bristles with reports about tornadoes, wildfires and hurricanes. The thought of getting hit by a natural disaster can be a terrifying one — especially if you live with a beloved dog. But before you begin to panic, work through this five-point preparedness plan to ensure you and your canine are ready in case disaster strikes.
1. Secure a safe haven for you and your dog
After Hurricane Katrina, the federal Pets Evacuation and Transportation Standards Act of 2006 (PETS) came into effect. The legislation ensures local emergency efforts that deal with large-scale disasters take into account individuals with household pets and service animals. For pet owners, this helps prevent the heartbreaking scenario of turning up to a designated shelter and being told your dog cannot seek refuge inside.
But there's a catch: Shelters can become full to capacity very quickly, so be smart and have a backup plan. Hotels are a popular choice — but call or email ahead to make sure dogs are welcome. Also, ask family and friends who may live close but not in a fleeing zone if they'd be willing to have a four-legged-friend stay for a while.
The first thing to pack in your emergency kit is food and water. According to Emily Schneider, the ASPCA's PR director, aim to include enough food for three to seven days. Bottled water is essential: The Humane Society recommends packing an extra gallon of water over whatever your pooch usually consumes in a week. (Keep human and canine water bottles separate.) Don't overlook food and water bowls for your dog. If space is an issue, grab disposable food containers from a discount store.
Next, think about any medicines your dog has been prescribed. Speak to your vet about extra medications in the case of a disaster situation. Add a mini first-aid kit, too: Antibiotic ointment, tape, cotton bandages, scissors and latex gloves are standard, and throw in a canine first-aid book if you can.
Cleanliness is key, so add poop bags, potty pads or even aluminum foil trays (for your dog to do her inside business in). Oh, and grab some hand sanitizer while you're stocking up.
3. Prep your paperwork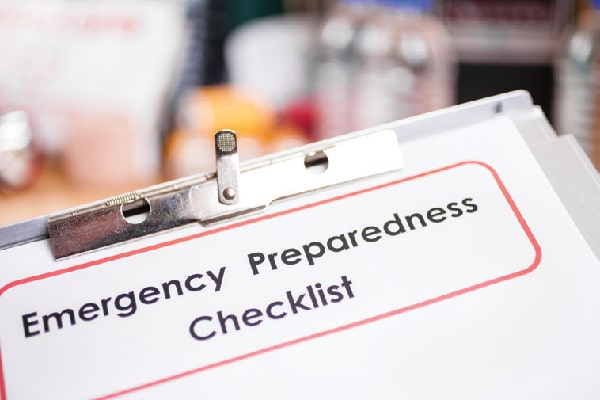 An emergency kit isn't just about day-to-day basics like food and accessories — it's also imperative to include your dog's paperwork. Adoption records and up-to-date medical records are key; the latter should mention any current medication your dog has been prescribed (including dosage amounts), and it's vital to include vaccination and rabies records in the packet.
Havoc and panic often break out during disasters, and this can result in dogs becoming separated from their humans. For this reason, both the ASPCA and the Federal Emergency Management Agency (FEMA) recommend adding photos of your dog to your paperwork. Ideally, include some of you and your canine together, so you can be identified as the dog's owner. Also, don't forget to keep your paperwork sealed inside a waterproof folder.
4. Have your dog ready to go
You've got your food and medical supplies all packed up, and your paperwork is in check — but is your dog physically ready to leave the home yet? You'll want to have a leash, a harness and some form of carrier ready to be used at a moment's notice. Most public places require a dog to be leashed. (Remember a spare leash and harness, too.) Bring blankets if you think your canine might need to stay inside a cage for any period of time (and add your contact details to the cage). Also, if you suspect your dog could become spooked or fearful in an evacuation situation, add a muzzle — one your dog can easily breathe and drink through.
Now is also the time to check that your dog's collar and tag contains up-to-date information. The ASPCA recommends detailing your pet's name, your phone number and essential medical requirements. They should include city or county license tag and a proof-of-rabies vaccination tag, which some places require your dog to wear by law. Your dog should be microchipped and that information kept up to date with the microchip company. Not only does this increase the chance your dog will be returned to you, but it's proof that the dog does indeed belong to you.
5. Work out a safe room in your house
If you're advised to stay home during a disaster, do you know which room to safely retreat to? This is something to figure out ahead of time. In general, the safest rooms are those without windows or glass, because during hurricanes or tornados broken windows and flying debris can become deadly. Consider whether your basement, bathroom or a large, walk-in closet could become your safe room.
Access to fresh water is another key factor for a safe room. If running water isn't available, get prepared by filling tubs, sinks and even large stock pots with water.
Finally, a word on a couple of disaster-specific situations. During flooding, evacuate to the highest, safest place in your house. Make use of countertops and shelves to elevate your dog to safety if needed. If you live in an area prone to tornadoes or hurricanes, add a dog crate to your safe room and place something sturdy on top of it to protect from falling debris. You can also stockpile helmets for you and your dog — in matching colors if you so desire.
6. Learn lessons from recent disasters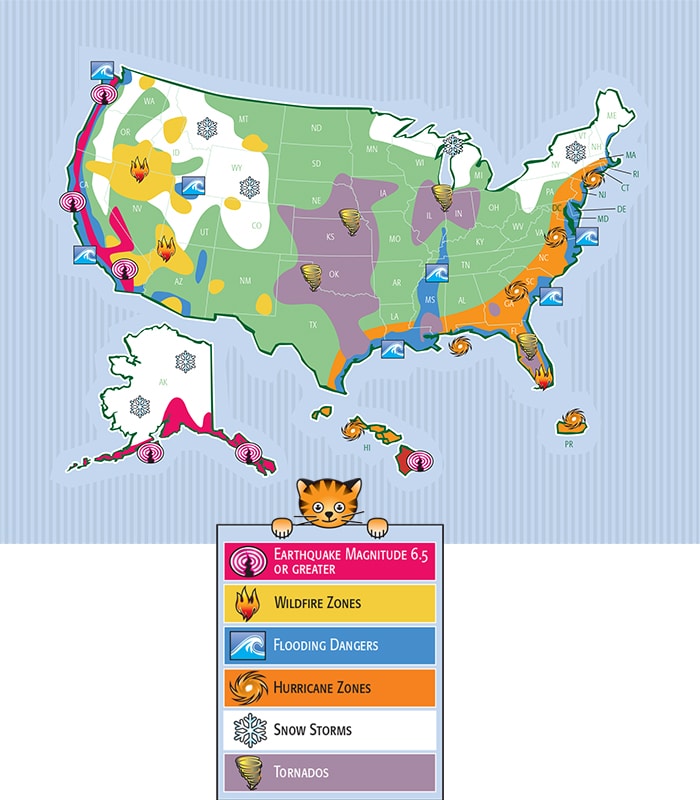 The devastation of Hurricane Katrina inspired the bi-partisan PETS Act to better serve pet owners during disaster relief.
After reviewing the aftermath of Hurricane Maria, the ASPCA advised future relief efforts aimed at humans and pets together are more effective than separate initiatives.
Hurricane Florence suggests that it's beneficial to pack more food and water than standard emergency kit guidelines — if space and logistics allow.
Natural disasters can impair or wipe out cellphone service — so write down important phone numbers and consider setting up a buddy system, where you and friends or family members chain messages together.
The biggest lesson from recent disasters is simple: Evacuate if you are told to evacuate. Stubborn stay-putters place a strain on rescue efforts and increase the danger to themselves and their dogs.
Thumbnail: Photography ©Akabei | Getty Images.
Phillip Mlynar spends his days writing about cats, hip-hop and food, often while being pestered by his rescue, a mackerel tabby named Mimosa. His work appears in Vice, Pitchfork, Red Bull, Bandcamp, VinePair and Catster. He's won various awards at the Cat Writers' Association Communication Contests, some of which are proudly on display at his local dive bar in New York City.
Editor's note: This article first appeared in Dogster magazine. Have you seen the new Dogster print magazine in stores? Or in the waiting room of your vet's office? Subscribe now to get Dogster magazine delivered straight to you!
Read more about emergency preparedness for dogs on Dogster.com: