Pierre would have turned 14 this year. His birthday was on April 29, the day after mine. We had celebrated many, many times together.
He was our family dog and my best friend; we shared not just birthdays, but the bed and the bathroom (his wee wee pad was in there) for many years.
He passed away last November. It was sudden. His body began to shut down. I currently live in Los Angeles and couldn't be there during his last days. He was living with my parents in Jacksonville at the time. My worst fear had come true.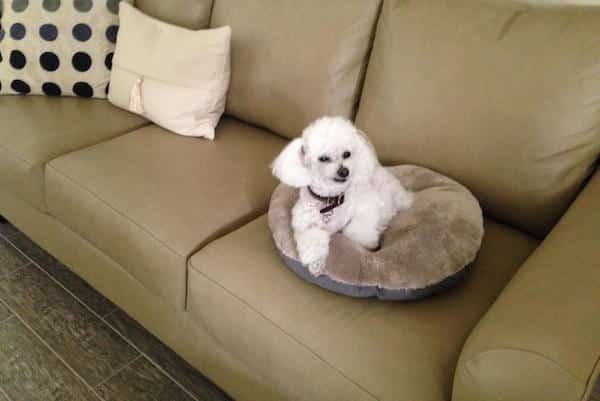 Pierre came into my life in 2002. I found an ad for a toy dog pet shop in Fort Lauderdale. I couldn't wait to see all the dogs and hoped to leave with one.
I walked into the boutique and saw a small Poodle jumping up and down in his corral. He had a little plastic green bow on his head. Pierre was 6 months old at the time.
The following weekend, my family went back with me. We took him to his forever home.
He immediately was the prince of the house. We bought him toys, clothes, bags, food — you name it he had it. He even had his own mini Christmas tree. He brought so much joy to my mother and I. He took care of us like we took care of him. He sensed when we were sad or sick, and wouldn't leave our side. He licked my tears away when I cried. He healed me.
Around 2005, I had my first scare with Pierre. I was watching TV in my room when he began to shake. He couldn't walk. I thought he was dying. I panicked and called the vet. The worst thoughts ran through my head. They concluded he suffered from seizures. He would have to take medication for the rest of his life.
I eventually moved to L.A. My parents sold their home in Miami and moved to Jacksonville. I visited twice a year, and every time I feared it would be the last time I would see him.
Nothing was wrong with him. He was healthy. I was just neurotic.
Last year around this time, I booked tickets to visit my family for Christmas. I was looking forward to being home and seeing Pierre.
I got the dreaded call on a Saturday morning. My mom told me that Pierre had stopped walking. His heart was failing and he wouldn't eat. My heart dropped. I wanted to vomit. I started balling. I just envisioned him next to me, licking my tears dry.
The vet prepped my mom. He gave her some medication for his heart, but told her the prognosis didn't look good. We prayed he would make a miraculous come back.
For a few days he got better, but then reverted back to being really ill. I was in denial. I wanted to see Pierre for Christmas. I didn't want to let go.
The following Friday, I was driving to my job. My mom called me. "Pierre passed this morning," she said.
I didn't immediately cry. "He had an amazing life with us, and I'm happy we were part of it," I responded.
The call was short. She was hurting, so was I. I hung up and continued to drive to work. It all sank in. I couldn't stop crying; I could hardly drive. I got to my job. It was evident I had been crying. Thankfully, my supervisor understood and sent me home.
It felt surreal. My Pierre was gone forever. I would never see him again. Why do I live so far away? Why didn't I just go back to Jacksonville? So many regrets, I finally came to terms with his death. I forgave myself and let the anger go.
Death has no timeline. It has no plan, no itinerary. However, you can't stop your own life for fear of those you love dying.
Thanks to him, I know much more about pet shops. I advocate for adopting. My two cats came from L.A. shelters, and I won't do it any other way in the future. Pierre ended up having a slew of health issues. I'm not sure if he came from a bad breeder or a puppy mill, but they took a toll on his life and our emotions.
I'll always have Pierre in my heart, and he taught me how to be a furbaby mom. He showed me patience and unconditional love. Even when they chew a shoe, scratch up a chair, or bark too much, just remember they just want your love. You are essentially their world.