Halloween harbors a host of frightfully funny sights and sounds, especially for pet lovers: Beagles crooning along with golden oldies like "Monster Mash." Chihuahuas dressed up as Bruno Mars, sporting miniature guitars and indignant expressions that seem to proclaim, "Let It Go." Unfortunately, many common trick-or-treat activities aren't so entertaining. They can prompt pet panic attacks, pancreatitis and even poisoning. But never fear: This handy checklist of Halloween dangers for dogs will arm you against terrifying surprises, so your furkids stay safe and secure.
1. Halloween candy is toxic to dogs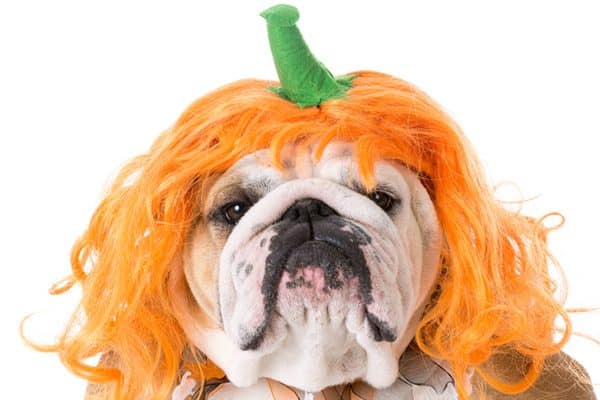 Chocolate scores high on many kids' lists of #HalloweenGoals. Unfortunately, chocolate is also highly toxic to dogs. That's because it contains both caffeine and theobromine, which are tough for furry friends to process.
"Theobromine and caffeine are known as methylxanthines," explains Melissa Behrens, DVM, a veterinarian at Animal Hospital at the Shores in Lake Barrington, Illinois. "Dogs are far more sensitive to methylxanthines than people, and different types of chocolate contain varying amounts. In general, though, the darker and more bitter the chocolate, the greater the danger."
To help Fido celebrate fearlessly, consider carob-flavored treats. They have the outward appearance of chocolate — but in occasional, nibble-sized quantities, they're safer for four-legged friends to ingest.
According to the Animal Poison Control Center (APCC) run by the American Society for the Prevention of Cruelty to Animals (ASPCA), grapes and raisins can be dangerous nibbles as well. Both have caused kidney damage in certain canines. Because the exact reason for this documented reaction is still being studied, it's best to keep these tasty tidbits far from furry friends.
Xylitol, a non-caloric sweetener used in certain gums and candy products, is another worrisome culprit. "Xylitol ingestion can cause a large amount of insulin to be released by a dog's pancreas, resulting in hypoglycemia or low blood sugar," warns Elisa Katz, DVM, a veterinarian and certified canine rehabilitation therapist at Natural Pet Holistic Veterinary Center in Bourbonnais, Illinois. "This is an emergency that can lead to confusion, uncoordinated behavior, weakness, seizures and even death."
"Always read your labels," cautions Dr. Behrens, "and remember that dogs have great noses! They'll sneak into purses or bags if they smell something sweet."
2. Candles and décor are Halloween dangers for dogs
It's sometimes easy to forget that when placed on a table and lit, fall-scented candles are approximately pet-high. The same goes for miniature tapers and tea lights positioned inside carved pumpkins, too.
Larger dogs may even fling their front paws onto mantels and ledges to catch a closer whiff, thereby causing a fire. No matter how small, any seasonal item that emits a flame should be kept well away from canines. Remember this simple rhyme: "Wagging tails and glowing wicks; these are things that never mix."
3. Festive Halloween food and drinks could cause issues

Halloween is a time when larger-than-average groups converge inside homes for themed parties and scary movie binge-watching. So, it pays to set firm house rules when it comes to feeding the family pooch.
As noted above, anything that contains caffeine could potentially prove fatal. That includes pumpkin-spiced lattes, mulled tea, hot cocoa, cola — and even coffee grounds. And feeding high-fat treats and trimmings from the holiday buffet table could prompt sudden pancreatitis flare-ups. Keep all these items far from questing noses.
4. Cool-weather chemicals are toxic to dogs
When outdoor temperatures begin to plummet, some people start using rodenticides to discourage pesky critter infestations. Similarly, late autumn is a common time to begin adding antifreeze to the family car. Don't forget, these poisonous chemicals can easily kill a canine.
"The toxic ingredient in antifreeze is a potent alcohol called ethylene glycol," observes Dr. Behrens. "Unfortunately, many pets will drink this sweet-tasting fluid if it's spilled on the ground, or left out in the open. Some brands add bittering agents, but this won't deter every dog."
Dr. Katz concurs. "Ethylene glycol is metabolized to various acidic substances," she explains. "Ingesting even small amounts can result in an acidosis of the body — leading to a buildup of irreversible calcium oxalate crystals and mineralization of the kidneys."
Only use these types of household products with tremendous caution — and clean up any spills immediately. Both vets agree that antifreeze consumption should always be treated as an extreme emergency requiring rapid medical attention.
5. Pumpkin beers spell out trouble for dogs
Some owners think it's super-cute to let their pooch have a few slurps of beer. Unfortunately, ingesting even minute amounts of alcoholic beverages — and flavored coffee syrups, too — can lead to doggie digestive upset, liver issues or organ damage. Remember that a canine's organs are much smaller than a human's, and prone to faster impairment.
For a non-alcoholic alternative that lets your pup party away, consider a low-sodium broth or a broth-based, meat-flavored pet beverage like Bowser Beer.
6. Doorbells ringing are scary to dogs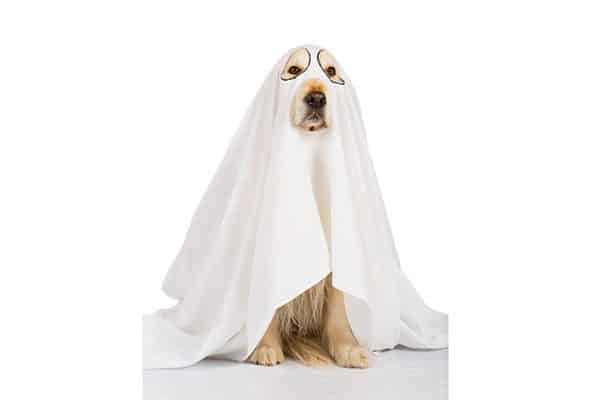 Many pups put doorbells right at the top of their terror lists. A loud, abrupt noise that proclaims the entry of unfamiliar strangers? It's not hard to understand why this might be upsetting. For pets who associate that familiar "ding-dong" sound with something dire, swaddling can sometimes relieve excess anxiety.
The principal is similar for both canines and human newborns. Recognized Soviet physiologist Dr. Konstantin Buteyko and his colleagues have explained that swaddling can ease and prevent hyperventilation from the upper chest area. It creates a sort of systemic feedback loop: Breathing begins to issue from the lower diaphragm; smaller volumes of air are inhaled; and overall respiration slows to create a calmed feeling.
Commercial products like the Thundershirt were designed around this swaddling dynamic, and they're readily available at most pet stores.
7. Trick-or-treaters and stranger-danger guests mean Halloween frights for dogs
Speaking of doorbells, let's talk strangers and visitors. Pets instinctively guard their own territory. So, it can be extremely upsetting when an endless parade of giggling ghosts and goblins visit… or worse, head straight into the house accompanied by loud music and strobing lights.
"This loud, high-energy environment can cause anxious pets to escape right out the door of their homes," notes Dr. Behrens. Dr. Katz agrees that panicky pets who bolt could get lost, abducted and even hit by a car.
If you host Halloween revelers in your home — in any capacity — be extra-sensitive to your pet's needs.
It's often best and safest to let your pooch hunker down in a secure, quiet room away from the action. In pronounced cases of anxiety, an overnight stay at a reputable boarding facility or with a trusted family member, friend or sitter can give furry friends a reassuring break.
As an added seasonal precaution, it's always smart to keep the number of your local vet and emergency clinic close at hand. Also, remember the hotline for the ASPCA Animal Poison Control Center: (888) 426-4435. If anything unexpected happens, consult these resources without delay. Here's wishing you and your pet a safe, secure and ghoulishly good time this Halloween!
Thumbnail: Photography © damedeeso | Thinkstock.
This piece was originally published in 2017.
Read more about dogs and Halloween on Dogster.com: