They sit up in the tree, raining chittering curses down upon my dogs, who look up in frustration. They tease and taunt, flicking those irritatingly twitchy tails, from the safety of the highest branches. Squirrels are the bane of my dogs' existence.
Tucker the terrier knows these creatures own the treetops, but he's a very fast hunter, and woe unto the squirrel who gets caught too far from the nearest trunk.
Even when a squirrel is outnumbered three to one, these crafty little devils somehow manage to evade the jaws of my dogs. I don't wish them harm; I actually think they're cute, though I'd rather they didn't raid my birdfeeders. To Lilah, Jasper and Tucker, though, squirrel chasing is programmed into their canine DNA. And when they see or smell a squirrel, the dogs short circuit, all logical thinking disappears, and the game is on.
It nearly always ends with three frustrated dogs wishing they could climb a tree or a fence, as an irascible rodent mocks them from above.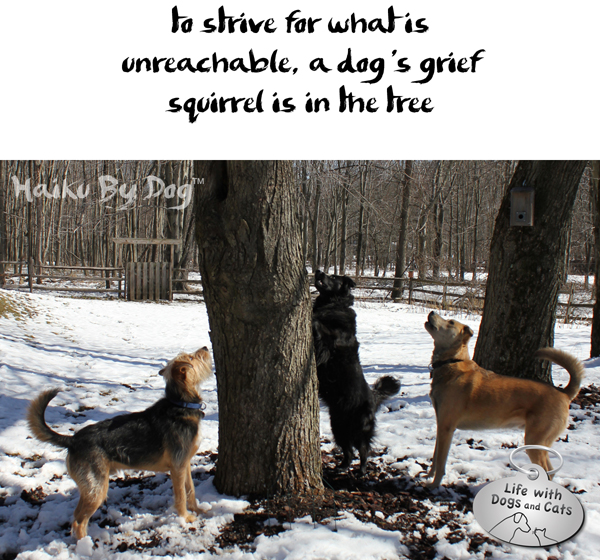 Even when we're inside the house, the brazen squirrels continue to pester my pups, knowing they're safe with the dogs behind glass. Whiny, stressed-out moans and growls emanate from my aggrieved animals when they see the creatures tantalizingly close but unreachable. Were I to be able to translate those sounds from Dog to English, the results would probably not be printable on a family-friendly site such as Dogster.
What do your dogs think about squirrels? Or are there other creatures in your neighborhood that perform the same exasperating role? Tell us in the comments — or post a haiku about it!
Read more Haiku by Dog:
About the author: Susan C. Willett is a writer, photographer, and blogger whose award-winning original stories, photography, poetry, and humor can be found at Life With Dogs and Cats. She lives in New Jersey with three dogs and four cats (all rescues) and at least a couple of humans — all of whom provide inspiration for her work. Refusing to take sides in the interweb's dogs vs. cats debate, Susan enjoys observing the interspecies interaction among the varied inhabitants of her home — like living in a reality TV show, only furrier. In addition to Life With Dogs and Cats, you can find more Lilah, Jasper, and Tucker (and the rest of the gang) on Haiku by Dog™, Haiku by Cat™, and Dogs and Cats Texting.