Guinnevere Shuster is a photographer on a mission to change the way shelter dogs are presented to the world. After noticing that most pictures of pups in need of homes are badly composed shots of sad dogs caged up behind bars, she began offering her photographic services to shelters. By portraying dogs in a fun and animated way, she saw adoption rates increase.
Now Guinnevere has published a book of her work, Shelter Dogs in a Photo Booth, which profiles more than 100 dogs and shows off their goofy side and playful personalities. Better yet, all of the pooches in the book have been successfully adopted, and a short section at the end features photos of the dogs with their new families.
Taking time out from her role as social media coordinator at the Humane Society of Utah, Guinnevere spoke to Dogster about the origins of Shelter Dogs in a Photo Booth, ways to help other shelters produce better photos of their canines, and her own rescues.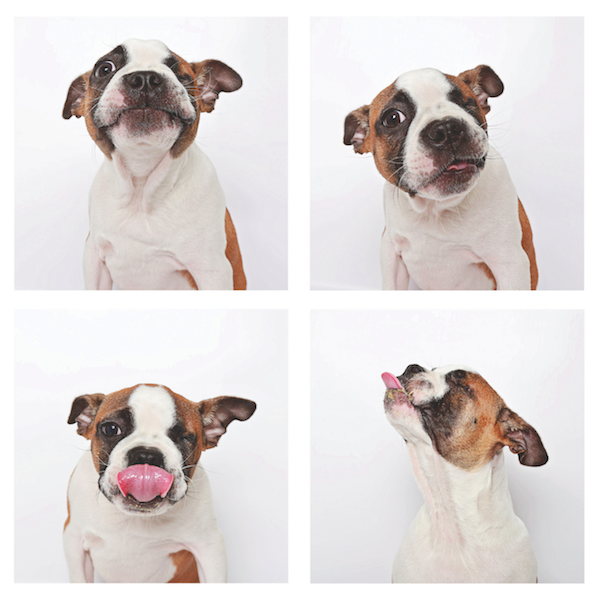 Dogster: What inspired you to start the shelter dogs project?
Guinnevere Shuster: I started this series to help show shelter dogs in a positive and different light. The main goal was to help them get adopted and show people that there is a wide range of dogs in shelters looking for homes.
Why did you chose the photo-booth-style layout of four photos for each dog's portrait?
Originally, I had a hard time just picking one, but then I realized to better showcase the dogs, multiple shots were needed. With most people viewing these photos on social networks and their cellphones, the square format worked best for viewing purposes.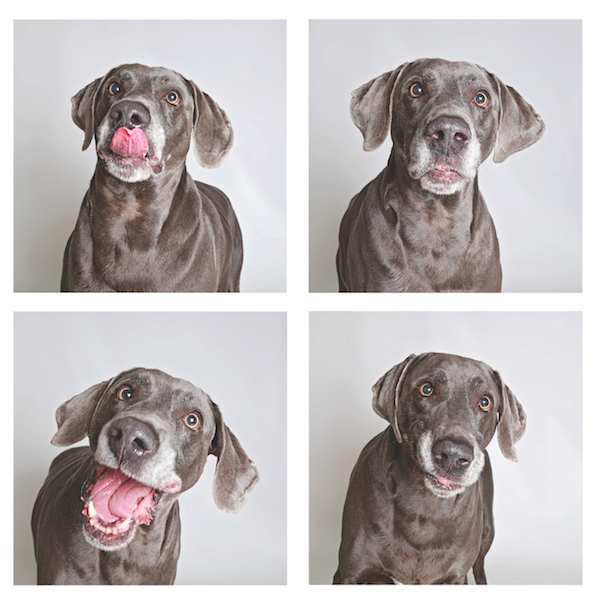 How do people usually react when they see the portraits online?
I enjoy reading all the comments they leave. Usually, people react with laughter — my favorite is when they say this is how the dogs look when they first wake up or see cake. But the best is when they rush in to meet and adopt the dog. It doesn't get much better than that!
Who's the dog on the cover?
That's Buzz. He was a young guy who transferred from another shelter for a better chance of getting adopted.
What do you remember about Buzz's photoshoot?
We knew nothing of Buzz's past, but he was really smart and eager to please. He knew all his basic commands and loved showing them off. I remember asking him to shake and he'd wave his paw in the air like five times before I could even get a treat to him to reward him for the first shake. He's a great dog!
At the Humane Society of Utah, what sort of difference in adoption rates did you see once you began using better photos of the dogs?
It has definitely helped, but there are lots of programs at the HSU that have helped contribute to the rise in adoption rates. However, dogs with the photo booth pictures are often adopted within a day or two of sharing their photos on the HSU Facebook page — and sometimes even within hours.
Why do so many shelters use such bad or depressing photos of dogs? What can be done about this?
Honestly, I think it has to do with the time and resources available to those shelters. Having the knowledge and means goes a long way. Many animal welfare organizations that have the means are assisting others by providing grants and teaching photography workshops. I recently taught a shelter-pet photography workshop for Best Friends Animal Society's NKUT coalition partners. HeARTs Speak is another great organization doing the same thing for shelters across the country.
Finally, do you have any dogs yourself?
I do! I currently have three of my own and a foster. Wumbi is my 12-year-old Aussie mix, whom I adopted when he was just 4 months old. I have a 5-year-old and a 2-year-old, both big, blocky-headed boys named Tubs and Grant. I adopted them both from the HSU over the last three years. And lastly, my foster dog Petunia is a little 1-year-old English Bulldog mix with mange. You can follow their daily cuteness on Instagram.
Buy Shelter Dogs in a Photo Booth as a book or e-book from these online stores.