By the time you've poured your first cup of coffee, Grace, a Corgi mix, is well into her day. She's already logged a three-mile walk and is ready to tackle the rest of her to-do list, which includes ample time for ball chasing and refusing to be outsmarted by her vast collection of Kong toys.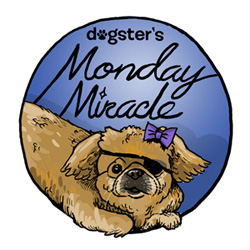 It is hard to believe that this spirited pup can play with and enjoy chew toys, because just a few months ago she was found abandoned in a park with her muzzle bound.
She also had what appeared to be burns along her lower jaw and tongue from chewing on an electrical fence.
Grace was found by an unidentified Good Samaritan in October. She was taken to an emergency veterinary clinic where she received treatment and was placed with animal control.
Grace also underwent touch-up surgery, which involved the removal of necrotic tissue, and had her wounds sutured to give her more jaw mobility.
In mid-October, Grace came under the care of the Helen Woodward Animal Center. Adoption staff provided antibiotics and monitored her recovery as she slowly healed. Because her muzzle was swollen and her tongue damaged, Grace's pain made it impossible for her to eat unless small bits of soft food were placed at the back of her mouth. Despite her ordeal, Grace never complained and instead responded with nuzzles and licks.
She found her forever home several weeks ago when she was adopted by Jim and Marilyn Biggie of Escondido, California.
Jim says that after seeing segments on the Helen Woodward Animal Center on KUSI Channel 9, he and his wife decided one day "to just take a ride" to visit the facility.
The Biggies had their hearts set on a smaller dog, like a Chihuahua, which would be a lap dog. They previously had a Maltese named Lilly, whom they loved for 17 years before she died.
Jim said that first time they visited Helen Woodward Animal Center, it was on the weekend and was busy so they didn't stay long. "There was a little white Chihuahua who caught my eye, but we decided to leave and come back during the week because there were a lot of people crowding around the kennels," he said.
Grace also wasn't there that day.
"From what I understand, Grace had gotten adopted, but the folks only kept her for a few days. Their circumstances changed, and they brought her back. So when we were there for the first trip, we didn't see her," Jim said.
Marilyn suggested coming back during the week when it wouldn't be so busy and they would be able to take their time and look. They went back to Helen Woodward Animal Center that following Wednesday, and Grace was there.
Jim said, "Gracie was in her bed and in her little kennel. She was just so peaceful and sweet and small. We looked at her, and she looked at us, and we walked around another 20 minutes or so. We came back and asked if we could meet Gracie."
The Biggies still had no idea the puppy had been abused. "We didn't look that close at her. We didn't know," Jim said. He quickly realized it after the volunteer brought them into the kennel and Jim picked her up and said, "It looks like her mouth has had something done to it." They spent some time in the kennel, but Jim said, "That was it because Gracie just climbed right into our hearts."
After they filled out paperwork and did an interview, Jim said, "Gracie was docile, and I carried her out to the car. She stayed that way for about four hours before she took over our home completely."
He says Grace's mouth is "fully functional. My arm will show it because she is testing her bite pressure."
In the short amount of time that Grace has been in her new home, Jim said she has almost doubled in size and is very smart.
Grace is in puppy training classes and already understands all of the commands. Jim said, "We enrolled her in puppy training at Petco, and she is the example puppy. She does all the commands first because she picks them up immediately. She knows sit, touch, and look at me."
They are also still trying to figure out exactly what kind of dog Grace is. He said the Corgi part is right, but the other part? "Probably Tasmanian devil," he laughed and added, "Whatever she is, she is a wonderful puppy, and she is going to be a great dog."
When he was asked if Grace plays favorites between him and his wife, Jim responded, "It depends on who is sitting at the right chair at the right time. I hate to call her a little con artist, but she is, because she knows!"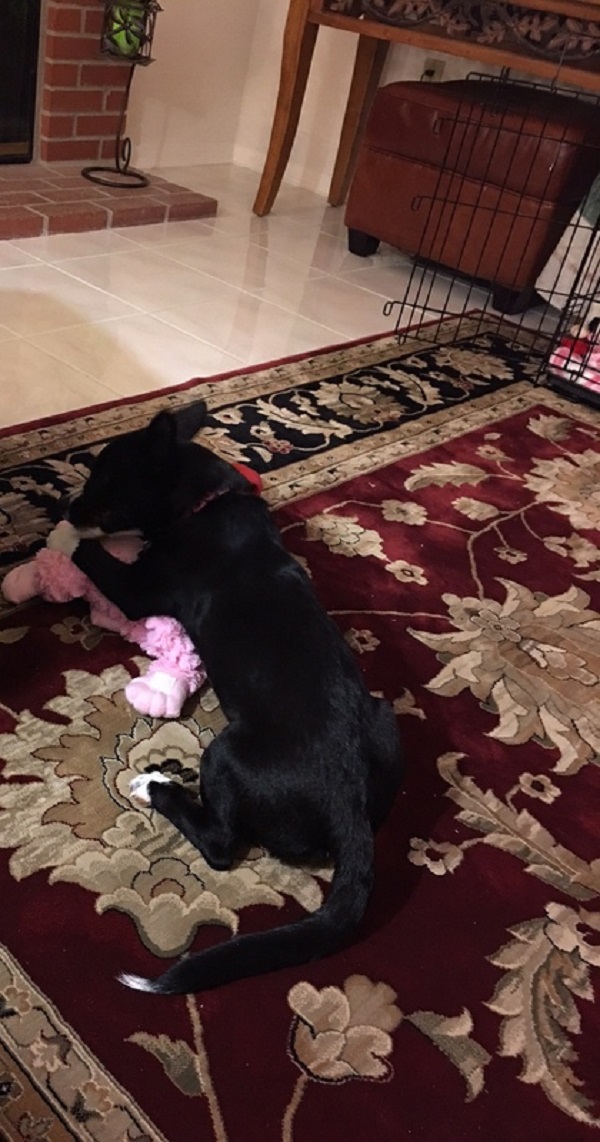 Grace is also quite spoiled. Jim explained, "She probably has half of Petco in our house as far as toys go because we just spoil her. You can't help but not spoil her, knowing what she has been through."
Jim confessed that there was a time when he and Marilyn swore they would never get another dog. He said, "Pets become part of our family. We swore to one another that we weren't going to get another dog after Lilly died because we didn't want to go through the grief. But as the months passed, we realized that was stingy."
How was that stingy?
Jim answered, "It was stingy because there are so many pets in need of a home and proper care. We have the home and, thank God, the means to take care of a pet in need. We feel our not wanting to grieve the loss of a pet again should take a backseat to saving a life and providing a loving home."
Read more Monday Miracles:
About the author: Anne Forline is a freelance writer in Bellmawr, New Jersey. She is an unrepentant foster failure. Her three rescue bunnies, JoJo, Bennie, and Nibbles, allow Anne, her husband, Steve, and daughter, Cara, to share a home with them. Anne likes to run 5Ks and has placed a few times in her age division. She is also a certified teacher who homeschools Cara. Anne makes friends with all of the neighborhood dogs and keeps treats handy to give out when they pass by on their walks. See more of her work at anneforline.com, check out her Facebook page – Anne Forline – Writer, and follow her on Twitter at @AnneForline.