Love dogs? Want to give back but don't have tons of time or energy? Need to spend more time with your own dog? Try combining getting out with your dog and giving back to dogs together. It's not something we've done since moving to Charlotte, so I thought I'd try to find a fun dog benefit event.
We heard the dog rescue Long Trails to Happy Tails was having a fundraising contest at a local dog bar, Lucky Dog Bar and Brew. OK, this sounded like something we could do. So we decided to enter our dog, Tampa Bay. There were three categories: Best Strut, Best Smile and Best Outfit. Tampa isn't much of a strutter, so that left of us with two categories, and my husband signed us up.
Best Smile? Well, Tampa would win or not. He's got a huge under bite, which scares non-dog people. Dog people think it's cute. As for Best Outfit, Tampa has a whole closet full thanks to him modeling for me and all the magazines I've worked for over the years. He was getting groomed that day at our favorite doggie boutique, so I decided to get him something fresh and settled on Hawaiian shorts and a t-shirt. We had a small green dog hat at home to complete the ensemble.
Inside the Lucky Dog Bark and Brew, a dog bar in Charlotte, NC
We set off to the Lucky Dog Bark and Brew in Charlotte. I've never been to a dog bar before and wasn't sure how Tampa would react. He does pretty well around dogs (with a little over-sniffing) when his dog brother Justice isn't around. We'd also invited my cousin and his wife, plus their rescue dog, Lottie.
The parking lot and run-off lot were both full when we go there. Hmm, popular place. We parked down the street and waited outside the bar next to a big fenced-in outdoor area, where people sat around a patio with drinks and the dogs romped around, running up and down the dog ramp that sat in the middle. There were dogs of all shapes and sizes, running around having the time of their lives. Tampa cautiously sniffed the air and watched the dogs running around with big eyes. Once my cousin Grant, his wife Jenn and their dog Lottie got there, we introduced the two dogs, who hadn't met before. Quick sniff and Lottie was done, but Tampa sniffed her with great interest.
At the door, we had to show our IDs (only 21 and older allowed) and sign some sort of waiver/list of rules. No toys or food of any kind were allowed. That made sense, as we don't need resource guarding issues. Plus, any aggressive dogs would be asked to leave. All dogs needed to be up-to-date on shots and fixed. Check and check.
Dog bar etiquette
I looked at Tampa, who seemed to be taking it all in, very calmly. Whew! Next, we registered for the contest. On the table sleeping was the cutest puppy up for adoption. (He was just one of the cute puppies there up for adoption.) My husband, Scott, was immediately smitten, and I looked at him and said, "No." (We already have four pets.)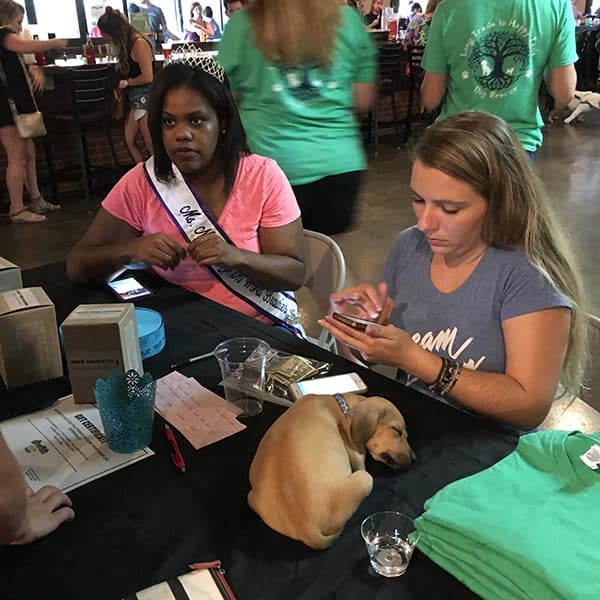 Of course, a woman with a very energetic, not-quite-adult dog came up to the registration. She didn't have great control over her dog and he kept trying to run up to Tampa. Like many older dogs, Tampa isn't a big fan of energetic puppies jumping all over him. I kept pulling him away and the dog kept pulling toward us. Uh oh, maybe this wasn't such a good idea. I got a little worried. I shouldn't have been.
We took Tampa and Lottie away from the puppy and walked through the bar. It was amazing. There were leashed dogs everywhere, mostly medium to large dogs. You had to keep the dogs leashed inside the bar, but there were two indoor dog areas where they could be off leash (one for big dogs, one for small) and the outside off-leash area we had seen before. Dogs were not allowed to be on leash in the off-leash areas. Every exit/entrance had two sets of doors, so dogs could not get one from one area to another — which they did try. There were always dogs at the doors trying to sneak by.
We spent a good hour walking around, letting our dogs greet other dogs. Grant took Lottie to the off-leash indoor area, but Tampa hadn't been to a dog park in awhile (he could take them or leave them) so we kept him on leash with us. He seemed to enjoy it, although he would watch from behind my legs at times, but no trembling or crying, which he does when he's scared. I took Tampa all around exploring. One time, I spotted Scott with a sleeping puppy on his shoulder. He looked at me across the room. I shook my head no.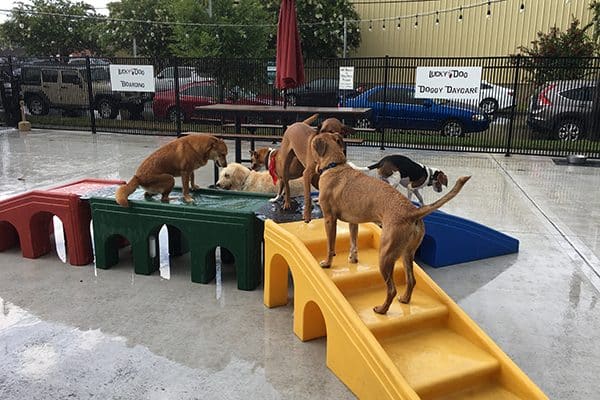 A big rain shower hit while we were there. It didn't faze the outdoor dogs at all. They continued to run around playing chase, water and all.
The big contest — and the winners are…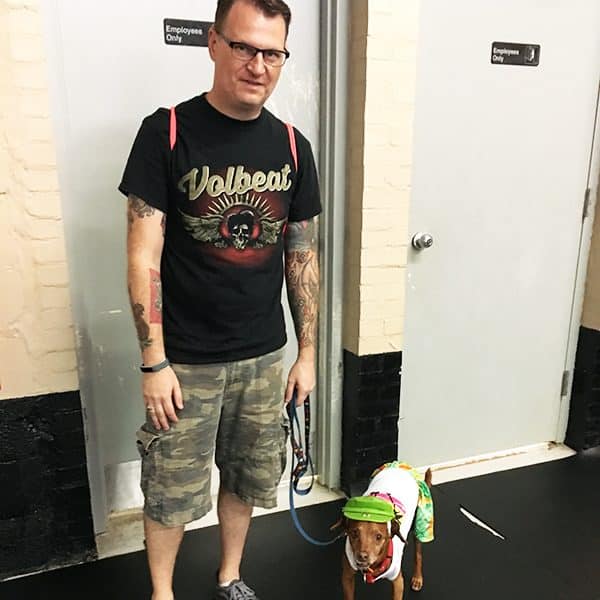 Soon it was time for the big contest. We quickly put Tampa in his outfit, and he didn't even try to throw his hat off! Usually I have to bribe him with a treat to not do that! We had stiff competition, especially when I saw the Pit Bull wearing a bikini.
Sure enough, the sweet Pit Bull won for Best Outfit. A dog with only three legs won for Best Strut — and that dog knew how to strut. But Tampa won for Best Smile. He got a crown and plenty of applause. We were so proud of him!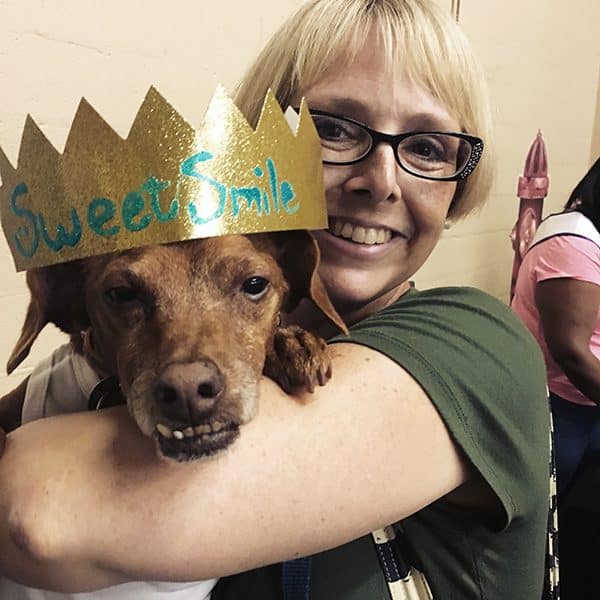 It was a great afternoon. I've not seen that many large dogs in one place before, even in the dog parks in California. Big dogs are alive and well in Charlotte! I couldn't even count them. The rescue made some money for a good cause, and the dogs got to play while the humans enjoyed some of the local beers. And the puppies up for adoption? They had people fawning over them all day and I believe they all had people who were going to submit paperwork to adopt them. All in all, a good day. I'll have to search for more giveback doggie events to do.
Have you ever been to a dog benefit or dog event with your pup in tow? Tell us in the comments!
Stay tuned for more from Executive Editor Melissa Kauffman on Dogster.com's Dug Up at Dogster column and on social media with #DogUpatDogster.