Dog owners can be fickle when it comes to choosing a breed. The Sealyham has been among the most and least popular of any AKC breed, and right now his future hangs in the balance. The Kennel Club in Britain lists the Sealyham as one of its most endangered native breeds. In 2011, the British magazine Country Life had a Sealy on its cover, with the headline "SOS: Save our Sealyhams." It is amazing that a breed once so popular should face possible extinction. How did this happen?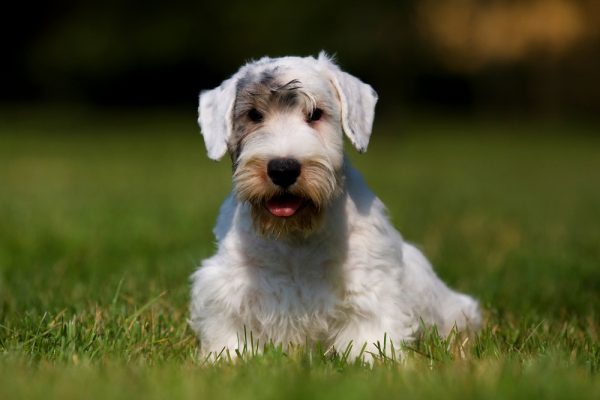 More interesting things about the Sealyham Terrier
Starting in 1850, Captain John Edwardes of Sealyham in Wales worked to develop a plucky, good-looking white dog who could face down badgers, otters, and foxes. He crossed Dandie Dinmonts, Fox Terriers, white Scotch Terriers (predecessors of the West Highland White), and now-extinct White English Terriers, with even some Welsh Corgi included. The white coat helped the hunter tell the difference between the dog and the quarry.
In the early 1900s, the Sealyham was one of the most competitive show dogs. They were also popular as pets, especially with Hollywood celebrities and British royalty, and as hunters, especially for badger digs in Britain.
When badger digs were outlawed, the breed's popularity with hunters declined. Popularity with celebrities and other pet owners also declined — not that they were ever interested in badger digs! The Sealyham is now one of the rarest of all AKC breeds.
It was recently declared one of Britain's vulnerable native breeds.
The breed became AKC recognized in 1911.
It is a member of the AKC Terrier group.
Sealyhams compete in earthdog trials as well as barn hunt competitions.
Four different Sealyhams have won Best in Show at the Westminster, most recently in 1977. They have competed there since 1912.
A Sealyham named Charmin is the only dog of any breed to win Best in Show at the World Show, the AKC Invitational (earning him a $50,000 prize), and also Crufts (the world's largest dog show, with more than 22,000 dogs entered). He also won the terrier group at Westminster and appeared in commercials for Eukanuba. He was named Charmin because he was "squeezably soft" as a puppy, but his official name is Champion Efbe's Hidalgo at Goodspice.
The Sealyham is the 163rd most popular AKC breed, up from 157th five years go — but this far down in the numbers, it only takes a handful of dogs to switch places.
The Sealyham may be confused with the Cesky Terrier, but the Cesky is always shades of gray. He may also be confused with the Scottish Terrier, but the Scotty has erect ears and is never white or spotted. He may also be confused with the West Highland White Terrier, but the West Highland is smaller and has a shorter, rounder head and erect ears.
A Sealyham is featured in Maurice Sendak's book Higglety Pigglety Pop!
In the film The Birds, Alfred Hitchcock made his cameo appearance walking his own two Sealyhams. One of his Sealyhams also appears in his film Suspicion.
Famous owners include Humphrey Bogart, Jean Harlow, Cary Grant, Elizabeth Taylor, Bette Davis, Agatha Christie, King George V, and Princess Margaret.
Interested in other breed profiles? Find dozens of them here.
Read recent breed profiles:
.