Editor's note: Have you seen the new Dogster print magazine in stores? Or in the waiting room of your vet's office? This article appeared in our October/November issue. Subscribe to Dogster and get the bimonthly magazine delivered to your home.
Gift-giving season will be here before you know it. While some of us may groan, dogs like my dog, Riggins, will be ecstatic. He loves to get presents. After getting wrapped, gifts in my house find their temporary home on the fireplace mantel until it's time for them to be opened. If I put them anywhere else in the house, they'd be torn to shreds as soon as I turn my back. Riggins learned as a young pup that there are good things underneath all that shiny paper.
Luckily for Riggins, I enjoy giving gifts, and my favorite things to shop for are dog-related items. Here are a few places to check out if you're looking to stretch your dollar this upcoming holiday season.
1. Local dollar store
This is a treasure trove of possibilities! For pups, you can find inexpensive fun toys — fun because they're easy to shred to pieces, and you won't mind because they're only a dollar! One of Riggins' favorite dollar-store toys was a flat, animal-shaped thing with crinkle paper inside. He loved it — while it lasted.
For the dog lover, check out wine glasses. You can get a set, then stop at your local craft store for a couple of glass paint pens. Freehand a design, or do what I do: Find a dog silhouette on the Internet, print it out, and tape it to the inside of the glass to use as a pattern. I've made these for friends, and they are always a big hit.
2. Treats for everyone
Homemade cookies are always a welcome surprise. A quick search on Pinterest will give you a ton of choices of homemade dog treats while another search can give you some great human yumminess. Why not whip something up for both human and pup? To help keep things separate, put each in its own container, clearly labeled which item should be eaten by which species.
3. Pup accessories
For male dogs, pick up a few boys'/mens' collared shirts at your secondhand store. You just have to make sure the human neck hole will fit around the pup's neck. Grab some scissors, and cut around the bottom of the neck, ditching the shirt and leaving the collar. You can roll up and stitch the edge you cut or just leave it as is. The result is a cute and simple way to spruce up the furry dude in your life.
For female dogs, pick up a couple of artificial flowers, glue, and Velcro strips. Cut the strips so they're slightly longer than the width of the dog's collar. Make sure the Velcro closes securely on both ends. Glue a flower to one side, and you're done!
While we're talking gifts, I'm a big supporter of wrapping paper instead of gift bags. Riggins isn't the only one who loves tearing paper away to find what's inside. If you can't find appropriate doggie holiday paper, turn the paper you have inside out or use a brown paper bag. Either of these makes a great blank canvas for you to create your own perfectly customized designs.
4. Handmade — by others!
Check out the following Etsy artists' and crafters' shops for some unique gift options.
A Lady's Dane: Handcrafted collars, bow ties, fashion flowers, and leashes are sold by a number of individuals on Etsy. A Lady's dane offers perfect options for large breed dogs.
MyOptimus: If you go onto Etsy and search "dog printable," you're going to get back a ton of results, each one cuter than the next. Printables are art prints you can get inexpensively, usually about $5. You are sent a PDF to download and print yourself. Add an inexpensive frame, and you have a great gift. MyOptimus has some beautiful dog-themed options.
Else Jewelry: Custom jewelry is also a big category on Etsy, and you can find some wonderful original pieces. Else Jewelry is one of my favorites. The shop owner has a number of different animal choices including a little dog that can be customized with an initial.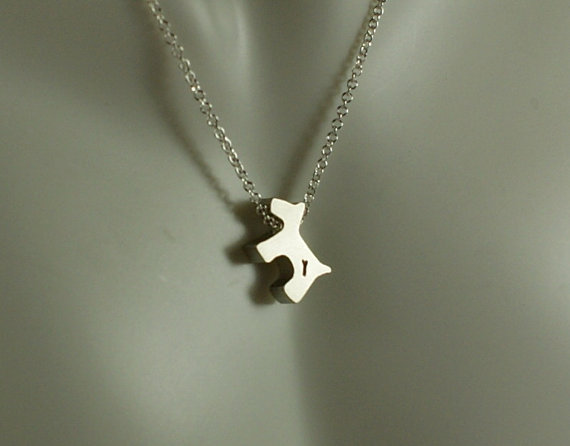 Read about more cool dog products:
About the author: Wendy Newell is a former VP of Sales turned Grade A Dog Sitter. After years of stress, she decided to leave the world of "always be closing" to one of tail wags and licks. Wendy's new career keeps her busy hiking, being a dog chauffeur, picking up poo, sacrificing her bed, and other fur-filled activities. Wendy and her dog, Riggins, take their always-changing pack of pups on adventures throughout the Los Angeles area, where they live together in a cozy, happy home. You can learn more about Wendy, Riggins, and their adventures on Facebook and Instagram.