When Dawn Malvasio's fiancé came home from his job at a Staten Island construction site with a puppy in his pocket, he had an interesting story to tell. It all started when he'd gone to throw some debris into a dumpster and heard something that sounded like crying.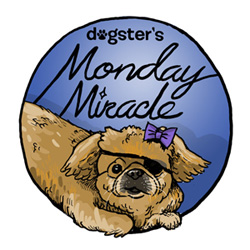 "He didn't know what it was. At first he thought it was a rat. He didn't know what to think. He moved a mattress that was in there over, and there was Baby, at 6 weeks old."
The couple already had an 8-month-old Pit Bull named Scrappy, so Malvasio's fiancé suggested they try to find a home for this little puppy he had saved. As the evening progressed, it was clear that Scrappy was in full big-brother mode, doting over this unexpected guest — and he wasn't the only one falling in love. Malvasio quickly realized Baby had already found her home.
"I thought, she's not going anywhere, she's staying here."
The next day, Malvasio took the pup to the vet and found that in addition to being dehydrated and undernourished, Baby had a parasite, which if left untreated would have been fatal. The vet fixed her up, and for a time it seemed like Baby would go on to be a healthy puppy, but when she was about 11 weeks old, her eyelids became swollen, dry, and cracked.
"She looked like E.T. almost, I can't even explain it," recalls Malvasio, who took Baby to the vet and learned the pup had demodex mange, which had infected her eyes.
Despite multiple medications and twice-weekly vet appointments, Baby didn't improve at first. An additional diagnosis of immune deficiency eventually shed some light on why her body couldn't fight off infections.
Eventually, Baby developed a condition called bilateral entropion due to her eye infections. Because her eyes were swollen and deformed, her eyelashes were growing in toward her eyes and scratching her corneas constantly. Medication to lubricate her eyes could only help so much — Baby needed eyelid reconstruction.
"Her eyes got so bad that she was going blind," says Malvasio, who rallied her colleagues at Full Throttle Magazine and friends in the car show scene to help raise money to get Baby the expensive but sight-saving surgery as soon as possible.
"That was the beginning of everything going good. She kind of went into remission, and within a year's time her immunity stabilized."
After all she'd been through, Baby was finally on the road to health, but she was also on the way to becoming an advocate for people with primary immunodeficiency diseases.
"She was at three immunodeficiency car show fundraisers, and a couple immunodeficiency walks that were on the beach," explains Malvasio, who does a lot of fundraising for the Immune Deficiency Foundation (IDF) through her production company, Eight Days Productions.
Baby has charmed plenty of people during her appearances at the IDF fundraisers. According to Malvasio, Baby loves to dress up (her vet recommends sweaters to protect her weakened immune system from the cold), and the events give Baby a chance to show off her fashionista side while meeting up with plenty of adoring fans. For a dog who loves people, attending an event where she's the center of attention is the perfect way to spend a day.
"Basically, Baby became the immunodeficiency mascot of Staten Island."
Baby isn't the only animal activist in her household. Big brother Scrappy is a breed ambassador committed to changing the public perception of Pit Bulls — something Malvasio herself once had trouble with.
"Before we had Scrappy, I was terrified of Pit Bulls," Malvasio admits. "He really taught me that it's not the breed, it's the owner."
Thanks to Scrappy (who is now a cancer survivor and supporter), Malvasio was able to open her heart to another Pit when Baby came along, and then Baby led the way for a third dog to join the pack.
"Hope was found in an abandoned building not too far from where Baby was found," explains Malvasio.
Unlike Scrappy and Baby, Hope is 100-percent American Bulldog, but just like her siblings, she's socially conscious, attending therapy dog school and working with the elderly.
With the addition of Hope, Baby has gone from baby sister to big sister, but at 3 years old she's still petite. Despite being two-thirds Pit Bull, she only weighs 38 pounds.
A DNA test revealed Baby also has some Spaniel in her, and it's thought she may have been bred with the intention of creating a smaller, faster fighting dog. If Baby's breeding was intentional, it was certainly irresponsible, considering her immunodeficiency condition is genetic. Malvasio doesn't know what Baby's fate would have been if she hadn't been placed in that dumpster, but she believes whoever left Baby there didn't want the puppy to die.
"They knew there were construction workers working on the house — somebody wanted her to be found."
Read about more Monday Miracles on Dogster:
About the Author: Heather Marcoux is a freelance writer in Alberta, Canada. Her beloved Ghost Cat was once her only animal, but the addition of a second cat, Specter, and the dog duo of GhostBuster and Marshmallow make her fur family complete. Sixteen paws is definitely enough. Heather is also a wife, a bad cook, and a former TV journalist. Some of her friends have hidden her feed because of an excess of cat pictures. If you don't mind cat pictures, you can follow her on Twitter; she also posts pet GIFs on Google+.