Actress Elaine Hendrix is best known for her roles in Romy & Michele's High School Reunion, Superstar, and The Parent Trap, as well for her parts on Two and a Half Men and 90210, but she's also a passionate animal advocate and pet lover. Her affinity for animals has the screen actress adding audio storytelling to her resume with the launch of the weekly The Pet Matchmaker podcast.
"It's something that I've been wanting to do for a few years now, and I am going to bring in other advocates, people working with animals, experts, celebrity friends, people who've adopted — a whole range of people who work with, advocate for, and love animals," Hendrix explains.
A proud human to two dogs and two cats, the actress founded The Pet Matchmaker website in 2013 as a resource for pet parents, and she made her first foray into pet-centric audio with her Pet Care Minute reports.
The first episode of The Pet Matchmaker podcast came out Feb. 17 and featured guests Lisa Ann Walter, an actress, writer, comedian and film producer, as well as Bill Crowe, director of the Pet Care Foundation. The Feb. 24 podcast included Nikki Carvey, the founder of Road Dogs & Rescue, and Married With Children's David Faustino. True Blood's Kristin Bauer van Straten and Randy Grim, Stray Rescue of St. Louis founder, were on this week's episode.
"It's a really fun podcast; it's informative, but mostly it's entertaining. I want people to enjoy the experience of it," says Hendrix, whose latest acting role is on Denis Leary's new television comedy, Sex&Drugs&Rock&Roll, premiering on FX in the summer.
Between acting, advocacy work, and caring for her animals, Hendrix is busy but makes time for The Pet Matchmaker podcast through smart planning. "I'm picking up interviews whenever I can, and then we're going into the studio and assembling them all into one show."
Although her own household is home to both canine and feline companions, Hendrix says the podcast won't be limited to just dogs and cats.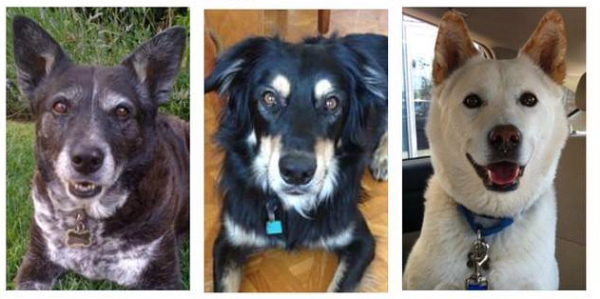 "I've got a guest coming on who has a whole group of rescue chickens," she explains, adding that she plans to tackle the topic of rescue horses as well.
For Hendrix, the creation of this podcast follows a decade-long journey of animal adoption and advocacy work that began when she starting receiving invitations to charity events.
"I was doing all these things because I like helping other beings and other people, but I didn't feel like I was making an impact anywhere," says Hendrix, who sat down at her computer to try to figure out how she could focus her charitable work to make the most of her efforts. Having been an animal lover her whole life, she began researching various aspects of animal advocacy and experienced a life-changing moment online.
"I saw an undercover fur video, and I was not expecting to see what I saw, and I definitely wasn't expecting to have the reaction that I did. It was so visceral. I doubled over. I was sobbing uncontrollably," Hendrix says. "I had no idea what was happening to animals, and from that moment forward, it changed my life in such a huge way."
Hendrix purged her home of products tested on animals, and she got rid of her car because of its leather interior. She committed herself to the issue of fur, stopped wearing leather, and became a vegan.
"I do everything I possibly can to help animals, and I have since that day," explains Hendrix, who adds that while she never preaches or pushes people, the topic of animals and their welfare seems to inevitably come up in conversation wherever she travels.
"This has become my life's passion and my life's purpose, but helping animals doesn't have to be as extreme as I've made it."
Hendrix says one of the easiest things people can do, especially if they're not ready to commit to adopting an animal, is simply volunteer with adoption organizations. Working in animal adoptions was one of the first volunteer activities she took part in herself — because it was an easy activity to do no matter what city she found herself shooting in.
"That's just been my primary activity. I've rescued a lot of animals. I've fostered a lot of animals. And I've helped a lot of people adopt animals."
Hendrix's three-year-old dog and travel companion, Ellie, was supposed to be adopted out after the actress rescued the pup, her littermates, and their mom.
"I had no intentions of keeping any of them. I rescue and foster regularly, so to pass along animals to other good homes is actually something that is easy for me to do because I feel like more animals get helped that way, but it was something about her," says Hendrix, who keeps Ellie with her as much as possible.
"She came to New York with me, and that was her second time to New York. She been across the country four or five times now."
In the coming months, Ellie will no doubt be racking up more frequent flier miles as both Hendrix's acting career and her work on The Pet Matchmaker keep her busy.
"Later this year, we have a web series coming out, we have our own app coming out and other programs in development. I'm really excited. I feel like this is kind of a banner year for us," says Hendrix.
New episodes of The Pet Matchmaker podcast are available for download every Tuesday at The Pet Matchmaker website.
Read more from Heather Marcoux:
About the Author: Heather Marcoux is a freelance writer in Alberta, Canada. Her beloved Ghost Cat was once her only animal, but the addition of a second cat, Specter, and the dog duo of GhostBuster and Marshmallow make her fur family complete. Sixteen paws is definitely enough. Heather is also a wife, a bad cook, and a former TV journalist. Some of her friends have hidden her feed because of an excess of cat pictures. If you don't mind cat pictures, you can follow her on Twitter; she also posts pet GIFs on Google+.