Earlier this week, Madrid's regional government shocked dog lovers by getting a court order to kill a dog over fears that he might spread Ebola. The dog's name is Excalibur, and his owners, Teresa and Javier Limon Romero, are only able to fight for him from afar — they are currently in isolation in a hospital after the wife, a nursing assistant, tested positive for the virus last week.
As for Excalibur, the husband did the best he could for the dog before he was whisked away. As Javier Romero wrote on Facebook, according to El Pais: "Before going to the hospital I left him several buckets of water, the bath tub also full of water, and a 15kg bag of feed, so he had food and water. I also left the terrace open so he could do his business."
Romero even attempted to grant custody of the dog to Carlos Rodriguez, a Spanish veterinarian and host of a talk show about animals, according to the AP, so he could help save the dog. But Rodriguez says he is helpless.
"I can't stop this happening," Rodriguez told the AP, saying that Romero "asked me, crying, to at least make sure the animal does not suffer."
Experts believe the government is overreaching. Dr. Peter Cowen, a veterinarian at North Carolina State University and adviser on animal infection disease risks, says killing the dog is "clearly an overreaction."
"It's very unfortunate they are thinking of euthanizing that dog. They should really study it instead," he said. "Ebola has never been documented to be spread by a dog."
The Madrid government says it is relying on "available scientific information" that suggests that dogs might be able to spread Ebola to humans, but there is little to go on. At present, there is one study that shows dogs can be infected with the virus and not show symptoms, but there's no evidence they can transfer it to humans. According to NBC, scientists know that Ebola can infect mammals and the virus can be spread that way, but they aren't looking at dogs as carriers. Dr. Tom Frieden, director of the U.S. Centers for Disease Control and Prevention, said in a news conference, "We have not identified this as means of transmission."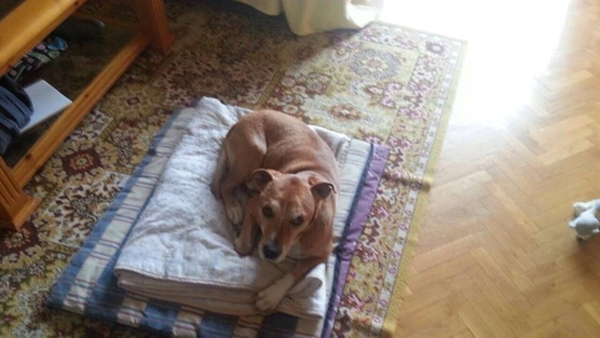 Sharon Curtis Granskog, a spokeswoman for the American Veterinary Medical Association, told the AP that she believes "it's possible" that dogs might spread Ebola, but she said it was not likely in the U.S. or other places where dogs aren't eating infected animals or are near infected corpses."
Health officials in Dallas, where Ebola patient Thomas Duncan is being treated, aren't looking at dogs or animals at all.
"We are not monitoring any animals at this time," Dr. David Lakey, commissioner of the Texas Department of State Health Services, told the AP.
It's important to note that nobody knows whether Excalibur has Ebola. He hasn't been tested, but authorities do not want to wait for results.
Romero, however, has taken to Facebook to fight for his dog, asking officials to put the animal in quarantine instead of killing him. He wrote, "If they are so worried with this issue, I think we can find another type of alternative solution, such as quarantining the dog and put[ting] him under observation like they did with me. Or should they sacrifice me as well just in case?"
And people are getting outraged. A change.org petition to save Excalibur from being euthanized has been set up, and it has received nearly 360,000 signatures.
The description reads:
Not only is it unfair to be infected with Ebola by the sanitary assistant due to the lack of necessary means, they must also lose their dog as a result of an thoughtless decision, as it would be much easier to isolate or quarantine the dog just as they have the victim's husband. If this woman were to die, the dog which has accompanied them for so many years would be an important emotional support for her husband. This is not "just" a dog, for this couple he is one of the family.
Check out the change.org petition and visit one of the Save Excalibur Facebook pages that have been created by third parties for more information.
Learn more about dogs with Dogster: