If you've been keeping up on your Dogster news feed, you might remember San Francisco artist and cultural commentator John Law. Law is the keeper of three of the Doggie Diner heads, which are iconic to pop-culture geeks and students of San Francisco's traditions of weirdness. Earlier this month, he launched a Kickstarter project to raise funds for restoration of the heads, which are sadly beginning to get a little bit run down. With 10 days to go on the Kickstarter, Law has raised a little more than 60 percent of his goal of $48,000, so he's going to do what a lot of people do in his situation: petition for divine interference intervention.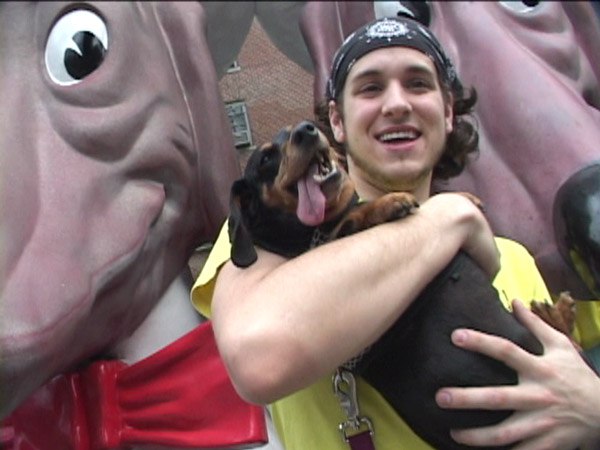 Of course, this is San Francisco, so that's bound to look very different than in other places. Other than the fact that there will be three giant, disembodied Dachshund heads made of fiberglass watching over the ceremony, of course.
The heads, along with any other dogs who care to attend with their owners, will receive blessings in Mission Dolores Park this Sunday, Feb. 2, from 4 p.m. to 5:30 p.m. The event will be introduced by Deacon Sebastian Melmoth of the Holy Trinity of the Dogminican Order (an incarnation of John Law himself). The blessings will be given by Sister Dana Van Iquity, of the Sisters of Perpetual Indulgence; Bishop Joey, from the First Church of the Last Laugh; and Philo Drummond, from the Church of the Subgenius.
While the celebrants may not be as widely known as the pope, the groups they represent are certainly long-standing parts of San Francisco's unique mix of art and politics. The Sisters of Perpetual Indulgence are especially well known. Since being founded in 1979 by a small group of drag queens, the ssters have expanded to become a respected charity with chapters throughout the United States, Australia, and Brazil, among other places. To outsiders, the Sisters might look silly and even disrespectful; to those who know them, they're serious community activists and educators who have been there for people who have been condemned and rejected by more "serious" clergy.
All of which is to say that you could certainly do worse than to have your pooch blessed by Sister Dana Van Iquity. The Doggie Diner Heads themselves can look silly and even disturbing to some, but they've inspired a lot of great art and humor over the years. Good luck to John Law, the Doggie Diner heads, and all who attend.
Via Kickstarter
Check out these adorable stories on Dogster: