Craigslist really is one of the more remarkable corners of the Internet. Since the site hit the web in 1996, its basic structure and purpose has changed little. Even as the rest of the Internet focused on social media features to such a high degree that some sites have become little more than extensions of Facebook, Craigslist has steadfastly remained its own thing. To this day, it resembles the glory days of Usenet more than anything extant (and I mean that in a good and bad way), without having faded into irrelevancy.
This weekend, we spotted an example of Craigslist at its best. Someone used the Community "Pets" area to write an open letter to the former owner of their Pit Bull, Cathy. That person gave up Cathy three years ago after what sounds like pretty obvious animal cruelty. The letter starts:
On Feb 9th 2011, you were evicted from an apartment at 20 Catherine St and your old red pit bull was seized by animal control and taken to the kill shelter. She was really skinny and had bad skin infections, and had been bred A LOT. She'd even had a Caesarian, judging by the scar. They said at the kill shelter she was 12 years old. She also had a lopsided face and it looked like there were a few cigarette burns on her head/ears.
I figure you were having a pretty bad time of it, since you were being evicted. I hope things have gotten better for you in the intervening years. Although it's unlikely you'll ever see this note, I just wanted you to know that I have your dog and she is doing great.
A lot of dogs have stories very similar to Cathy's: They live with an owner who can't or won't take care of them, they wind up in a shelter, and if they don't get euthanized, they wind up in a new home. The thing is that very few new owners know that story in such detail, which is why this one is so appealing.
According to the unknown writer, Cathy got her name from the Animal Care & Control unit, which immediately put the dog on the kill list after investigating cruelty charges. This is, as the Craigslist writer points out, "the sort of irony that happens at Animal Care & Control every day."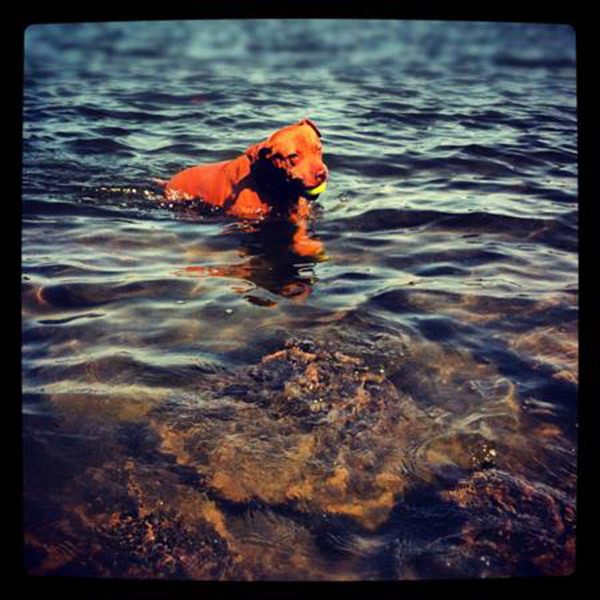 What I like best about the letter is that it's more about talking about how much Cathy's life has improved, rather than sticking it to the original owner. Considering the shape that Cathy was in, it would be easy to let loose with vitriol and anger, and that might very well be justified. But I've also known people who, because of poverty, depression, psychological trauma, or other factors, could barely take care of themselves, never mind a dog. The important thing is not to spend our time making them into the objects of righteous wrath, but making sure that dogs like Cathy get a happy ending. The letter-writer takes the most charitable attitude possible toward the former owner, which says a lot about that person's character.
But nevertheless, the writer ends with a simple, firm conclusion: P.S. you can't have her back.
Which leads to a quick P.S. of our own: Cathy's story is not only a great argument for adopting rescue dogs, but for adopting senior dogs as well. Cathy, according to the Craigslist post, was 12 years old when her former owner got evicted. That would make her 15 now. Puppies often find homes fast, but dogs Cathy's age can either linger in shelters for years or find themselves on the kill list. That reality is why we here at Dogster have such a deep love for Muttville, which specializes in senior dog adoptions. We wish there were more like them.
Our best wishes to Cathy and her owner. We hope the two of them have many more years together.
Read the most talked about news on Dogster: