The cautions and hazards of topical flea treatments are pretty standard: Don't let your dog lick herself after application; watch for vomiting, lethargy and an excessive thirst; watch for skin reactions like rashes; and make sure other pets in your household don't groom your dog while she's drying. But rarely do we think about the flammable properties of the insecticides we use on our beloved canines.
One owner and dog pair, Jesus Olivas and his 10-year-old pup Ruby of Coral Springs, Florida, learned a hard lesson, according to Miami's NBC6: Don't apply flammable liquids to your pets near an open flame.
Olivas and his wife bathed Ruby in soap and water (a good step before applying flea control chemicals) and then applied the Adam's Flea and Tick Spray to get rid of fleas and ticks. While applying the spray, Telma Botcherby, Olivas' wife, noticed a tick on Ruby. Telma took the tick from Ruby's skin and used a long barbecue lighter to try to incinerate the tick (not a good idea, and we'll tell you why!). Ruby was scared by the clicking of the lighter, got up from her dog bed and ran past the flames and caught fire in the process.
In an act of quick thinking, Olivas grabbed Ruby, opened the patio door and took her for a quick dip in the pool. But the damage was done. According to Dr. Peter Krolikowski of the Margate Veterinary Clinic, Ruby suffered burns to more than 50 percent of her tiny body. Olivas, too, was burned severely, suffering burns to 18 to 24 percent of his body. Ruby is expected to make a full recovery, while Olivas will have to spend two to four weeks in the burn unit of his local hospital.
This instance was a freak accident, but one that could have been avoided for the Olivas-Botcherby family. It's a good reminder to read all warnings when applying topical flea and tick products to your dog, but also a reminder that proper application and handling is key.
As for ticks? You should never burn them after removal — not only to avoid freak accidents like the one that caused Ruby's injuries, but also so that if you or your pet develop Lyme disease later, health control officials can examine the tick in question. Instead of burning the tick or flushing it down the toilet, get a small container (like a baby food jar) and fill it with isopropyl or rubbing alcohol. Place the tick in the container and label the container with the date. The alcohol will kill the tick and you'll have a sample should your doctor or veterinarian need it.
While Olivas and Botcherby used an over-the-counter product approved for use in dogs, other owners have not been so smart. Flea and tick home remedies, too, can burn the skin of your pooch. An old rural adage advises placing motor oil on your dog to get rid of bugs. It shouldn't even need to be said, but this is an extremely BAD idea — motor oil can cause chemical burns and is toxic to dogs.
For a home remedy that is harmless and makes fleas jump from your pup, put together a 50-50 mixture of water and apple cider vinegar and spray liberally (preferably outside) to avoid having to treat your home (again) for fleas. The acidity of the vinegar is unfavorable to the fleas and they jump ship, and watered-down apple cider vinegar poses no risk to your dog, although he may come out smelling like a salad. In fact, apple cider vinegar is a good coat conditioner and detangler. If you're worried about the smell (which disappears as the mixture dries) or the acidity, wipe down your dog with a damp cloth or soap and water when finished.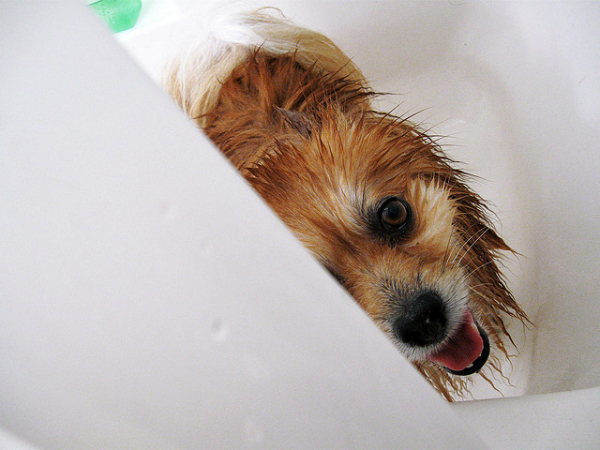 As for ticks, manual removal is always best. Don a pair of medical gloves, grab a pair of tweezers or a tick remover and gently grasp your dog's skin as close to the tick as possible. Using the tweezers or tick removal tool, pull the tick out toward your body in one swift, fluid motion, making sure to remove the entire tick. Leaving any part of the tick behind, including the head, could lead to infection later down the road. Be sure to clean your dog's skin with an antiseptic solution or wipe and wash your hands thoroughly after removing the gloves.
Read more on fleas and ticks:
Learn more about dogs with Dogster:
About Caitlin Seida: Owned by three cats and two dogs, she never met an animal she didn't like. A Jill-of-All-Trades, she splits her workday as a writer, humane society advocate and on-call vet tech. What little free time she has goes into pinup modeling, advocating for self-acceptance, knitting and trying to maintain her haunted house (really!).