I've learned through the years to only feed my dogs the best foods I can in order to better ensure a long and healthy life. Since I now have Schnauzers, who are prone to food allergies, I make sure to watch the ingredients on every bag or can of dog food that we bring into our house. However, I know some people who feed their dogs what I consider to be lesser-quality food and their dogs miraculously seem to stay healthy.
It got me to thinking: Does the type of food really matter? Or is it the breed and lineage of the dog that really matters when selecting the best food for them?
According to a recent study by GJW Titmuss, dog owners continue to purchase premium pet food at an ever-increasing rate. The numbers continued to increase even during the recent economic downturn. According to the study, 74 percent of dog owners purchase top-quality premium dog food products. Also, 28 percent of dog owners purchase specialty foods for skin issues, weight issues, sensitive stomachs and geriatric dogs. The survey went on to say that 61 percent of dog owners will choose quality over other factors.
I thought that the numbers would have been higher. Premium quality dog food is becoming more accessible at big-box retailers, small boutiques and online. Virtually every manufacturer has a few premium or type-specific products available for your dog. There are also an increasing number of family-owned or private companies that manufacture dog and other pet foods specifically for the premium food market. I've always found Dog Food Advisor to be a wonderfully reliable and independent source for researching dog foods.
When weadopted our toy Schnauzer, Dusty, I did a lot of homework. I found raw food and homemade food suggestions alongside the more usual dry kibble, canned and refrigerated soft foods. I spent a month studying the options, asking veterinarians, canine nutritionists, reading books, online articles and reviews and asking friends what they fed their dogs. The answers were as varied as the types of foods and options that were available.
At the end of the day, I chose a fresh-food approach for Dusty. I followed the guidance of Ihor Basko, a holistic veterinarian based in Hawaii, whose book Fresh Food Ancient Wisdom really resonated with me. The book compared all the options without mentioning brands. He then provided his guidance on preparing a dog's food at home by using fresh proteins, which were boiled or baked. The recipes included the addition of fresh vegetables, fruits, some grains and some natural herbs and supplements. The recipes were easy to follow, and since I had a very small dog, I could prepare a week's worth in advance.
Dusty loved the fresh food approach and really thrived on this type of diet. Since we introduced her to whole foods and fresh vegetables at an early age, she doesn't turn her nose up to any type of fresh food or treat we provide her. This allows us to reduce the number of processed foods and treats we provide her.
When we adopted our Miniature Schnauzer, Kramer, we knew that his diet prior to coming to live with us consisted mostly of hard kibble, so we didn't want to rush him into an entirely foreign food plan knowing that it may upset his stomach. When he arrived at his new forever home, we provided him with his same kibble and added a bit of boiled chicken and some fresh vegetables. He naturally loved the chicken and would always eat it first. However, it seems he thought the vegetables tasted strange and the texture was weird. It took a few months before he started to accept some fresh vegetables like carrots and green pepper.
We supplemented the protein with boiled beef or beef liver. Both dogs loved the taste, but we started noticing Kramer having some stomach issues after he ate the beef. We had a good idea that he was allergic to beef and eliminated it from his diet.
At the same time, Dusty started getting a little sensitive to the boiled chicken, so we decided to get both of them tested for food and environmental allergens. We had our other Schnauzers tested in the past when we discovered boiled chicken and rice was causing one of them to have chewing gum seizures.
The test is really simple and can be performed by your veterinarian. The vet or vet technician takes a sample of blood and sends it to a company called Spectrum Labs. The lab will process the sample to determine what food and environmental allergens your dog (or cat) is definitely allergic to, what is borderline (sensitive) for them and what they are not allergic to at all. For Kramer, it confirmed our thoughts that he was allergic to beef, venison, many of the grains and a number of environmental allergens. For Dusty, she was allergic to eggs, flax seed, kelp and alfalfa. Ironically, it wasn't the boiled chicken that was causing Dusty issues, rather the dried kelp that was part of the original fresh-food recipe that she had been eating.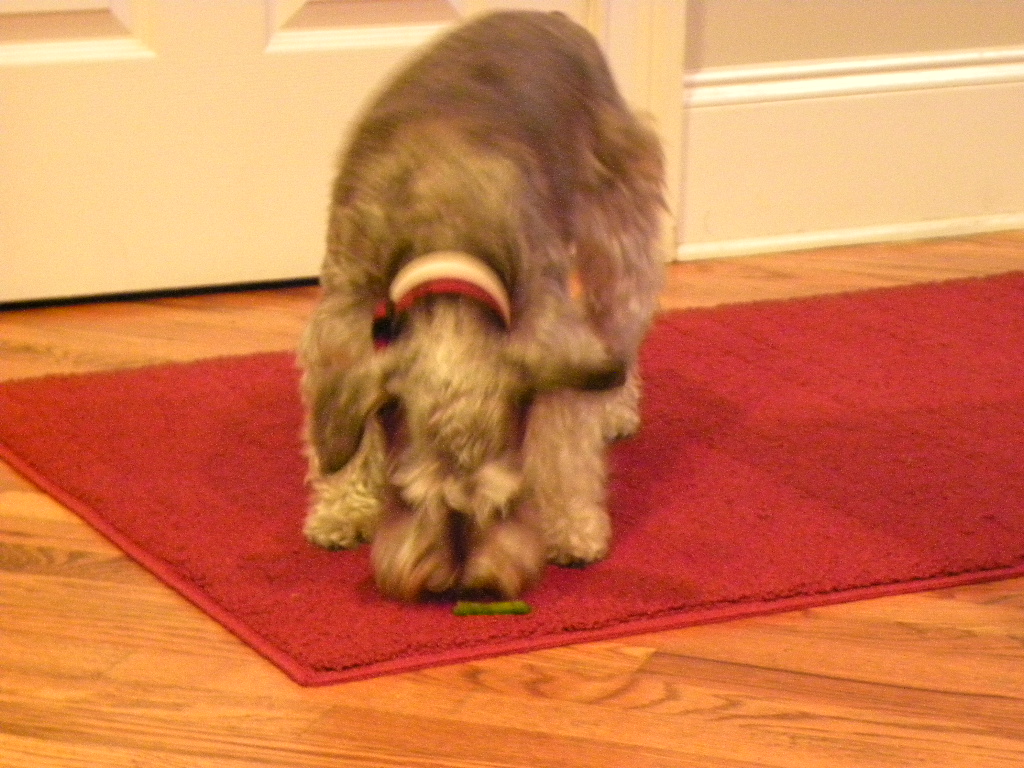 My philosophy is to provide the highest-quality food that you can for your dogs. Do your research and consider an allergy test to avoid any issues. The premium foods may cost more but, they could very well be worth it. It's sort of the pay me now or pay me later philosophy. I would rather pay more for the best food available now than to pay for multiple vet visits and medication later.
Do you feed your dog premium dog food? Why or why not? Let us know in the comments!
Read more on what to feed your dog:
Check out these other great articles on Dogster
About Tim Link: All-American guy who loves to rock out to Queen while consuming pizza and Pinot Noir and prefers to associate with open-minded people who love all critters. Considers himself to be the literal voice for all animals. Author, writer, radio host, Reiki Master, Animal Communicator and consultant at Wagging Tales.