I learned how to drive a tractor before I could drive a car. Back when I was in my teens, I spent a couple of summers working for my grandfather in Ohio, doing a combination of stuff for his electrical contracting business and odd jobs on the 60 acres of land surrounding his house. When I finally got a VW Bug of my own years later, I knew how to use a manual transmission from my time hauling batches of copper cable and mowing large tracts of land.
All of which is to say, I have a certain affinity for the dog who made worldwide news today when he grabbed his owner's tractor and drove it onto a highway in Scotland. I would have loved to take one of my grandfather's huge John Deeres onto the local streets. Alas, it was not to be. Probably because I would have wound up doing the same thing to the Ohio roads that Don the sheepdog did to the M74 motorway. The main difference is that the locals wouldn't have thought I was adorable for it.
Don was accompanying his owner, Tom Hamilton, while Hamilton checked on lambs in one of his fields near Abington, a village in southern Scotland. While he was on the ground inspecting one of his lambs, Don apparently leaned on the controls of the tractor, sending it careening through a fence and onto the northbound lane of the M74.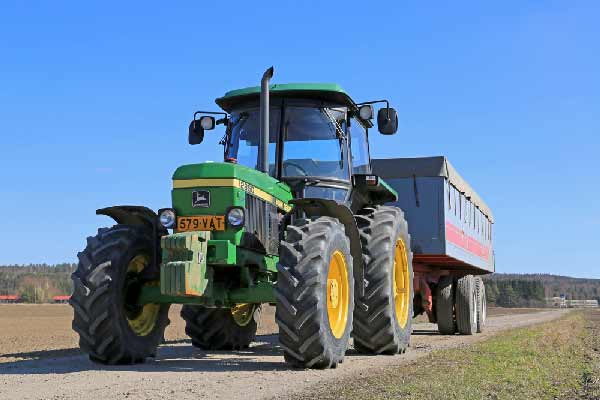 Hamilton told news reporters, "I was out in the mini tractor and had stepped out of it to get a lamb, which looked like it was about to get out of the gate. I had not put the brake on the tractor, and when I turned round I got a fright as the vehicle was careering down the hill, through a gate, and onto the M74."
The impromptu trip ended quickly when the tractor smashed into the central divider. The tractor's windshield was shattered, but Don was unharmed, other than being a little shaken up.
Traffic, of course, was brought to a standstill. Whoever was in charge of running Traffic Scotland's Twitter account got to send out a truly unique alert:
Naturally, Don's adventure has been very popular on Twitter. At least one person thought that he would be a good replacement for the abrasive Jeremy Clarkson on Top Gear:
Clarkson, of course, just got fired from the show for assaulting a member of the production staff. Don has so far appeared to be calm and even-tempered, even in a crisis.
For the moment, however, Don's motoring adventures seem to be over, leaving in their wake only a broken windshield, a damaged highway divider, and lots of bad puns on Twitter.
Read more news about dogs on Dogster: