Sometimes I forget my audience.
Like the time I went to dinner with some new friends. Everyone was chitchatting, and the conversation (fortunate for me) turned to pets, so I leaned toward the gal next to me and asked, "So, what's your dog into?" Immediately her face went from smiling and breezy to contorted and furrowed. The table erupted into laughter when she responded with, "Uh… I don't know, sniffing his ass?"
Yeah, well, my dog likes that too, occasionally, but I don't! And we certainly don't get a ribbon for it.
Seriously! What do you like to do with your dog? It's a legitimate question, and summer is upon us. Maybe you want to get try a dog sport or activity and just don't know where to start.
No worries, Dogster reached out to experts and in true Cosmo Quiz fashion will help you determine what dog sport or game suits the two of you best.
"Just remember, you signed the dog up for class — the dog didn't sign himself up," says Deborah Abbott, championship-level agility handler and competition-level instructor. "You need to make it fun."
And determining what exactly is fun for your dog or what will produce a successful outcome isn't as simple as it may seem. Therefore, we tee'd up some hypothetical dog personalities for the experts to sound off on. They advise dog owners what sport will best match based on traits such as health, temperament, and willingness to work.
Here we go!
I'm a high drive, sporting breed – Labrador to be exact
I love the water, love to retrieve, and I'm very ball centered. I do NOT like long walks in the park. I prefer fast runs through the woods! Mind you, I do aim to please when presented with the opportunity. What should I play?
Agility, hands down, says Abbott.
It's a competition where dog and handler negotiate an obstacle course racing against the clock.
"A medium- to high-energy dog who still has the focus to work with you and is engaging… that's a great candidate for agility," she added.
How can you tell if your dog is willing to work with you?
"If you throw a ball, he wants to bring it back to you," Abbott said. "A dog who brings back the toy or perhaps engages in tug is a good sign."
Not necessarily the dog who is happy to entertain himself independent of you nor has any interest in pleasing you. Abbott also warns that lots of energy with little focus can make for a frustrating experience.
"I think if you have a dog who enjoys working with you, is athletic — in other words, the dogs likes to climb and jump around — and wants to please you. Those are some of the keys to success," Abbott said.
Dock diving, fly ball, and hunt test are also ideal options for this personality, said Bradley Phifer, owner of Bradley Phifer Dog Training, who has more than a decade of experience in and out of the competition ring as well as experience with training and behavior modification.
I'm a poised Basenji — the standard of my breed
And I am most often found napping in a sun-drenched room. Still, I like to get out and about, you know, be seen! What's out there for me?
"Nothing beats a quiet day on the couch with your favorite human, I understand," said Phifer. "But stop napping and trot over to the conformation ring."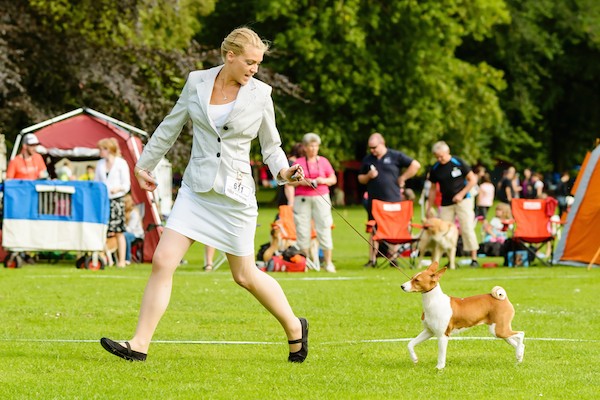 Because some dogs are born for show, experts say, and you can recognize the qualities right way — charisma, confidence and attitude.
"All things being equal, what separates a good show dog from a great one is personality," Phifer added.
The profession is a noble one. The purpose of conformation showing, according to the American Kennel Club, is to evaluate breeding stock. The dog's conformation — his overall appearance and structure — is an indication of the dog's ability to produce quality purebred puppies, and that is what is being judged in the ring.
That's why mixed-breeds and spayed or neutered purebreds are not eligible to compete.
Apologizes to all you pure-hearted mongrels out there. You're still rock stars in our eyes and chances are rock stars in other venues such as obedience and Rally O or animal-assisted therapy. And don't forget nose work because any dog with one — a nose that is — can play!
I'm a smart, obedient shepherd mix who loves to work with my owner
I used to be super active, but the grey in my muzzle and hitch in my giddy up tells you I'm in the twilight of life. That said, my mind is still sharp so I'm not ready to spend my days by the hearth.
Teresa Brewer, owner of Top Dog K9 Sports in Indiana, says get that dog to a nose work class!
Certified through the National Association of Canine Scent Work, her senior dog who retired from agility is what got her started in K9 nose work.
"It keeps senior dogs active but doesn't put any stress on their joints," Brewer said. "Nose work is also a great mental exercise."
The nose work industry, which builds on the dog's natural instincts to hunt, has seen a lot of success building confidence in shy, timid dogs as well as dogs with difficult backgrounds, Brewer added.
More or less, K9 nose work is about finding the target odor, and when the dog does, he is rewarded handsomely. With some basic training, anyone who has a handful of boxes and treats can play — anytime, anywhere.
Last, it's a game for senior handlers as well who can't do the running involved with agility or other dog sports.
Ok, so now you have some options to consider. But if nothing here appeals to you, keep searching. Maybe your dog loves gnawing on antlers, but your finances don't allow for their high price. Call the people at the North American Shed Hunter's Club. Let your pooch find his own antlers. Or you if think your dog is the next David Beckham, Google Treibball. Trust me, it's a real thing.
Read more about dog sports and activities on Dogster:
About the author: Raygan Swan is a freelance writer and stay-at-home mom who loves to write about her adventures raising a young boy and one neurotic, pushy English Springer Spaniel under one roof. In sharing her anecdotes and experiences, Swan hopes to enlighten and educate families who strive for harmony among their two-legged and four-legged children. In addition, she likes to compete in agility trials with her springer as well as kayak and hike. She lives north of Indianapolis and can be found at facebook.com/rayganswan.