Editor's note: Have you seen the Dogster print magazine in stores? Or in the waiting room of your vet's office? This article appeared in our February-March issue. Subscribe to Dogster and get the bimonthly magazine delivered to your home.
I miss the classroom days of valentine exchanges — decorating a mailbox and picking out cute and cheesy valentines. My school days are behind me, but I always get excited to spread a little love on Valentine's Day. These heart-filled dogs are a great way to show people you care.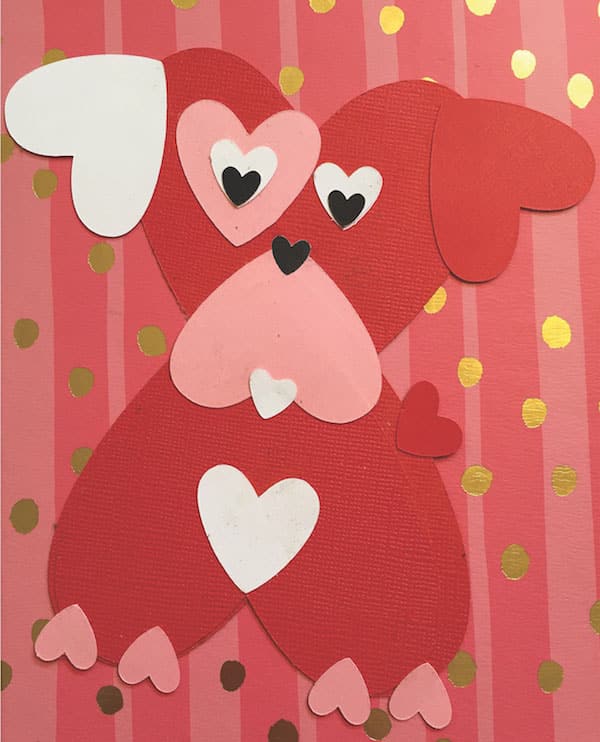 What you'll need:
Construction paper – three to four colors at least, but get creative! You can use patterned paper, too
Scissors
Glue stick
Instructions
To make one like ours, cut out:
2 large hearts, 1 body, 1 head
3 medium hearts, 2 ears, 1 mouth
2 small hearts for the eye and chest patch
7 extra-small hearts, 4 feet, 2 eyes, 1 tail
4 extra-extra-small hearts, 2 pupils, 1 nose, 1 tongue
Then, glue your hearts together to form your perfect pup!
If you plan to make several, or want to get a little creative, start by cutting out a bunch of hearts — more than you need. Cut out hearts in a variety of shapes, sizes, and colors. You can get really creative with this, making some wide, some long, some large, and some very small. You'll end up with a variety of unique and adorable pups!
When your love-a-bull doggies are complete, write a heart-filled message on the back, and send them off to their new homes.