Her name is misleading, but Cat the Pug is definitely all dog.
"She's not vicious at all, but she barks like she is," says Cat's human, Heidi Klahre.
This little Pug with the runaway tongue takes her watchdog duties very seriously, peering out Klahre's picture window and raising the alarm if someone gets too close to her home. While Cat makes sure to let her human know about any approaching visitors, she's also alerted Klahre to something much more serious.
"I had a seizure episode a few years ago, and Cat sensed it before I even knew what was going on," Klahre explains.
Klahre says the Pug — who usually sleeps soundly at the foot of the bed — was acting extremely odd in the hours leading up to the seizure.
"She spent the entire night before right up at my head, watching me," she recalls.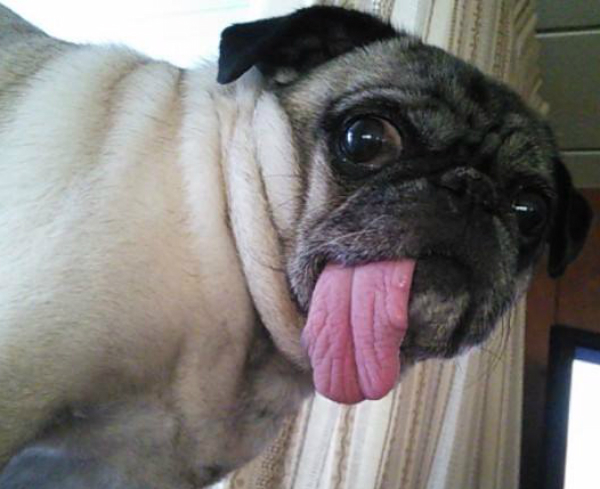 The next day, when Klahre got up to go to work, Cat was still acting strange. The adorable dog followed Klahre around the house all morning, crying and trying to get her attention. Klahre did not know what to make of her odd behavior and had to go to work. About a half an hour after leaving the house, she experienced a seizure for the first time. During her commute, she recognized something bad was happening and was able to call for help while she still had the ability.
"When I got home from the hospital, I discovered Cat had actually clawed the floor," says Klahre, who realized her Pug had been trying desperately to keep her safe. Trained seizure-alert dogs will behave strangely when anticipating a seizure — having noticed changes in their human's behavior, body language, or even odor, some scientists theorize — in an effort to warn the person of what's to come. Cat has not been trained, but was certainly acting out of the ordinary on that day, and it's possible that she is among the small percentage of dogs who are naturally inclined to alert.
Klahre has never had another seizure, and she's also never seen Cat repeat the odd behavior she exhibited that day.
"Believe me, now I would be looking for it," says Klahre, who will be quick to seek help if the Pug ever raises the alarm again. "We have just meshed so tightly that she knew something was wrong and was trying to warn me."
Cat and Klahre are inseparable now, but the two weren't always so close. When Klahre adopted Cat in 2010, the then four-year-old Pug didn't know what to make of her new human. Before being rehomed to Klahre's place, Cat had always lived with multiple pets, and didn't know what to expect as the only animal in her new home.

"She hated me. She sat in the corner for three days straight, facing the wall," Klahre remembers. "I cried nonstop. I actually thought I was going to have to give her to someone else."
Klahre, a first-time dog owner, went so far as to attempt to rehome the unhappy Pug, but to her surprise Cat clung to her when it was time to say goodbye — the pup made it clear that she wanted to stay with Klahre. The two returned home, and the tiny dog embraced life as an only pet, eventually coming to enthusiastically enjoy life as a pampered Pug princess.
"I don't think she would like it if I got another pet now," says Klahre, who adds that adorable Cat tends to attract a lot of attention from the humans around her. "She's turned my life upside down, but in a good way."
Before adopting Cat, Klahre had spent much of her life afraid of dogs. She'd never had a pet, but when she came face to face with a Pug for the first time she knew she wanted one. Instead of buying a puppy, Klahre brought home four-year-old Cat, who came already dubbed with the moniker that causes confusion and double takes.
"They look at me funny whenever they call for Cat at the vet and I bring her up," Klahre says.
Now that the protective Pug is entering her senior years, the vet's office is used to the interspecies name, and her social media followers can't get enough of the dog named Cat. Her Instagram and Facebook followers have noticed Cat's tongue lolls out of her mouth in most pictures. The unravelled tongue is the result of a couple of medical issues.
"I've been told that she might have a slight neurological issue that is causing the tongue," explains Klahre. Tooth decay could also be a factor. "She's had to have a lot of teeth removed; they were pretty bad."
She adds that Cat's overall health and quality of life aren't impacted by her relaxed tongue, although the petite fawn Pug does have a few other health issues, including arthritis.
Klahre has learned that Pugs are a lot of work and can have expensive vet bills. Still, she would never discourage anyone from adopting one — especially an older Pug. She says she even considered training Cat as a therapy dog after witnessing the Pug's sweet and empathic nature.
"After my grandma passed away, she crawled up on my grandfather's lap — and he doesn't even like dogs. Cat would just put her little paw on him, like she was trying to comfort him."
Once afraid of dogs, Klahre's life now revolves around one. At the start of every school year, the elementary school librarian proudly tells her kindergarten students that she's got the only Cat that barks. The Pug that wouldn't even look at her four years ago has become the queen of Klahre's household and heart.
"I actually bought my house on Cat's birthday," says Klahre, who adds she insisted on closing on that date. "My house was a birthday present for Cat."
Cat the dog has everything a Pug could want, and she proves that while older dogs may need some time to adjust, they can be just as loving as young pups.
Read more Monday Miracles on Dogster:
About the Author: Heather Marcoux is a freelance writer in Alberta, Canada. Her beloved Ghost Cat was once her only animal, but the addition of a second cat, Specter, and the dog duo of GhostBuster and Marshmallow make her fur family complete. Sixteen paws is definitely enough. Heather is also a wife, a bad cook, and a former TV journalist. Some of her friends have hidden her feed because of an excess of cat pictures. If you don't mind cat pictures, you can follow her on Twitter; she also posts pet GIFs on Google+.