The outbreak of dog flu that's caused so much trouble in the Midwestern United States is spreading. The H3N2 virus, which until recently had only been seen in Asia, has so far infected over 1,300 dogs in Illinois, Ohio, and Indiana, killing six.
Now, it's made its way into Texas. This week, a dog tested positive for H3N2 in Beach City, just outside of Houston. Fortunately, the connection between the dog and the Midwest outbreak is clear: The owners recently moved to Texas from Chicago.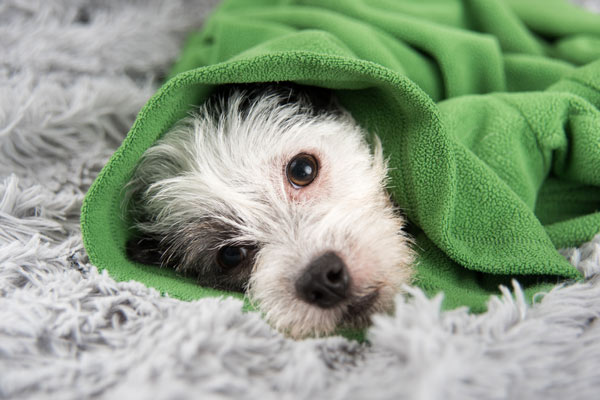 However, even one case of the flu is enough to put the local veterinary establishment on alert. After the case was confirmed, local health officials sent a letter out to veterinarians and clinics warning them to take precautions, such as making sure that bowls, counters, and leashes are clean of saliva. Dr. Laurel Douglass, of the Sunset Boulevard Animal Clinic, told KHOU: "This is sort of an alert for the veterinarians in Houston to be aware that we now have a positive case of this virus in Beach City, Texas."
Houston vet Alice Frei told ABC, "Clinics are going to have to very vigilant, kennels are going to have to be very vigilant, they are going to have to make sure the vaccines are OK, and when the animals come in, look at them."
One of the reasons that the new flu is so threatening is that there's no vaccine for it. However, vets are recommending that owners make sure that their dogs have the current flu vaccine anyway, as it may weaken the symptoms if a dog does get infected.
At the risk of being alarmist, there's a very good chance that we'll see more of these reports before the end of this outbreak. One of the greatest drawbacks of modern technology is that pathogens, like people, can now travel hundreds of miles in the course of an afternoon.
If you're living in the Houston area or any of the Midwest states where there have already been outbreaks, be careful, especially in public areas like dog parks, kennels, and vet's offices. The virus is not airborne, but is spread through contact with the saliva of infected animals. Humans can't be carriers, but can infect a dog by carrying infected saliva from one dog to another. (For instance, if the infected dog licks or sneezes on you.) We hope that there will be an end to this soon, but until then, be careful and make sure that your dogs get the appropriate vaccines.
Read more news about dogs on Dogster: