What you'll see in this video is an eight-month-old Boxer named Princess Leia preparing for a nap on some sort of brown microfiber couch. Her owner, no doubt well meaning, offers Princess a pacifier, despite the fact that the dog is nearly konked, which is exactly what the pacifier industry wants you to do. This woman is helpless in the face of Big Pacifier. Cowering in fear that her baby Princess will be unable to sleep a full three hours without a knuckle of BPA-free (finally!) polypropylene shoved in her maw like a plug of tobacco in Tom Seaver's mouth during the 1973 World Series, she succumbs to her worst instincts and relies on a moist, germ-harboring crutch the dog will take years to be free of, until he's like four and starting agility school and all his friends make fun of him.
It could be a man doing this, though. We're not so good with fingers.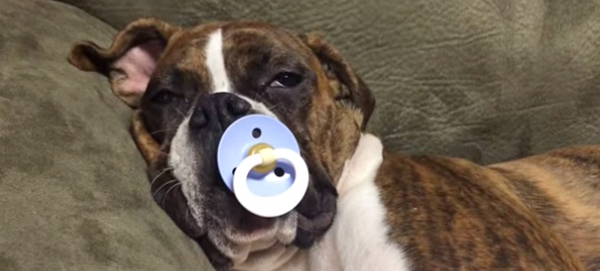 You'll notice, also, that at the 30-second mark, Princess begins snoring like a 55-year-old insurance salesmen during a weekend nap on the couch in front of the Georgetown game. Girl is out. That's a good pacifier. Kind of want one of those. Ignore what we said earlier.
Watch the video:
Check out more of Leia and her brother Luke at the Luke the Boxer Facebook page.
Read more dog news on Dogster: