Boogie likes to run. And when the 100-pound chocolate Labrador saw hundreds of people running past him last Friday, he knew he was in a good place. He joined in. It was the 13.1 mile Evansville Half Marathon — right at the start of it.
And Boogie ran. And he continued to run. And ran some more. And so on and so forth, down blocks and blocks and blocks and for miles and miles and miles, with all his new friends. So many friends. One of them, Kim Arney, ran with Boogie for three miles, according to WLTX.com.
"I lost my race buddy at about mile four or five and picked up a new one around mile 10," Arney said.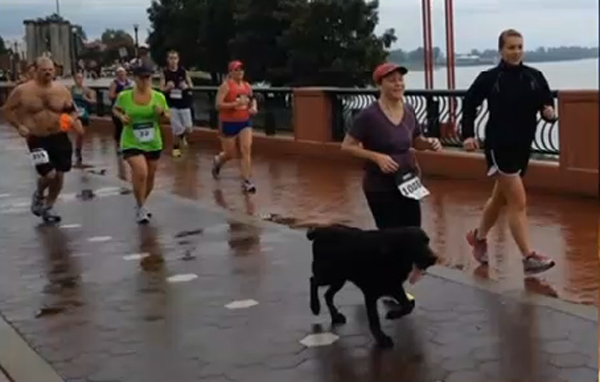 Boogie ran and ran — and ran and ran. He ran some more. It was quite a morning. He ran and ran and ran and ran. With a smile on his face, we like to think.
Eventually the crowd alongside the road grew thicker and thicker, a cheer went up, and everybody around him stopped. Boogie stopped, too. He had run the whole thing. His time was 2 hours 15 minutes, better than half of the runners involved.
And then: The hammer came down. The police came. Animal control. They threw him in the shelter. Boogie the chocolate Lab, after the race of his life, sits in the can.
The Evansville Police Department, fortunately, knew they had a celebrity dog on their hands, and it wouldn't be hard to find the owner.
It sent out a news release about the half-marathon-running dog, and local media picked it up, and it went viral because, well, of course it did.
"Because he did not officially enter the race, we do not have his race times. However, we are confident he set a new course record for an unassisted dog," police said in a statement. "Anyone who might recognize this champion runner is asked to help him get back home."
Owner Jerry Butts was soon making his way down to Animal Control.
"I could hear him barking soon as I got out the car. … Right then (a woman at Animal Control) said, 'Your dog is an Internet celebrity, and you're going to have to have proof it's yours,'" Butts told WLTX.com.
Butts explained that his eight-year-old dog had "slipped his leash" the night before the race. After the race, Butts had him fitted with a microchip. He also made an appointment to have the dog neutered.
On Wednesday, Boogie finally got his medal for completing the race.
Via WLTX.com