On Tuesday, Cecil Williams, 60, was standing on a subway platform in New York City when he felt dizzy, keeled over, and fell to the tracks. Williams is blind. His guide dog, an 11-year-old black Labrador named Orlando, had tried to hold him up and pull him to safety, but ended up tumbling with him onto the tracks.
Before anybody could help the pair, the unthinkable happened: a train emerged, rounding the bend. People screamed to Williams, but he was dazed. As for Orlando, he wasn't leaving his master's side.
"The dog was sitting right in front of him, kind of like he was guarding him," Transit Flagman Larmont Smith told the New York Daily News. "I give that dog a lot of credit. It was incredible. Normally an animal, or another human being, would run. That dog stayed right there."
They were running out of time, and Smith saw the pair only had one chance. He began screaming to Williams, telling him to lie down in the trough between the rails.
"I only had seconds," Smith told the Daily News. "I yelled, 'Put your head down! Put your head down!' I don't think he heard me the first two times, but after the third time, he put his head down."
And then, miraculously, so did Orlando, amidst the screams of the people on the platform, just in time for the first car to pass underneath them. "One more second, he would have been dead," Smith said.
Amazingly, man and dog survived. The train rattled overhead and stopped, and the pair were discovered very much alive under the train.
"We checked out under the train and found that he was not trapped; he was just in between the rails," said FDNY Capt. Danny O'Sullivan. "It must have been a lucky day for him. This definitely is a miracle."
Williams suffered a cut to his head from the fall, but they're both OK. From his hospital bed, Williams puts it succinctly: "The dog saved my life."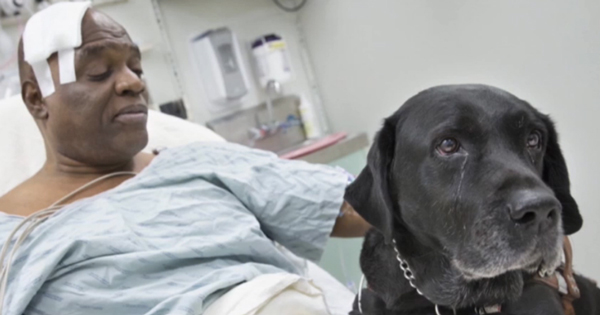 But as the story got out yesterday and swept through social media, an unsettling fact emerged — at 11 years old, Orlando was being forced to retire and would have to leave Williams, given that his insurance would only pay for an active working dog and Williams was unable to afford the dog. Instantly, crowdfunding campaigns sprang up to help Williams keep his dog.
One on Indiegogo raised nearly $50,000. Another at Gofundme raised $27,000, before the administrator said he closed the site to new donations to figure out how to get Williams the money in a way that would not impact his Social Security disability checks.
And now, via a story in NBC New York, we find out that Williams will be indeed keeping his dog. At a press conference today, the organization Guiding Eyes for the Blind, which provided the dog to Williams seven years ago, said that "donations had covered the cost of the dog for life after his retirement."
From his hospital bed, a tearful Williams praised his dog and the people who donated. "Orlando, he is my best buddy, he's my pal. The spirit of giving, Christmas … it exists here and it's in New York."
"I feel that it's a blessing, I feel that it's a miracle," he said later. "All the people that contributed or donated, we should take our hat off to them. There's still good people in this world."
Via New York Daily News and NBC New York