The race for the World Series means baseball fever is catching across North America, but for a canine baseball legend in Greensboro, North Carolina, a long career in the sport is finally winding down. Miss Babe Ruth, beloved bat dog for the Greensboro Grasshoppers, ended the 2015 season with one final run around the bases, concluding a decade on the diamond, which will be remembered in the Baseball Hall of Fame.
"It's really amazing how it all transpired," Donald Moore, president and general manager of the Greensboro Grasshoppers tells Dogster.
"This was merely an idea many years ago, like, 'Gee, wouldn't this be neat if we could pull this thing off,' and then 10 seasons later we've got this icon — this dog that's bigger than the community."
Miss Babe Ruth (or just Babe for short) came into the world on October 11, 2005, and then into Moore's family around Thanksgiving of that year.
"My goal initially was to be able to find a dog and be able to train it for baseball purposes," recalls Moore, who decided to buy the Labrador Retriever puppy from a friend of his who was an avid hunter.
"The mother and the father were both champion hunting dogs," recalls Moore, who hoped that a genetic predisposition to hunting would translate to talent on the baseball diamond. He quickly got Babe started on her baseball training.
"We kept bugging the trainer — how's she doing, is she learning enough?" Moore remembers. "You can have a great plan, but if you don't have the right animal to pull it off, it doesn't really matter how good your plan might have been."
Soon it became evident that Babe was indeed the perfect pup for the role, and she began the 2006 baseball season as the bat girl for the Greensboro Grasshoppers before she was even a year old.
"It turns out she had quite an affinity for it," says Moore, who tasked Babe with retrieving the Grasshopper's bats, running the bases at the end of each game, and using her personalized ball bucket to deliver countless baseballs to the umpires.
According to Moore, the Grasshoppers players got a real kick out of having Babe at the diamond, and the whole community fell for the baseball-loving pup.
"People openly tell me, 'The main reason we come to your games is to watch your dog,' which is fine."
The people love Babe, and Babe certainly loves baseball, but after nine seasons and 649 games, Moore knew his dog needed to start taking it easy.
"I guess if you believe in that aging theory that every year to us is like seven years to them, then we're talking about a dog that's approaching 70 years of age, and that's getting on up there," says Moore. "I've been to a lot of baseball games, but I've never seen a 70-year-old bat boy."
With Babe's advanced age in mind, Moore and the Grasshoppers began planning a special salute to the dog to close out her 2015 season, rolling out the red carpet for her before her final game.
"It was a big send-off, not only a retirement party, but also a thank-you party I guess you'd say," explains Moore, who accompanied Babe onto the field in a classic Ford convertible during her big goodbye.
"We had the red carpet out between home plate and the pitcher's mound, and she delivered the first ball of the game in her bucket, carrying it down the red carpet from the mound to the umpire at home plate," he recalls.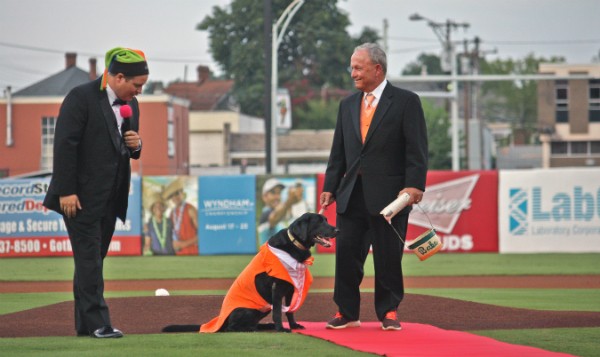 "She did her regular thing during the game — retrieving bats and taking balls to the umpire, and then after the game there was a nice video tribute to her, and then she ran the bases one last time."
Babe's retirement did not leave the Grasshoppers without a canine assistant. Over the course of Babe's career, two more black Labs, Master Yogi Berra and Miss LuLu Gehrig, were added to the dugout to back her up, and by the end of the 2015 season, it was time for the second string to take over Babe's duties.
"Lulu is very good, very talented, very focused, much like Babe. So she will pick up right where Babe left off," Moore explains. "Yogi's more of a cut-up; he likes fetching balls, and that's about it."
Lulu and Yogi will be following in Babe's paw prints, but they'll have to find themselves a new bucket to deliver baseballs to the umpire. Babe's original bucket, with her name hand-painted across the front, was shipped to the Baseball Hall of Fame in Cooperstown, New York, after her special send-off at the Grasshoppers stadium.
According to Moore, the reality of her retirement may not have really sunk in for Babe and her fellow bat dogs yet.
"During the off-season, they come to work with me every day and they just kind of hang around and they don't really know the difference, but once the season gets here and she's not working, that'll be kind of different."
Retirement might take her some getting used to, but it's downtime Babe definitely deserves. She won't be back on the diamond next season, but she'll never be forgotten — this dog has captured as many hearts as she has baseballs.
Read more about dogs in baseball:
About the Author: Heather Marcoux is a freelance writer in Alberta, Canada. Her beloved Ghost Cat was once her only animal, but the addition of a second cat, Specter, and the dog duo of GhostBuster and Marshmallow make her fur family complete. Sixteen paws is definitely enough. Heather is also a wife, a bad cook, and a former TV journalist. Some of her friends have hidden her feed because of an excess of cat pictures. If you don't mind cat pictures, you can follow her on Twitter; she also posts pet GIFs on Google+.