Editor's note: Have you seen Dogster and Lucky Puppy magazines in stores? Or in the waiting room of your vet's office? This article appeared in our winter issue of Lucky Puppy. Subscribe to Dogster and get the magazines delivered to your home.
When it's beginning to look a lot like Christmas, some animal shelters deck their halls for festive holiday celebrations to showcase pets awaiting adoption. The timing might be perfect for some people, who are feeling generous and loving, and want to do good deeds.
Macy's holiday windows
In downtown San Francisco, unsuspecting passersby in Union Square walk past Macy's and find themselves going home with a new pet. These windows aren't your usual yuletide displays, with wrapped gifts and whimsical items. Cats and dogs from the San Francisco Society for the Prevention of Cruelty to Animals frolic and play behind the glass in the popular Holiday Windows event, a 30-year-old tradition.
"People are tired; they've been shopping. Then they see these kittens and puppies in the window, and their faces just light up," said Krista Maloney, media-relations manager for the San Francisco SPCA.
Every day, shelter workers bring in dogs, cats, puppies, and kittens, who woo adopters through the windows or from spots inside the store. People outside, often holiday shoppers, stop to look at the cute, furry faces in the five windows, which wrap around a corner of the store. Volunteers answer questions about the animals and collect donations.
Adoption counselors meet with prospective pet parents inside the store. Successful matches can go home together that day. Typically, about 300 pets are adopted during Holiday Windows every year. The festive spirit and setting, along with the timing, con- tribute to the success of the event, which starts the week before Thanksgiving and concludes after New Year's Day.
"Some people come every year and will stop by, and maybe adopt," Maloney said."Then we get people who didn't even know the event existed.They walk by and see this cute pet, and they fall in love."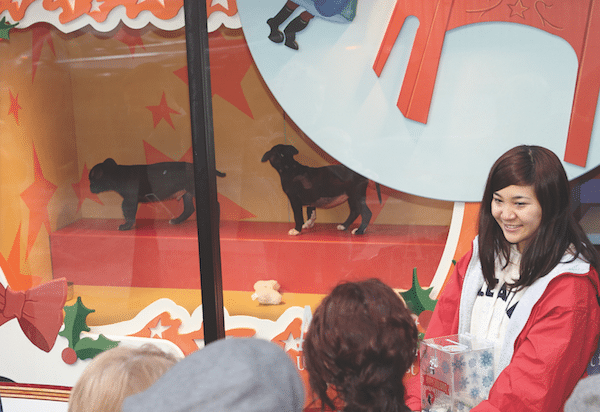 Whiskers in wonderland
An umbrella organization that presides over 150 shelters and rescue groups in the New York City area hosts a fun holiday-themed event just for kitties and bunnies. The Mayor's Alliance for NYC's Animals — a privately funded nonprofit that began in 2003 with the help of Mayor Michael Bloomberg, but has no current connection to the mayor's office — hosts Whiskers in Wonderland annually on a weekend in November or December (November 12th and 13th in 2016).
Steve Gruber, director of communications for the Mayor's Alliance, said the group promotes cats at the event because more cats than dogs live in shelters and need homes. Rabbits, as a less-common pet, don't get a lot of exposure and need extra help.
Whiskers in Wonderland has been held in many venues over the years. Now, the Mayor's Alliance partners with the Petco Foundation and the Petco store in Union Square. Here, several rescue groups park adoption vans outside the store. People can walk into the vans, which have built- in cages for cats and kittens. Meanwhile, rabbits await people in an indoor pen area where they run around and play, Gruber said.
Many pedestrians stroll by, discover the pets, and leave with a new family member. But others come seeking a Christmas gift for themselves: a furry companion.
"Many people who come out for this event want to adopt and know this is a good opportunity to meet a lot of cats and kittens and rabbits," Gruber said."Rather than just going to one shelter, they have the benefit of meeting pets from multiple shelters."
Several rescue groups decorate their vans to highlight the holiday feel. They might string up lights and gar- lands; meanwhile, a sound system plays seasonal carols.
"We kind of look at it as the beginning of the holidays for a lot of people," Gruber said."Some people think about adopting during the holidays. For some families, it's a really good time to bring a new pet home because the children are home from school. Parents might want to adopt as a gift; when done responsibly, that's a great thing."
Other people might come by Whiskers in Wonderland to learn more about cats and rabbits, then adopt in January after the bustle of the holidays passes.
"People love this event," said Gruber, who calls it the best cat adoption event of the year.
Other holiday promotions
Many animal shelters and rescues do fun and quirky fundraisers during November and December, like dressing someone up as Santa Claus to pose with people for pictures with their pets.
The American Society for the Prevention of Cruelty to Animals, based in New York City, often hosts a Cute Pet, Ugly Sweater contest. People dress up their pets in funky holiday sweaters and submit the photo through social media; meanwhile, the ASPCA promotes some of its own adoptable pets in the contest.
Best Friends Animal Society, with headquarters in Utah, welcomes the holiday season with a free-adoption promotion, Home for the Pawlidayz, through a partnership with Zappos.com. From Black Friday through Cyber Monday, Zappos sponsors the adoption costs for cats and dogs, and donates an additional $150 per adoption to Best Friends. Best Friends also does a December holiday-themed Super Adoption event in New York City where celebrities help promote adoptable pets.