Four brave rescue dogs are the newest heroes in the fight against African poachers. Tony, Popo, DJ and Radar — all rescues from the Washington, D.C., area — are part of Singita Grumeti's newly-formed Canine Unit, born out of a single guest's passion for African conservation.
The Dogs Behind Singita Grumeti's Canine Unit
The new crew now lives at Singita Grumeti, one of the company Singita's camps just outside of Serengeti National Park in Tanzania, but first spent months in the United States training with Working Dogs for Conservation, an organization that identifies rescue dogs fit for conservation projects. The dogs, two chocolate Labrador Retriever mixes and two Belgian Malinois, have been trained to find and track wildlife contraband, like ivory, rhino horns, pangolin scales and even ammunition and snares. The canine team can search cars, homes or any specific area that Singita's anti-poaching team believes may contain illegal items.
Led by an experienced dog and horse trainer, Mgoye Rugatiri, the dogs and their seven additional handlers will eventually work to track scents over long distances. Mgoye and his team have already formed strong bonds with the new team. "When you start training the dogs, you have to be happy so the dogs can work well," he says. "I understand them, and all four of them understand me. They're always very happy to see me."
Life for the Singita Grumeti Dogs
Life for a dog in the Serengeti isn't always easy, though. Sleeping sickness, transmitted by tsetse flies, is a health concern. The dogs live in specially designed kennels that are fly-proof and are accompanied by medical facilities.
The whole program was the dream of one single dog-loving guest who was moved by Singita's dedication to ending poaching. While a private donor supplied the funds to construct a state-of-the-art operations base for the dog unit, Singita aims to introduce a guest fundraising program, which will keep the canine and anti-poaching units in motion.
Once nearly void of wildlife, Singita's surrounding plains are now vibrant and teeming with life. With the combination of an extended scout force, new technology and now the canine unit, Singita plans to preserve the African wilderness for future generations. Of course, Mgoye and his dogs will be along for the ride. "Even if there were no money involved, I'd still work with the dogs because I love them."
Learn More About …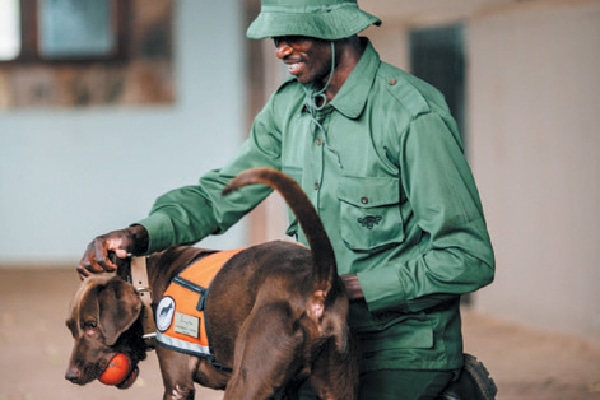 SINGITA — a company dedicated to environmentally conscious hospitality, sustainable conservation and the empowerment of local communities, visit conservation.singita.com.
WORKING DOGS FOR CONSERVATION — visit WD4C.org.
Thumbnail: Photography courtesy Singita.
Laura Ratliff is a writer specializing in travel, lifestyle and food. Her work has appeared in Architectural Digest, GQ, Bon Appétit and Condé Nast Traveler. She lives in Brooklyn with her husband and her two dogs — Iggy, an 11-year-old Brussels Griffon, and Kate, a rescued 2-year-old German Shorthaired Pointer.
Editor's note: This article first appeared in Dogster magazine. Have you seen the new Dogster print magazine in stores? Or in the waiting room of your vet's office? Subscribe now to get Dogster magazine delivered straight to you!
Read more dog news on Dogster.com: