Usually spring is regarded as a time of rebirth and renewal, but in Detroit's Rouge Park, it has brought some grotesque and disturbing revelations. Melting snow has revealed the frozen corpses of 28 dogs, mostly Pit Bulls and Mastiff mixes. Many of the corpses were covered in lacerations, and authorities say that those bodies are most likely from dog-fighting operations. Some, however, are strays or dogs who were abandoned in the park by their owners.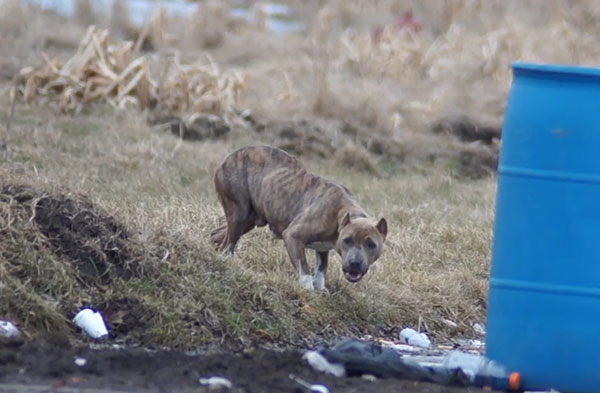 The revelations started Thursday, when local resident Greg Ostrander came across the bodies of two dead dogs while walking his own. One of the dead dogs had been left chained to a large plastic kennel.
The thing is, this isn't the first time that Ostrander has come across this sort of thing. According to the Huffington Post, Ostrander says he found the body of a Rottweiler in the park eight months ago. He repeatedly called the police and animal control until he felt compelled to bury the dog himself.
"It's a dumping ground for people who don't want their dogs no more and people who are dumping dead dogs down there," he said to Huffington Post. "I have no idea why people can't just bury their dogs in their yard."
By the end of the day, a total of 28 bodies had been found, exposed by the melting snow.
Detroit Animal Welfare Group organized volunteers on Saturday to search the park, looking for more bodies and trying to fine live dogs still there.
"Because of the heavy snowfall in the month of January, a lot of these deceased bodies were discarded there because it was easier to cover them up. Also, it was an unusually cold month where a lot of dogs froze outside or were left to starve to death," Detroit Animal Welfare Group board member Nicole Litzelman said to local tv station WWJ. "Right now, since the snow is melting, I'm sure we're going to find quite a few more bodies in the park."
It's really hard to find good news in a situation like this. There are 28 bodies, and given Rouge Park's history, there will probably be more found in the future. But Saturday's search did bring out some live dogs. DAWG is now posting updates on Facebook as it finds foster homes for these new rescues and also as dogs are available to be fostered. We hope that as time goes by, there are fewer dead dogs in Rouge Park, and more rescues.
Via CBS Detroit and Huffington Post
Read the most talked about news on Dogster: