Editor's note: Have you seen the new Dogster print magazine in stores? Or in the waiting room of your vet's office? This article appeared in our October-November issue. Subscribe to Dogster and get the bimonthly magazine delivered to your home.
While Rosanna Lyons was still a young girl growing up in a small Irish village, her family couldn't decide if her remarkable artistic talent was matched by her love of dogs. Her talent for drawing was evident at 3 years old, and her love of dogs had begun before the threshold of her memory.
"For as long as I can remember, I have adored dogs and have been an artist," she said. "My love of dogs really came together with my art when I began creating The Dog Project, which is designed to draw attention to dogs who need rescuing."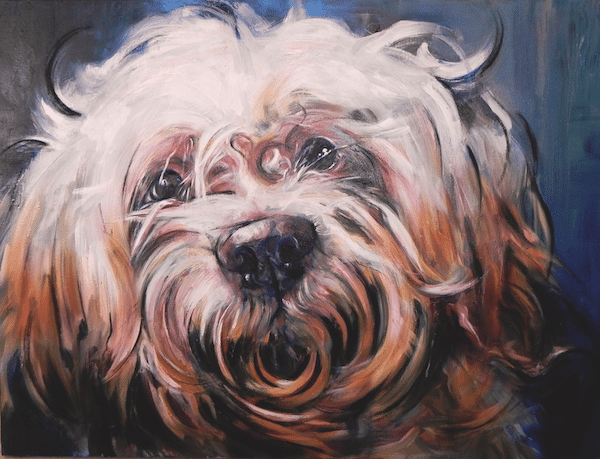 The project goal is to paint studies of dogs who have found forever homes after being abused or abandoned. Her paintings for the project are evocative and seem to capture something that is at once sad, world-weary, and trusting in the faces of the rescued dogs.
"I paint on canvas with oils because I want to try and bring truth to the paintings," Rosanna said. "I am not satisfied to make merely a decorative piece."
And she is a masterful artist. Rosanna was accepted to the Limerick School of Art & Design at a very young age. At 17 years old, her studies were cut short when the prestigious animation studio Sullivan Bluth Studios recruited her because of her powerful life-drawing skills. During her career as an animator, Rosanna has created design work and effects animation for Walt Disney Studios, Dreamworks, and Steven Spielberg's Amblimation studios. She has worked on films, such as The Hunchback of Notre Dame, The Road to El Dorado, and The Simpsons Movie.
After working on The Simpsons Movie, Rosanna became the first animator on The Simpsons television series to specialize in effects. Animation work took Rosanna to cities such as London, Paris, Madrid, and Los Angeles and despite her successful career, she managed to study and refine her fine art skills. Now, she said she joined a certain "loose element" she developed as an animator with her fine art skills, such as a strong sense of composition and a passion for colors. In recent years she has focused more on her figure painting, and she has also explored on the canvas her love of dogs and other animals.
"The Dog Project came about after I saw so many Facebook posts of dogs being abandoned or abused by cruel people," Rosanna said. "All of that had an emotional impact on me, and instead of letting the sadness overwhelm me, I decided to paint some of the dogs I found particularly moving."
Working from photographs, Rosanna studies the image deeply for detail, takes the details she finds compelling, and applies some artistic liberties for dramatic effect, often exaggerating features and colors. For emotional effect, she uses strong, undiluted colors and loose brush strokes. She sometimes uses a large housepainter's brush and switches to a finer brush to add detail.
"It's in the eyes," she said. "The eyes bring the soul of the animal into relief. I try to delve into their personalities, showing their beauty — easy in youth, deeper, and more soulful with age."
Rosanna also paints the human figure. She studied dance as a child and recently took it up again. Her return to dance inspired her to start a series of ballerina studies, and, with her characteristic style, she captures both the beauty and the physical pain. Rosanna's patrons also commission portraits of their family dogs. She recently lost her beloved terrier mix, Marnie, who was a constant subject for her painting. "I feel that by having paintings of her around, she is watching over me in a sense."
Rosanna said her goal in painting dogs — and other pets and animals — is to find something in them that's close to truth rather than easy aesthetic values. "My aim is always to bring about a dramatic pose that's without sentimentality. I want to paint portraits of animals with as much depth and truth as great paintings of people," she said. "To me, they deserve the same dignity, respect, and honesty."