Editor's note: Have you seen the new Dogster print magazine in stores? Or in the waiting room of your vet's office? This article appeared in our August-September issue. Subscribe to Dogster and get the bimonthly magazine delivered to your home.
While Australian Cattle Dogs, Scottish Terriers, and Irish Wolfhounds are all wonderful breeds, there's something patriotic and ubercool about living with a dog who has an American place name in its breed.
1. Divine intervention
Reverend Earl Phillips was writing for a hunting dog magazine in the early 1960s when he became aware of "brindle curs," hunting and treeing dogs that were particularly admired. Reverend Phillips reached out to their owners, hoping to establish an organization that would preserve and protect the brindle cur. The result was the formation of the Treeing Tennessee Brindle Breeders Association, with foundation dogs gathered from various locations, especially the region between the Appalachian Mountains and the Ozarks.
2. Named for the color
The Treeing Tennessee Brindle is one of the relatively few breeds named for his color. "Brindle" is actually a color pattern that refers to tiger stripes covering a lighter-colored background, in this case brown.
3. An "oops" litter launches a breed
In Oklahoma, a purebred Alaskan Husky mated accidentally with a smaller dog in the mid-1970s. No further interest was shown in these small, husky-looking dogs until Linda Spurlin and her husband took a trip from their home in Alaska to visit family in Oklahoma. It was there that she encountered Curious, a female from the litter, and took her home, deter- mined to recreate this Alaskan Husky in miniature. After years of hard work, Spurlin had bred a handful of specimens that had the potential to launch this new breed — the Alaskan Klee Kai.
4. How do you say it?
Since Linda Spurlin lived in Alaska, that part of the breed's name was obvious. Klee Kai means "little dog" in Inuit and was the name she chose when she pursued United Kennel Club recognition in the 1990s. Klee rhymes with tree, and Kai rhymes with hi.
5. The Alaskan powerhouse
Don't confuse the Alaskan Malamute with the more lightly built, racing Siberian Husky. The Mal is not a racer but a freighting dog that will pull heavy loads at a slow speed. The breed was indispensable in the Arctic to the survival of the Inuit, carrying backpacks in the summer, locating seal breathing holes in the ice, and distracting polar bears for hunters.
6. Expanding the gene pool
Today's Malamute gene pool reflects a blend of three basic strains. The American Kennel Club recognized the original Kotzbue strain in 1935. The Army drafted most sled dogs for service during World War II. At the end of the war, in compliance with U.S. military protocol, the Army then destroyed most of the remaining dogs. The result: too few registered dogs to maintain the breed. The Alaskan Malamute club revised its original 1935 breed standard in the 1960s to incorporate new bloodlines and keep the breed viable.
7. Call of the wild
We have Dr. I. Lehr Brisbin, Jr., a senior research ecologist at the University of Georgia, to thank for happening upon a Carolina Dog in the 1970s while working at the Savannah River site. The Carolina Dogs were living as wild dogs in cypress swamps and in isolated stretches of pines in the Southeastern U.S. Dr. Brisbin noted that the Carolina Dogs moved and hunted in packs, like wolves, and were more like Australian dingoes than the European-bred dogs the colo- nists brought to America.
8. Socialization is a must
Carolina Dogs have excellent noses that help them in the wild to catch prey. When intended to be kept as pets, they need early and ongoing socialization, plenty of space, and moderate exercise. They are said to make wonderful family dogs when these needs are met.
9. Stowaways start the breed
The Chesapeake Bay Retriever descends from two puppies found on a ship in Maryland in 1807. Sailor and Canton were identified as Newfoundland dogs but were more likely Lesser Newfoundland or St. John's water dogs. The two lived in different parts of the bay area, and there is no record of the pair producing a litter. They were bred with area dogs, probably spaniels and hounds of various sorts, with working ability being the goal. Dogs from both Chesapeake Bay shores were recognized as one of three types of Chesapeake Bay Ducking Dog in 1877. By 1918, a single type called the Chesapeake Bay Retriever was recognized by the AKC.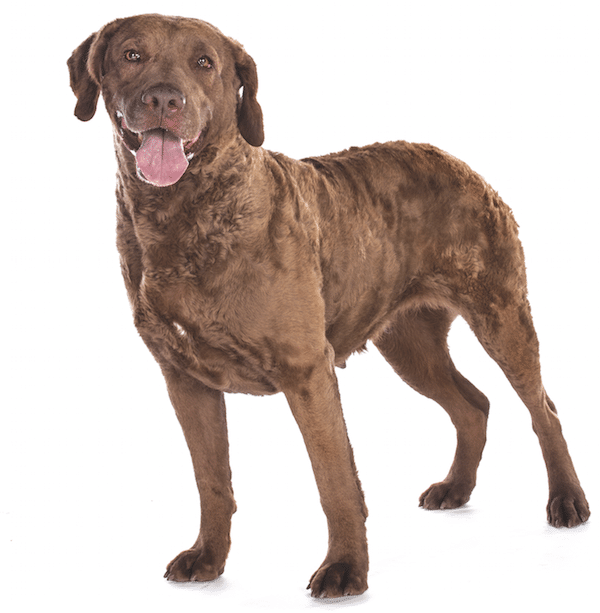 10. How now, brown Chessie?
Most of us would describe this breed's waterproof, slightly oily coat as brown. Period. However, the AKC standard lists various intriguing and uniquely named shades: "brown," from light to deep to dark; "sedge," which varies from a reddish yellow through a bright red to chestnut; and "deadgrass" in all its shades, from a faded tan to a dull straw color.
11. State dog of Louisiana
The Louisiana Catahoula Leopard Dog is named for a Choctaw word meaning "sacred lake" and originated in northern Louisiana near Catahoula Lake. The breed is likely the result of mating between local dogs and the Bloodhounds, Mastiffs, and Greyhounds brought to the area by Spanish explorers.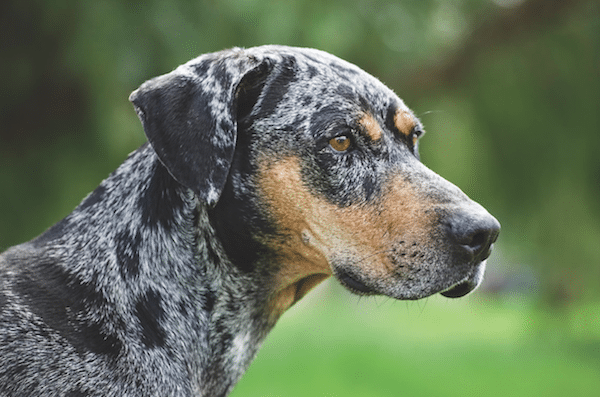 12. Hogs and cattle and … leopards? Oh my!
The Catahoula was bred to track and drive feral hogs and cattle when it was time to butcher them. The leopard in its name refers to the spotted or mottled color pattern typ- ical of the breed, although brindle (striped) and solid-colored Catahoulas are also seen. Adding to the haunting look are ice blue eyes, seen on some dogs. Eyes may also be green, brown, or amber, and some Catahoulas even have eyes that are each a different color.