Earlier this month at BarkWorld Expo 2015, well-known names such as Shorty "Pit Boss" Rossi and Olympian Gus Kenworthy took the stage. Also among the speakers was a celebrity in the making, 10-year-old Isabella Masso, who has her own line of bows and bowties for dogs. With the help of her mom, Mariamar, Isabella shared her inspiring story.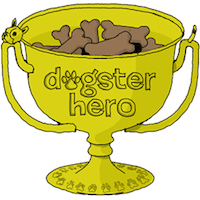 At age 9, Isabella told her mom that she wanted to design high-fashion products for dogs. Isabella enjoyed drawing dresses and watching her grandmother sew, but Mariamar assumed this was a passing fancy, like many children have while growing up. You can imagine her surprise when Isabella insisted it was something she wanted to do now!
Mariamar decided to help fulfill her daughter's dream, and Isabella's Pet Shop was born. They started by making ribbon bows for dogs, and when several owners of male dogs requested bow ties, the business quickly shifted to bow ties and boutique-type flowers that clip onto collars.
Although Isabella was enjoying making and selling the bows, she also wanted to help the rescue community. She and her mom now donate part of the proceeds from each sale to a rescue group/shelter of their choice. They also help to increase adoption rates by donating products for use in dogs' "please adopt me" pictures. The bows were such a hit that some people started asking if the bow was included, thus the beginning of the #bowsincluded hashtag.
Last year, though, the bow making came to a halt when Isabella was diagnosed with a tumor the size of a cantaloupe in her abdomen. After Isabella's five-hour surgery with complications, Mariamar was terrified that she might lose her daughter. She wanted to liquidate the last of the bows and close up shop, but Isabella insisted she would soon be making new ones soon.
"The pet community really supported us," Mariamar said during their BarkWorld speech. "They sent cards, they came to see us, and they all wanted to bring their dogs." Fortunately, Isabella made a full recovery and has been hard at work making bows ever since.
In the future, Isabella hopes to open her own pet shop with a no-kill shelter attached. Part of the shelter will be cage-free for the dogs who have been cleared by the veterinarian Isabella also plans to have next door. These are pretty big plans from someone so young, especially someone who used to be bullied in school.
That's right — this confident, well-spoken girl used to be picked on for having a learning disorder and dyslexia, while she was attending schools in Florida. She was held back in second grade, but everything began to change when they moved to Georgia. At her new school, Isabella's teachers worked with her one-on-one to help her manage her dyslexia and move forward to the next grade.
Along her journey, Isabella's family has been very supportive. "I'm her biggest fan," Mariamar said after their speech. "I do a lot of the work, especially when Isabella is in school. All of the social media accounts, that's me behind them unless someone specifically wants to talk about an order with Isabella. She's only 10, so we're very careful about her Internet usage. They all know me as Isabella's mom."
When someone has a custom order, Mariamar will let them speak directly with Isabella. "She likes to get an idea of the dog she's making the bow for, what they look like, and their personality," Mariamar said. "She'll arrange the material, then send them a picture. They'll say something like, 'I want more red,' and she just knows how to fit in what they want and make it look great."
Recently, Isabella was invited to showcase her new fashion line at the 2016 Marietta MUTTRO fashion show. She will be presenting alongside dog-fashion designers such as Mister Migs and RaggDogDuds. Isabella is excited to share her talents, as well as gain more exposure for her work with rescue dogs. To date, she has donated more than $3,000 to rescues through her bow sales, as well as donating bows for the photos.
Besides attending school and designing, Isabella stays busy playing with her siblings and pets. She has two dogs, Moose the Tank, an American Pit Bull Terrier, and Lily Bear the Licker, a wirehaired Dachshund mix. She is trying to get Moose into dock-diving, though he hasn't really gotten the hang of the diving part yet. They also have pet rats and reptiles, but no cats because Isabella is allergic.
Before we parted ways, Isabella pushed two business cards into my hand. "One for you and one for a friend," she said. Needless to say, I was impressed with her ambition and confidence. Isabella is a hero for dogs, and is certainly a young lady headed for greater heights!
Read more about Dogster Heroes:
About Meghan Lodge: Fits the Aquarius definition to a fault, loves animals, and is always pushing for change. Loves ink, whether it's in tattoos, books, or writing on that pretty sheet of blank paper. Proud parent of Toby (cat) and Axle (dog). I'm a former quiet nerd who's turned bubbly animal-obsessed advocate.