Quick Facts
Weight: 100 – 130 pounds | male
80 – 110 pounds | female
Height: 25.5 – 28.5 inches | male
23.5 – 27 inches | female
The Look of a Swiss Mountain Dog
In general, Swiss Mountain Dogs have large, muscular frames in varying sizes of medium to large. They usually come in black with rust and white markings. They have large, broad heads with dark eyes and triangular ears that hang close. Each Swiss Mountain Dog has a slightly different coat: the Bernese Mountain Dog's coat is long and silky; the Appenzell Mountain Dog's is short and glossy; the Entlebucher Mountain Dog's is also short and glossy and the Greater Swiss Mountain Dog's coat is short and dense. Overall, Swiss Mountain Dogs look sturdy but nimble.
Traits
Loyal & affectionate
Protective & watchful
Mellow
Friendly
Alert
Ideal Human Companion
Families with older children
Active singles
Experienced dog handlers
Outdoorsy types
What They Are Like to Live With
Swiss Mountain Dogs are amiable household companions, generously sharing space and getting along with everyone in the family, including cats. They form strong bonds with people and love being involved in social activities and special occasions. Swiss Mountain Dogs are wonderful companions to children and sometimes take other pets (even cats) under their care. They are also very clever and adaptable.
As puppies, some varieties—like the Bernese, for instance—may seem a little rambunctious. By adulthood they become mellower and more easygoing. They have a tough, working dog exterior, but they truly love being at home, surrounded by family and friends. Swiss Mountain Dogs also have a sweet sensitivity that is especially endearing.
Used for centuries to guard flocks and farmland, Swiss Mountain Dogs have a built-in protectiveness; however, they are very restrained watchdogs. Overall, Swiss Mountain Dogs are high-energy, hardworking canines that truly appreciate working in wide-open spaces. If you can give your Swiss Mountain Dog lots of companionship and steady work, it will be endlessly happy and a truly rewarding friend.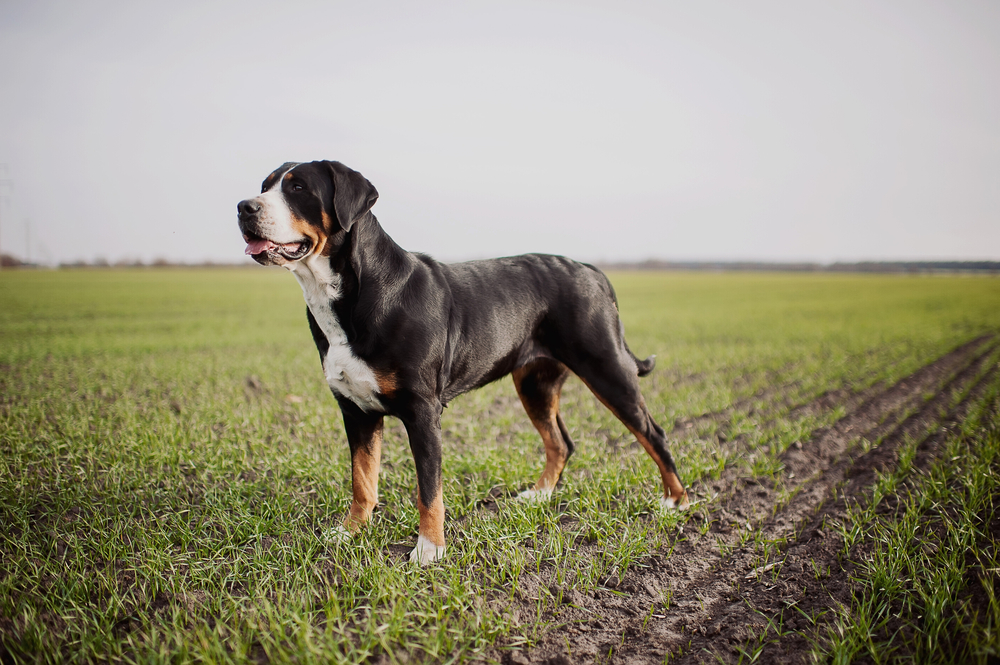 Things You Should Know
Though big and rustic, some Swiss Mountain Dogs will be happy living in apartments as long as they get plenty of exercise and a healthy amount of attention from family. A good, daily walk will satisfy them—they are not really into jogging, especially in warm weather. And they love a good tummy scratch at the end of a long day.
Swiss Mountain Dogs can live anywhere from seven to 12 years, depending upon the variety. Common health problems include hip dysplasia, eye problems and epilepsy. They are fairly easy to groom, needing only regular brushing to keep their coats looking good. They shed—sometimes heavily—every spring and fall.
Swiss Mountain Dog History
Hailing from the farms, villages and mountainous regions of Switzerland, the four Swiss Mountain Dogs—or, Sennenhund—were used primarily as farm dogs, shepherds, guard dogs and companions. They comprise of the Bernese Mountain Dog, Entlebucher Mountain Dog, Appenzell Mountain Dog, Greater Swiss Mountain Dog These robust canines, which descended from various ancient Roman Mastiffs and Bronze Age working dogs, performed a number of duties like pulling carts to market and herding flocks of sheep.