Mayor Dennis Kneier of San Marino, California, was taking leisurely stroll with his wife around his neighborhood, not throwing bags of poop around, when he came upon a bag a poop sitting there on the ground. We imagine his wife quietly touching his arm and whispering, "No, Dennis. Just walk past it." 
But the mayor didn't walk past that bag of poop. He was mayor, damn it. He wanted to throw that bag of poop. He wanted to pick it up and toss it, a nice underhanded lob, right onto his neighbor's walkway. A man claws his way to the top for what? A nice parking space? 
Dennis picked up the bag of poop and threw in his neighbor's walkway. Here, look: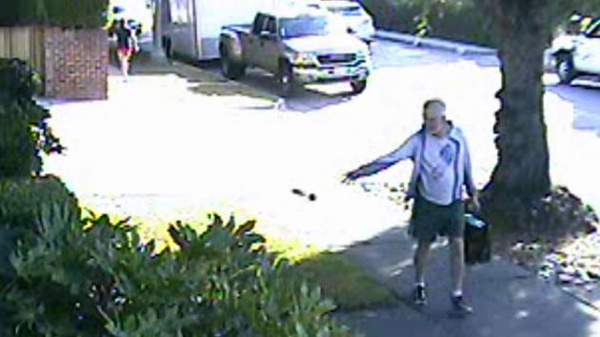 Unfortunately, his neighbor, Philip Lao, is no slouch in the home surveillance department, keeping tabs on his little slice of San Marino with a full slate of outside cameras. When his wife discovered the bag of poop on his walkway, Lao knew exactly what to do. He sat before his monitor and replayed the tape.  
The mayor. 
By 6 p.m., the police were at Lao's home, reviewing evidence, interviewing the Laos, and taking photographs of the poop, according to NBC4.
"The bag was tied closed and appeared to have been intentionally placed on the walkway entrance," officials report. "After reviewing video surveillance, which monitors the exterior of their residence, the residents were able to identify their neighbor, Dennis Kneier, as the person who had placed the plastic bag on their walkway."
Busted. Busted hard, mayor. 
Mayor Kneier immediately went into survival mode, drafting a friendly "Dear Phil" letter and sending it to Mr. Lao:
"Dear Phil, Late in the day this past Saturday, June 7, Liz and I were returning from a walk in Lacy Park when we noticed a bag of dog waste in your west parkway near the lamp post. Rather than leave it or dispose of it properly, I placed it on your side walkway. This was a mistake, for which I apologize. It won't happen again. Sincerely, Dennis Kneier."
Case closed, right? Maybe not. According to NBC4, it turns out that Mayor Kneier might have thrown the poop for a reason other than recreational poop-throwing — and that he is in fact being dishonest in his claim that he was merely repositioning the bag of poop as part of his one-man-on-a-walk neighborhood beautification efforts. 
What we have here is the beginning of a poopgate. 
According to NBC4, Lao believes the mayor is retaliating against him because Lao posted a "no poop zone" sign on his front yard, which he placed there because of his home's proximity to a dog park — a dog park the mayor supported. 
Asked about it, Kneier told NBC4 that he doesn't personally like the signs, but there is no animosity between him and Lao. He says the "no poop zone" sign is "not the look we want to have in San Marino," but that it is not against any city ordinance. 
Hmm. A man posts a no-poop sign the mayor doesn't like, then has poop thrown in his yard by the mayor. 
"I take responsibility for what happened," Kneier said. "I'm sorry it happened … this was a mistake."
In other news, the weather down at city hall today? A sh-t storm!
Via NBC4.
Read about dogs in the news on Dogster: