Wow, good things certainly do happen to a dog killer who happens to throw a football well. On Friday, the New York Jets took a look at Michael Vick, a man in the twilight of his career (his football career, not the career in which he killed dogs — that ended when he went to jail for 23 months), and said what the heck, here's $5 million, let's see what you got. 
After the announcement, Vick issued a preliminarily and quite possibly premature thank you to Jets fans "who appreciate me and accept me for who I am and what I've become, not for what I've done."
"Right now, my past is irrelevant," he said. 
In the process, the team cut QB Mark Sanchez (who, incredibly, just got signed by the Eagles, Vick's former team). Now, the people of the greatest city in the world have to decide whether they're going to root for someone who bankrolled a dog-fighting and -killing operation. Some people are already declining, as reported by 1010 WINS' Gary Baumgarten, who hit the streets to get reaction. 
Longtime Jets fan Victor "Buddy" Amato, police chief of the Monmouth County Society for the Prevention of Cruelty to Animals, said, "As an animal advocate, which I am, I personally have no use for him." 
"It just is like a slap in the face, the fact that he could do such terrible things and then … but that's life," said a woman named Sue, spotted walking her dog Pearl, on Ninth Avenue in Chelsea. "That's money, right?" 
"He's completely not a role model," said a man named Frank, who was stopped on the street walking his dog as well. "And I know we shouldn't be making people role models that don't want to be, but if you're a quarterback, you know, there's a lot of little kids who look up to you." 
As football pundits explained away the dog killing part of his life as "forgettable baggage," some news agencies took a nobler route. New York's Village Voice published a scathing piece titled, "Reminder: Michael Vick's Dogs Were Shot, Electrocuted, Hanged, and Beaten to Death"
And the Huffington Post and the New York Post let Matthew Bershadker, president and CEO of the NYC-based ASPCA, have the horn for a while. They printed his reaction to the news in full. He said, in part:
It became clear over the course of the investigation that this was not a crime of passion or a case of obliviousness. Michael Vick was fully involved in a six-year pattern of illegal activity that included dogs being savagely electrocuted, drowned, and beaten to death.
…
Every American should look at dog-fighting as more than just a crime, but as a deep stain on our national character. Until we reach this point — which would bring an overdue end to this reprehensible practice — its perpetrators must bear the burdens of that stain, lest we signal the weakening of our resolve.
On the flip side, we have NFL Commissioner Roger Goodell, the man who suspended Vick and then allowed him back in the NFL. He gave his blessing, saying a bunch of garbage: 
"Michael is a young man who made a tragic mistake," Goodell said. "He paid a very heavy price for it. But I've seen him, in everything he's done, exceed expectations. He has worked very hard to be a positive force in a lot of different areas."
The problem with that comment, of course, is that it is absurd, nearly incomprehensible, to describe killing and fighting dogs over a five-year period as a "mistake." 
As for social media, one exchange stands out. PETA, upon, hearing the news, didn't hold back, tweeting: "At least Michael Vick can't drown, electrocute, hang, or shoot a football the way he terrorized man's best friend."
To which Vick's younger brother Marcus responded … well, take a look: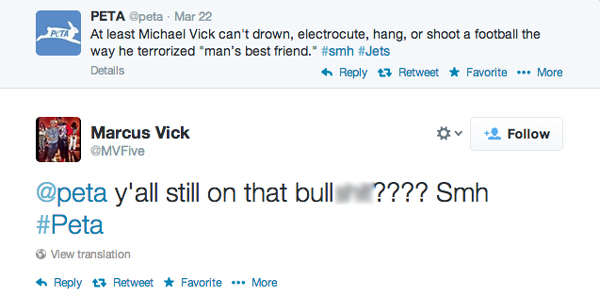 We don't know whether Marcus is firmly in the Vick camp or not, but if he is, it could be a rocky year for Vick.
Let's hope it is. 
Read the most talked about news on Dogster: